The Dodgers announced on Tuesday that Vin Scully, the team's beloved broadcaster for 67 years in both Brooklyn and Los Angeles, had passed away at his home in the Hidden Hills neighbourhood of the city. Scully's poetic descriptions of the games he shared with his devoted audience frequently bordered on poetry. He was 94.
"We have lost an icon," Dodgers president and CEO Stan Kasten said in a statement Tuesday night. "The Dodgers' Vin Scully was one of the greatest voices in all of sports. He was a giant of a man, not only as a broadcaster, but as a humanitarian. He loved people. He loved life. He loved baseball and the Dodgers. And he loved his family. His voice will always be heard and etched in all of our minds forever."
Also Read: "I'm with the Angels right now"- No one could persuade the LA Angels for Shohei Ohtani
Vin Scully: Forever in our hearts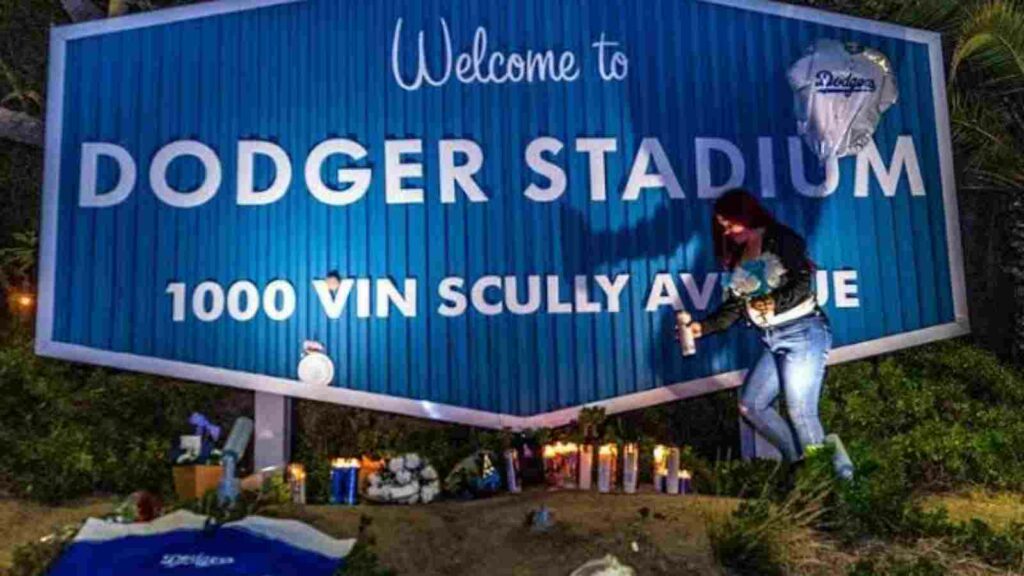 The Fordham University graduate, who was born in the Bronx and raised in Washington Heights, retired from the Dodgers' broadcast booth after the 2016 season, capping off a career in baseball that began at Ebbetts Field in 1950 and is recognised as the longest tenure by any broadcaster with a single team in professional sports history.
It wasn't just about longevity. Scully mastered both the language and the craft of broadcasting. Baseball, football, and golf were all sports in which Scully excelled, setting a standard that those who follow him will find difficult to match.
Also Read: "Still breathless by the trade" Juan Soto traded in a supernova deal, SD Padres beat Cardinals in the hunt
"More than anyone, Scully made the Dodgers successful in Los Angeles," Buzzie Bavasi, the Dodgers' general manager, wrote about him in his memoir. Sports Illustrated described Scully in the early 1960s as being "as much a part of the Los Angeles scene as the freeways and the smog."
Also Read: "It's a f**king joke" Major League Baseball were the evil-doers said Justin Verlander, employing juicy baseball to increase offense '19
Also read: "We were able to pull down" Brian Cashman disintegrates the trade deadline for New York Yankees
Do follow us on: Google news | Facebook | Instagram | Twitter