There is no shortage of weird and gross material on the internet. Social media platforms are well known for such antics and Twitter is among the top platforms when it comes to finding controversy. In one such incident, a female Muay Thai fighter, Sammy-Jo Luxton recently received an interesting proposition from a fan.
The fighter is Sammy-Jo Luxton who has gone viral on Twitter after a user made a post about her. The User named Robbie posted two pictures of her and urged netizens to find themselves a girl with a personality like her. This tweet got a lot of recognition, and fans from all around the world started pouring in their opinions.
Commenting on the post a user made a rather gross comment, saying he would let her take a dump on him. In response to these comments, the British Muay Thai fighter made the insane offer that she would do so if she was paid the right amount of cash for it. She wrote, "If the price is right I'll do it."
Responding to her tweet, users flooded her comments section with similarly hilarious comments. The British-born fighter seems to be a real deal who has been honing her skill for quite some time now and has numerous professional wins to her record books. While many liked her humor some found it rather gross, and they even doubted her skills as a fighter.
Related – "UFC doesn't promote him" – Joe Rogan calls out UFC for sidelining Demetrious Johnson after his move to One Championship
Sammy-Jo Luxton responds to fans doubting her abilities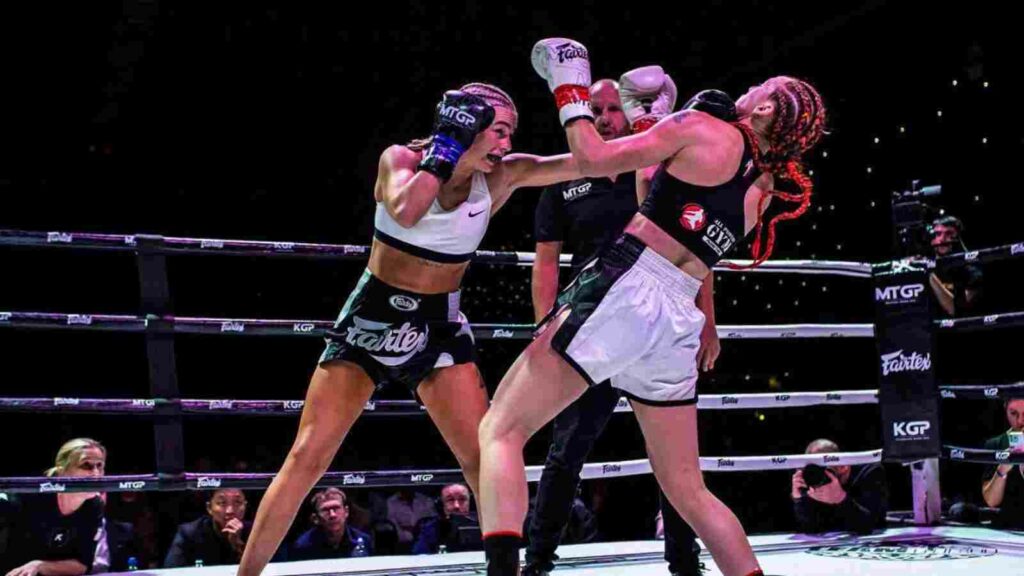 Some users have given some negative responses and doubted the ability of Luxton by judging her abilities from her looks. One user pointed out that she doesn't look like she could fight well. However, it seems she has been slaying both inside and outside of the ring.
Sammy Jo Luxton responded very well and shut down her critics. He replied with her detailed fight record which seems very impressive. She wrote, "65-5-1 as an amateur and 7-1-0 as a pro… think I'm doing ok x."
Also read – "A setback for a greater comeback," Conor McGregor sends out his regards to Ritu Phogat as she came up short in the One Championship finals
It seems she wants to capitalize on her newfound fame and is going to start a YouTube channel to show her day-to-day life. While this is a great way to earn some additional money, it will also give her a chance to connect better with her fans. Sammy-Jo Luxton seemingly got all this recognition thanks to her appearance at Road to ONE: Muay Thai Grand Prix Sheffield.
She competed against Terri Houlton in a strawweight division fight. These two went back and forth but Luxton lost the fight via split decisions, but it seems has gotten some serious recognition on the internet due to her participation. Just like every budding talent, she needs to focus on her art, and keep on delivering such performances to eventually become a household name in the MMA circuit.
Also read – "$50,000 if I…" – Alex Pereira places massive bet on himself amid Brendan Schaub saying he has no chance against Khamzat Chimaev