2022 has been the worst possible year for Dominance MMA manager Ali Abdelaziz in mixed martial arts. The popular manager is receiving brutal treatment on Twitter after his fighter Kayla Harrison lost in one of the biggest upsets in combat sports against Larissa Pacheco.
Ali Abdelaziz is one of the best managers to have if you're a fighter. The Dominance MMA founder has a ton of championship-caliber fighters under his wing and has always had their backs. The fighters under him always speak highly of the manager and have a very close relationship with him. Kayla Harrison is one of the fighters on the Dominance MMA roster that is a favorite of the manager.
Yesterday, the two-time Olympic gold winner and undefeated fighter lost her bout against Larissa Pacheco in a PFL World Championship bout. Pacheco was a massive underdog heading into this fight and shocked the world including Ali Abdelaziz with her dominant unanimous decision win over the former PFL champion.
Abdelaziz would have never thought in a million years that he would see Harrison losing a fight. One of his old tweets about the talented female fighter read, "If she ever lose I will leave Mma she cannot be touched," in response to MMA fighter Ben Askren's praise for Kayla Harrison. The tweet dates back to 2021 and fans have managed to dig this out from the archives.
November 26, 2022
Read more: Greatest upset in MMA history? +550 underdog Larissa Pacheco beats previously undefeated juggernaut Kayla Harrison
Fight fans ruthlessly troll Ali Abdelaziz to leave MMA forever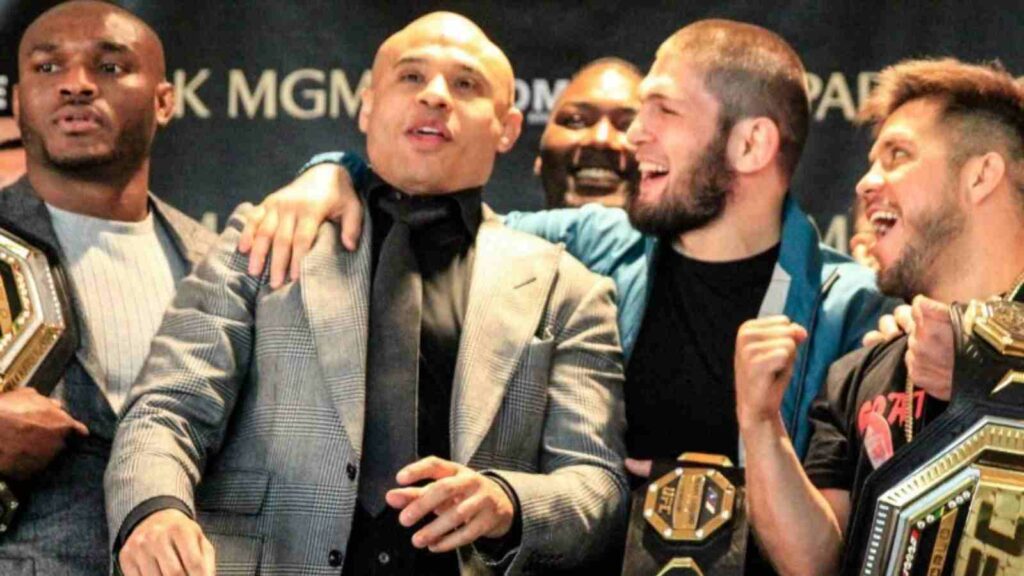 Ali Abdelaziz has managed the likes of Henry Cejudo, Khabib Nurmagomedov, Kamaru Usman, Islam Makhachev, Justin Gaethje, Kayla Harrison, Beneil Dariush, and many other elite fighters. However, Abdelaziz is a very polarising figure in MMA. Fight fans showing no mercy towards the manager's poor year in 2022, troll him for his Kayla Harrison tweet.
Larissa Pacheco just defeated Kayla Harrison by unanimous decision in @PFLMMA

Will Ali Abdelaziz leave MMA now? pic.twitter.com/dmP9aDRSWC

— Bloody Elbow (@BloodyElbow) November 26, 2022
Ali is going to claim it was a robbery. He doesn't have it in him to own up to his words 💀

— Goshinby (@Goshinby) November 26, 2022
He will just tweet from his fighters accounts

— landiswc (@landiswc) November 26, 2022
Ali ain't leaving As long Khabib and his Family have their hands in UFC, Bellator and Eagle FC.

— Shakersandice (@Shakersandice) November 26, 2022
Also read: "Hey, Ali! Easy Money!" – WATCH: Henry Cejudo jinx's Kamaru Usman ahead of Leon Edwards knockout at UFC 278
@AliAbdelaziz00 will you leave ????!

— Steve cribb (@steve_cribb) November 26, 2022
@AliAbdelaziz00 are you a man of your word?

— . (@m1202514) November 26, 2022
November 26, 2022
Said no one ever. Good riddance!

— Ankit Burman (@ankitburman2k16) November 26, 2022
Oh man I sure hope he's a man of his word!!! Would be amazing to never have to listen to this loser ever again.

— Jordan Wiley (@J_w1ley12) November 26, 2022
THE MMA GODS BLESS US AGAIN

— 🅿️reston (@PrestoHere) November 26, 2022
Kayla Harrison previously had beaten Larissa Pacheco twice in MMA. Fans were stunned to see Pacheco show great spirit and get her revenge against the Olympic winner. Surely there would be a quadrilogy to see who gets the final laughter in this amazing rivalry.
Also read: Aljamain Sterling and Henry Cejudo face off at PFL World Championship event ahead of potential title fight