Georges St. Pierre, or simply GSP, is known for a lot of things – be it his indomitability in the UFC, or his humility outside of it. However, his tryst with Bollywood is something that was unknown, till now.
MMA fans might know this – St. Pierre also starred as a villain in the Marvel cinematic universe, where he played Batroc in Captain America: Winter Soldier and also in the mini-series Falcon and the Winter Soldier. Originally introduced to the silver screen as an adept mercenary with adept hand-to-hand combat, fans quickly spotted St. Pierre's trademark fighting style even on film.
Now, it seems like he has had another liaison with the world of film. Although he is not starring in a movie, he recently sat down with Bollywood actress Jacqueline Fernandez for a sort of an e-date on Instagram live. The two met with the purpose of promoting a new app called TrueConnect, and in the process, the two discussed a lot of things. The 27-minute Instagram live was later posted to Fernandez's Instagram.
The actress started off the discussion by talking about her fitness programme, saying, " I don't know if you tried my Sherox programme, it's like a cardio programme and it works on high intensity strength training, and its extremely time efficient." Fernandez then turned towards the Canadian for some advice regarding staying in shape. For this, he advocated his "Strike" programme, which is available on the same app.
He said, "A lot of people want to live and train like a fighter. But they do not want to receive the brain damage, they don't want to take the risk that a fighter takes in a fight, and I completely understand that. But they do want to have the same workout and learn the same techniques, and learn how to defend themselves. So that is what my program provides."
Related- "I didn't like myself," how Georges St-Pierre overcame his inferiority complex during childhood
Georges St. Pierre reveals the key to sustained motivation in his chat with Jacqueline Fernandez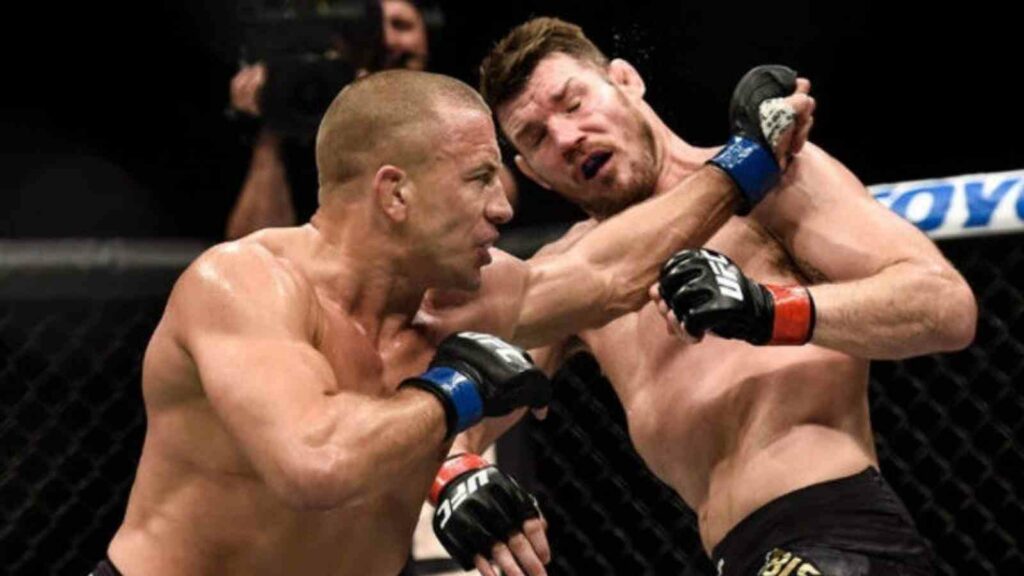 Georges St. Pierre figures in almost everyone's top five greatest MMA fighters of all time, alongside names like Khabib Nurmagomedov and Jon Jones. His resume highlights his unparalleled success – he has, over the course of his stellar career, beaten the likes of Michael Bisping, Nick Diaz and BJ Penn.
No wonder, then, that he must treat his body akin to a temple, and maintain the sanctity of his mental health. Speaking about how to maintain motivation and discipline, he said, "Some days are harder than others. You wake up, and for whatever reason, you don't feel like you want to do it. You have to push, force yourself in order to do it. One good trick that I like to do is, I, always after a workout, prepare myself for the next hard day. I like to write down how I feel, or take a video and describe how I feel."
Also Read- Tecia Torres and UFC partner Raquel Pennington break news of pregnancy with VIRAL photograph
He continued, "The next day if I am having a hard time, going for a workout, I can check the video and it will make me remember how I will feel after the video." That, indeed, is sound advice from the veteran fighter. However, that is only to be expected from St. Pierre, who managed to scale the highest peaks of the sport. Fight fans may not get to see him fight in the octagon again, but at least his legacy, in the form of his extensive highlight reel, will live on.
Also Read- "Rats in my game" – Conor McGregor rips UFC veteran for insinuating Irishman used steroids for the speedy recovery