In a recent viral video on X, a fight broke out in public between three guys. It seemed to be in a college setting as the bystanders were carrying backpacks and looked young. So, two guys, one wearing a black full-sleeve and another one with a grey hoodie attacked a bigger guy who was in a purple T-shirt. As such, it caused chaos in the environment.
At first, the purple T-shirt guy pushed away one guy to defend himself. However, the other guy punched him repeatedly. Later, they both attacked him with force. He was perplexed and used his instincts to protect himself. At one point, he threw a right hand to the face of the black-sleeve guy which hurt him but he returned the favor to him.
This incident has caused mayhem in the public. We do not know the reason for the fight but in any case, a fight should always be avoided in public. It causes disorder and anarchy which might extend to a point where it cannot be controlled.
Also, these actions are punishable under the law. Even famous MMA fighters like Conor McGregor, Jorge Masvidal, and Chael Sonnen were charged for fighting in public. As such, no one can escape the law.
However, if you're threatened and attacked by somebody in public, you should defend yourself intelligently. Always run and escape from such violent situations. Only engage with the attacker if there's no other option. In this case, the purple T-shirt guy should've fled from the area but he stayed and took on the two guys. But, it's a wrong assumption.
Fans react to the video of a guy fighting two guys in public
The video of a guy taking on two others in the lobby of a building got the attention of the MMA fans. The video was posted on X by 'FightHaven' recently. It featured three college students involved in a brawl in a public setting. Two guys attacked a big guy in the video. The big guy tried to defend himself in the best way possible.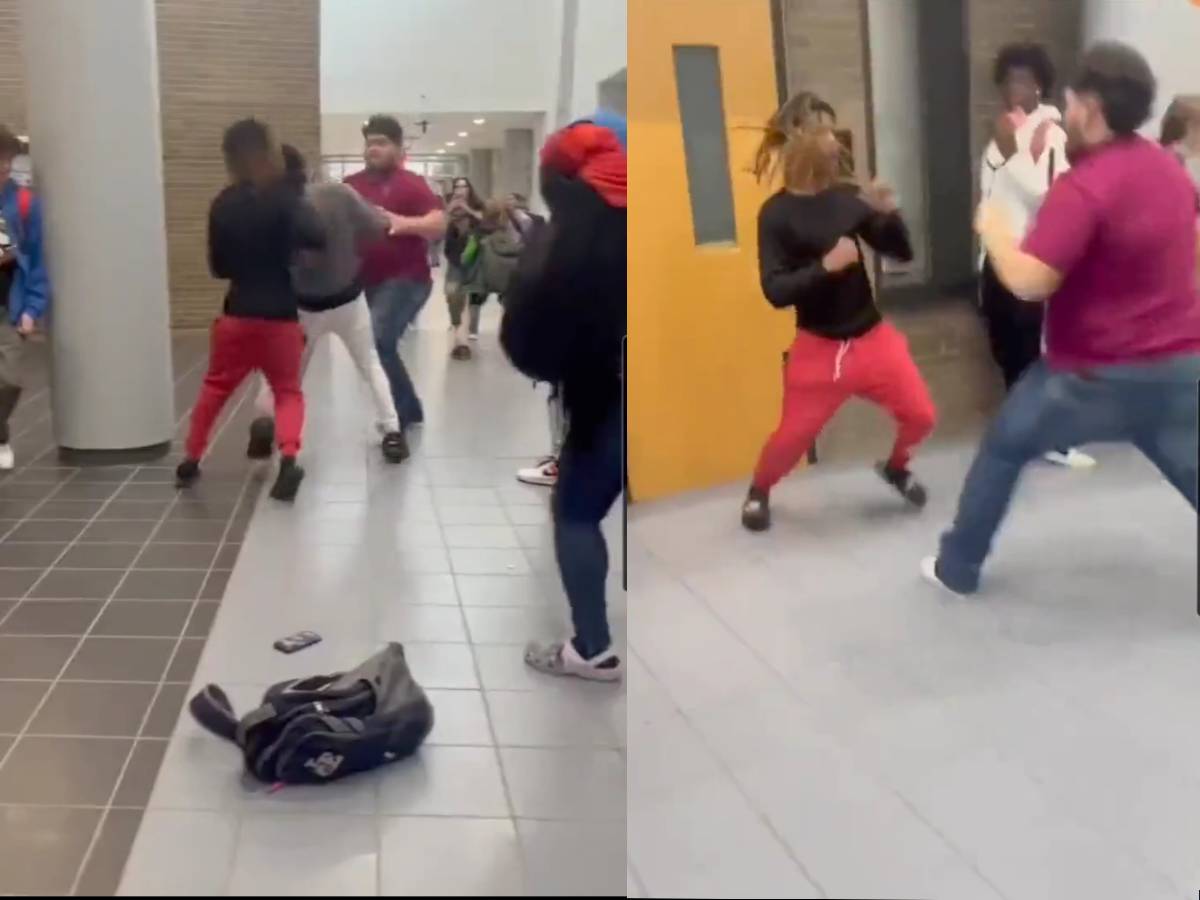 Size advantage is a big thing in a fight. In this case, due to the size difference, he got the better of the two guys. But size advantage can only take you so far. Moreover, the best way to defend yourself when outnumbered is to flee the situation.
Although he landed a few shots, at what cost? Brain damage and head injuries are real and serious. As such, fans react to the video. Here are some interesting reactions:
Fans noticed the size difference and questioned the thought process behind the attackers. Also, they criticized them for ganging up to fight one guy. Anyway, it's against the law to attack others and fight in public. It causes legal disputes and more trouble for the involved.
In case you missed it: