Usman Nurmagomedov seems to be on the same path as his cousin Khabib Nurmagomedov, for the Bellator fighter has not seen a loss in his career of 13 professional fights yet. Usman fights in Bellator's lightweight division and is going to fight Patrik Pietila at Bellator 269 on October 23, 2021, at VTB Arena, Moscow, Russia.
Meanwhile, Khabib has retired from the sport of MMA a year ago and started working as a coach for the upcoming fighters from Russia such as Usman himself, Umar Nurmagomedov and Islam Makhachev. Khabib has since been praised by many as an amazing cornerman during the fights because of his coaching. Even UFC Middleweight Luke Rockhold has asked Khabib to coach him.
What Usman Nurmagomedov said about Khabib Nurmagomedov as a coach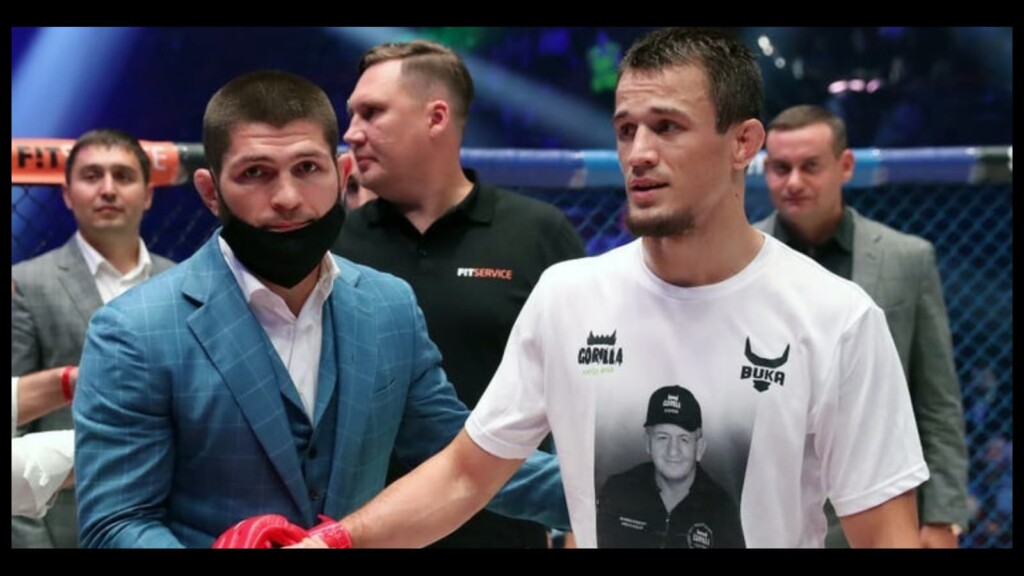 Usman told multiple media outlets in Bellator 269 scrum about if Khabib can be an even better coach than the legendary fighter he was, the 23-year old said "Yeah, I believe that Khabib can definitely take that path. And whatever he's putting his mind to, usually and normally, he achieves that. And in this case, I believe that he can definitely be a better coach than he is a fighter."
It's good to see Khabib being able to pass the knowledge as an even better teacher as per Usman than the student he was during his tenure as a fighter. Khabib is a mentor to many not only because of his wrestling but also because of his wisdom in the business aspect as a promoter of MMA. The undefeated fighter of 29 wins and 0 losses owns a prominent MMA organization in Russia called Eagle FC, symbolising Khabib's legacy cemented in his nickname "The Eagle".
Khabib definitely can remind many of us of the late great Abdulmanap Nurmagomedov, Khabib's father. Late Abdulmanap was known to have coached to a record of 18 world champions during his time. He was the man behind putting Dagestan on the map of MMA, through his training centre, Eagles MMA, from where Khabib got his nickname too. Perhaps, a son is on the right path to extend his father's journey.
Also Read: Eight years ago, "El Cucuy" Tony Ferguson's legendary 12-fight win streak began