Kerala also known as "God's own country" is also famous for its love for football. Visitors often find locals playing football at community pitches .Kerala the state that has produced Indian football legend IM Vijayan. The former Indian forward is famous for scoring the fastest goal in the history of Indian international football.
Mr. Vijayan  was asked the same question that many footballer enthusiasts ask . "If Kerala is so passionate about football why doesn't it produce players at a mass level"?. Raman Vijayan a former footballer himself asked the same in online interview.
In Instagram live conversation Mr. Vijayan answered the question by saying "There were a lot of tournaments (in the past) and there were chances for Kerala-born players. Now we have I-League, ISL and second division and how many players can be accommodated in these leagues? The lack of tournaments is a major reason for not enough talents coming through from Kerala. Even our department teams are only playing one league in Kerala now.".
Although the state of Kerala has two major footballing teams playing in top leagues of India. Kerala Blasters that ISL regulars and Gokhulam FC the team plays in I – League. Both the teams do not harbor many players from Kerala relying on foreign individuals.
On Keralites not getting a chance
I.M Vijayan pointed out that "Only a few Malayali players are playing for Blasters. Gokulam has brought in a lot of Malayali players. But players who landed a job will be scared to leave that and play football. There are talented players but if they have to leave their job behind, they have to sign for a top team, not for a second division club."
The Indian legend feels more state tournaments should be organized to provide the right type of experience to the players. Organization of professional tournaments will only help in discovering new talents as well as maintaining a high level of football in the state.the former striker also insisted central football tournament should also occur twice a year for better results.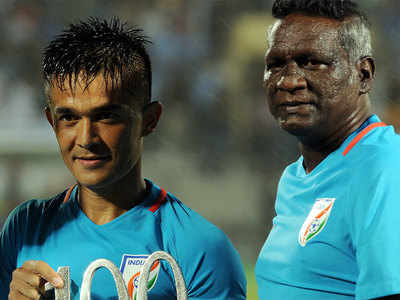 About Santosh Trophy
He later added "The value of the Santosh Trophy has also gone down a lot. I remember Santosh Trophy halting an Indian camp back in the day. Now it is of the standard of an inter-University competition.When we played, we were confident that there were players to replace us as strikers. Now, who will replace Chhetri? That is the question now. It is a problem."
Also Read: Punjab FC release Michael Browne and Kenneth Santa