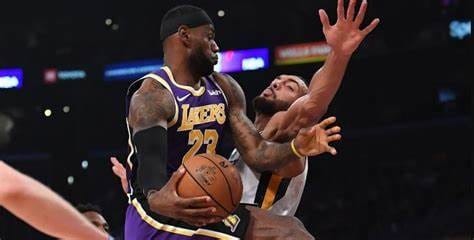 LeBron James is undoubtedly the best player in the NBA right now. The man is playing his 18th season at the league but still feels so comfortable. He runs offence to defense continuously. With every steal, LeBron James buzzes well ahead to his monstrous dunk finish. The Elite player has run a show at the NBA making examples. He is a perfect leader. He has always makes people around him learn. This makes him so different than the others. Utah Jazz's Center Rudy Gobert is the latest to stand for King James
LeBron James has found a lot of success in his career already. Despite his records, he is still climbing the ladder adding more and more laurels to his legacy. However, he is the one who has faced a lot of criticism in the game. This is not just an opinion but players around him believe that he is the one exposed to criticism always.
Utah Jazz Centre Rudy Gobert stands for LeBron James
Every player faces criticism maybe for his game or for his form or maybe for something he has said. However, LeBron James is a player with most of the share of it. Rudy Gobert thinks LeBron faces undue criticism from fans and analysts. Take for example Skip Bayless. The critic has always something or the other for LeBron on the edge of his tongue. Rudy said, "I mean, look at LeBron. He was actually the most criticized player of our generation, and he's the one who accomplished the most."
Despite a lot of barriers, LeBron James found great success in the NBA. He was criticized for moving to Miami to get a ring which he did eventually. But he returned to Cleveland to fulfill his promise made then. Now he has already done wonders with the Lakers. Perhaps LeBron deserves all the love and respect from his fans more than hates. Maybe it is time. Lately everybody will realize his greatness as he walks away from the game one day.
Also Read: Giannis Antetokounmpo shows his elite playmaking skills in Bucks win over…