Denny Hamlin again had a truffle with his Next-Gen car rival Ross Chastain. The dup shared a hated moment on track in the final overtime, costing both top 10 finish. Hamlin, who started the race at the pole, had a bad day, and the incident worsened. It prompted his action, which he himself labeled as "dump".
The No:11 JGR Camry was ahead was running ahead with the old set of tires and was working his way up while holding on to the lead against rivals with fresh tires. Ross Chastain drove his No:1 Chevy to the outside of Hamlin and squeezed in to get ahead of him, which caused the JGR to got lose for some time. Hamlin got back at him by bumping him multiple times and finally nudging him to the wall. They finished p23 ad p24, respectively In the race, they could have scored top 10s.
NASCAR legend Kenny Wallace responded to the online NASCAR community call for a penalty for Denny Hamlin. He posted a video on his official social media handles discussing the issues. Wallace Said,  "He admitted he took Ross Chastain with him into the wall. Some people are going, 'we need a penalty'. I am thinking to myself, how many times the great Dale Sr. has been penalized? People have been wrecking people for years. If you want entertainment, let it be. It didn't cause a caution. Ha Ha ha,".
Responding to the video, the 23XI Racing co-owner Tweeted, trolling the absurd comments and demands that are absurd. "Cancel Culture is the worlds most deadliest disease Herm,". Hamlin always had a way with his words, and it has helped him to gain a good following on social media.
In case you missed it: Chase Briscoe excited ahead of COTA tussle with ex-F1 World Champions Kimi Raikkonen and Jenson Button
Denny Hamlin admitted in his podcast that he deliberately took out Ross Chastain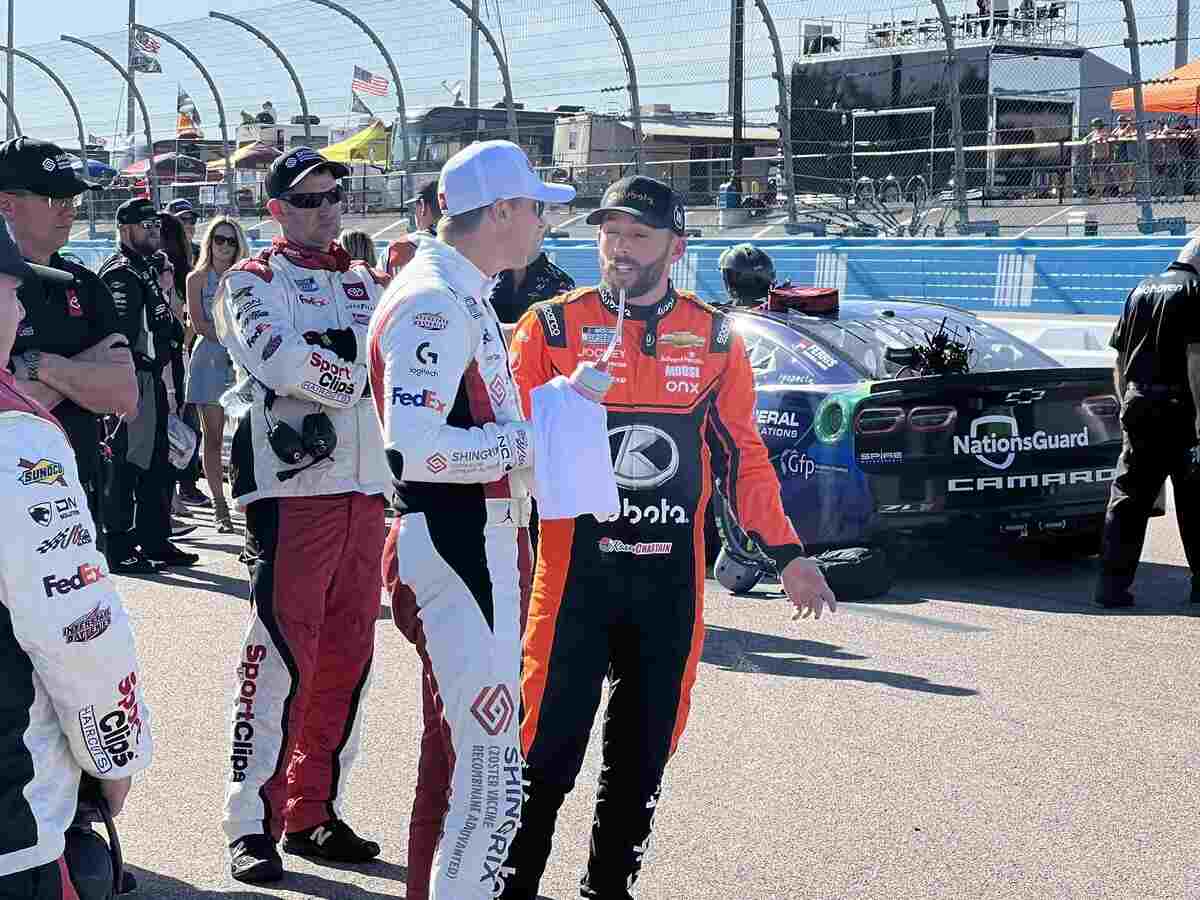 The JGR driver, in his Dirty Mo Media podcast, revealed that he purposely sent the No:1 Trackhouse Chevy to the wall as he was frustrated by the fact that Chastain made such a move on him and he was obviously going to finish outside the top 10. He wanted to inflict the same fate on Chastain.
"It wasn't a mistake. No, it wasn't a mistake. I let the wheel go, and I said he's coming with me. It's been interesting because I hear people say this is for last year or this year. I got wrecked at the Clash. I don't know that Ross sees it that way. I think he's still curious about what I thought about the Clash," Hamlin said.
"At the time, I'm like, I'm going to finish in the mid-teens anyway because my car is just plowing here, I'm about to get ate up by all these new tires. I just was like, if I'm going to give this guy a hard time, it's just going to be then," Hamlin added.
Discover more: