The Willaim Byron-Joey Logano saga is the new hot rivalry in the NASCAR cup series following the veteran's win at Darlington throwback weekend by slamming the young HMS driver to the wall from the rear at the final lap last Sunday. William Byron accused Logano of being an 'idiot' and 'moron' following the race and still holds his ground on the statement. Whereas Joey Logano called it just retaliation from him for the earlier aggression shown by the young driver.
Joey Logano who is notorious for securing wins in such a manner had a mixed set of reactions coming his way from the fans and as the Kansas Race weekend is on the heels the veteran is not ready to step back from the fight instead he warns the No:24 driver that there will be consequences coming his way if he decided to choose aggression in Kansas on him as he believes they were already even in the track.
Also read: William Byron claims he has 'a good shot at the win,' in Kansas Speedway on Sunday as the HMS young-gun set to bounce back from Darlington disappointment
Find out what Joey Logano said on his beef with William Byron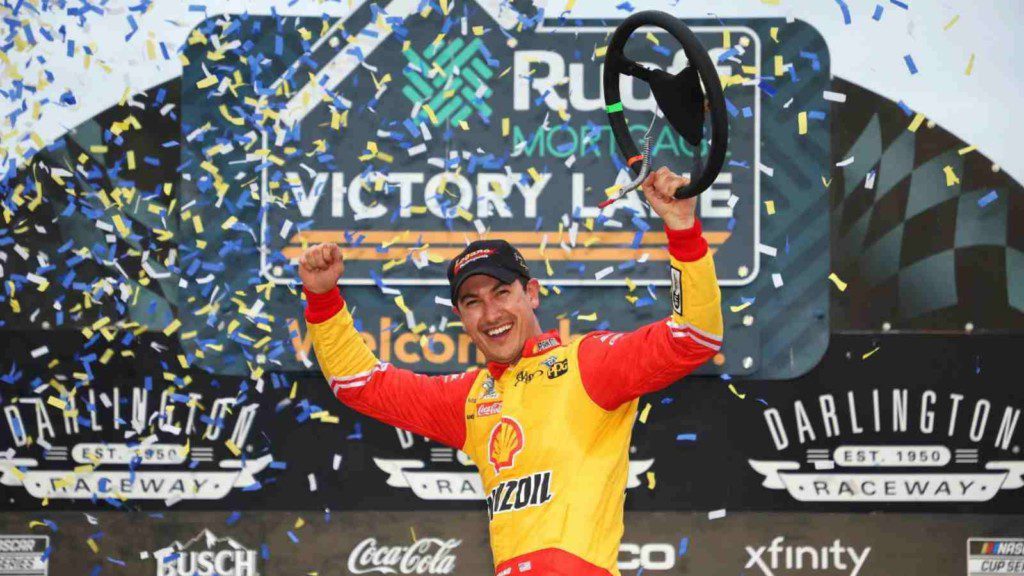 Joey Logano told his version of what went down between him and Willaim Byron last week at Darlington saying he stand by what he said last week he got fenced earlier in the race and he retaliated and won the race. He went on to say they are even in his book as there is nothing left among them to even out and suggested that they reset and go at it again on Sunday at Kansas.
"What happened last week happened, right? I got fenced. I stand by the same stuff I said last week. I got fenced, retaliated, and won the race. Like I said last week, that's just kind of how it works. I won't get pushed around. So, in my book, we're back to even. You reset and go again," Joey Logano said.
The 2018 cup champion went on to warn Willaim Byron that if the HMS young driver is going to keep the pushing back and forth going, he will keep swinging which will not be good for him in long run. Joey Logano added that they both are even as both of them took the lead back from each other the same way and once again warned that he will keep coming at Byron if he keeps doing it at him, it will get bigger every single time.
"Honestly, if he wants to keep going back and forth, I'll keep swinging. I don't think that's a good play for him in the long run. Like I said, I feel like we're even. He was willing to take the lead that way. I was willing to take the lead back the same way," Joey Logano added.
"He can keep going, but I can promise you I'll keep going and I'll go bigger every time," says Joey Logano.
Also read: 'Whatever fieriness he has then, by all means, put it out there,' Kyle Busch on his Willaim Byron who previously drove for him at KBM
Also read: 'Kyle Busch is a little b****,' NASCAR team owner on Kyle Busch leaving the car on the pit road last week at Darlington