Justin Marks, is currently the co-owner of a NASCAR Cup Series team, Trackhouse Racing which is also co-owned by the famous American rapper Armando Christian Perez who goes by the stage name 'Pitbull', and they have been active since 2020 and Justin Marks, he has raced before in different formats including NASCAR stock cars as well as sports cars, he competed in the ARCA Racing Series and the NASCAR Camping World Truck Series and in the IMSA WeatherTech Sportscar Championship.
Justin Marks will be returning to race in the NASCAR Camping World Truck Series and he will be racing for Niece Motorsports sponsored by WorldWide Express at the Mid-Ohio Sports Car Course, the 2.4 mile-track and he will be racing the No.41 Chevrolet Silverado at a track which he won an Xfinity Series race in 2016 before moving onto other business prospects after retiring and came up in 2020 with his own NASCAR Cup Series team.
Justin Marks is now having the best time of his life with his Cup Series team performing exceptionally well in its second year which fields two Chevrolet Camaro ZL1s bearing No's 1 of Ross Chastain and 99 of Daniel Suarez who have three wins combined together and have dominated the two road course events this season each taking a win at Circuit of The Americas and at Sonoma Raceway while Chastain also won at Talladega Superspeedway and either one of them is expected to win in the upcoming third road course event of the season at Road America.
Also read: "Nobody in the industry is immune to this right now," Chad Knaus demands NASCAR to step up and solve the loose wheels problem
"We are going to Mid-Ohio this weekend believing we will run well," Justin Marks has complete faith in himself as he heads to Mid-Ohio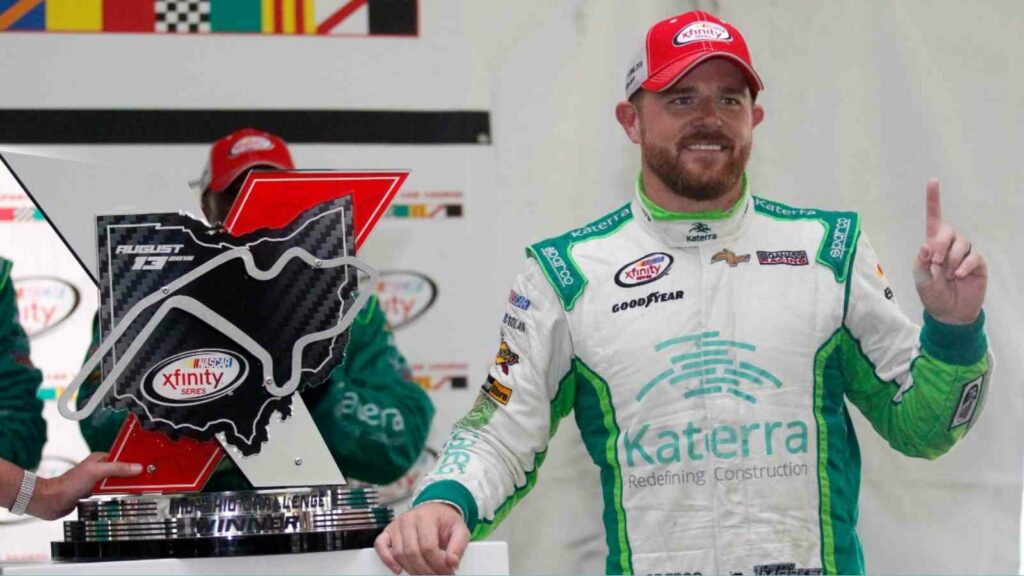 Justin Marks is getting geared up to run at the Mid-Ohio Sports Car Course in the NASCAR Camping World Truck Series and he is delighted to be of help for the team Niece Motorsports who he'll be running for sponsored by WorldWide Express which also sponsors his Cup Series team and he also has a good feeling about Carson Hocevar who was impressive at Sonoma and he believes that Hocevar will perform well at Mid-Ohio too.
"I'm glad I can help support Niece Motorsports and thrilled to be in the Worldwide Express colors. Their trucks have been fast, this year so we are going to Mid-Ohio this weekend with the mindset of not only having fun but believing we will run well, I know how fast Carson Hocevar was at the road course in Sonoma before he had to turn over the truck to Daniel Suárez. I expect he'll be just as good on the road course at Mid-Ohio," said Justin Marks.
Niece Motorsports' General Manager, Cody Efaw also shared a few words saying that he is happy to have been part of this initiative and for the deals Niece Motorsports have struck with Trackhouse Racing and WorldWide Express which aided them in achieving many feats and he also looks forward to working together on many other prospects which will further benefit all the organizations involved with them and also would like to extend their relationship further.
"The partnerships Niece Motorsports has formed with Worldwide Express and Trackhouse Racing have allowed us to explore new opportunities this year and we are excited to have Justin Marks in our truck at Mid-Ohio, Worldwide Express' commitment to our race teams and NASCAR as a whole makes this all possible and we look forward to continuing to strengthen our relationship," Niece Motorsports General Manager Cody Efaw said.
With Justin Marks returning to racing into the NASCAR Truck Series again, will we see him get into the other NASCAR Series as well?
Also read: "Loved it! I thought it was very inspiring," NASCAR Twitter reacts to Kyle Busch's documentary 'ROWDY'
Also read: Road America: NASCAR Kwik Trip 250 Schedule, When and Where to watch, How to watch live?