NASCAR will be heading to the Nashville Superspeedway to host its next round of races for the debut season of the Next-Gen car which is almost nearing its end with just less than 15 more races to go and all teams will be returning to participate in the Ally 400 Cup Series race, the Tennessee Lottery 250 Xfinity Series race and the Rackley Roofing 200 Camping World Truck Series race for the second time after a decade-long hiatus.
The previously hosted Ally 400 winner was none other than the 2021 NASCAR Cup Series Champion Kyle Larson of Hendrick Motorsports and with everyone returning after taking a week off for the Cup Series after the second road course event at Sonoma Raceway which gave the sport its first Mexican Cup Series race winner, Daniel Suarez and this year, the Ally 400 will be bringing a ton of fun events for the fans including the Laps for Charity where fans drive their cars on the track by donating $60 to Speedway Children Charities, PBR Mechanical Bull Rides and a pre-race concert by Brothers Osborne.
Also read: "I'd be thinking about all kinds of other things to be doing to the sport than messing with owners," Dale Earnhardt Jr. lists out his ideas to make NACAR better
NASCAR Ally 400 Schedule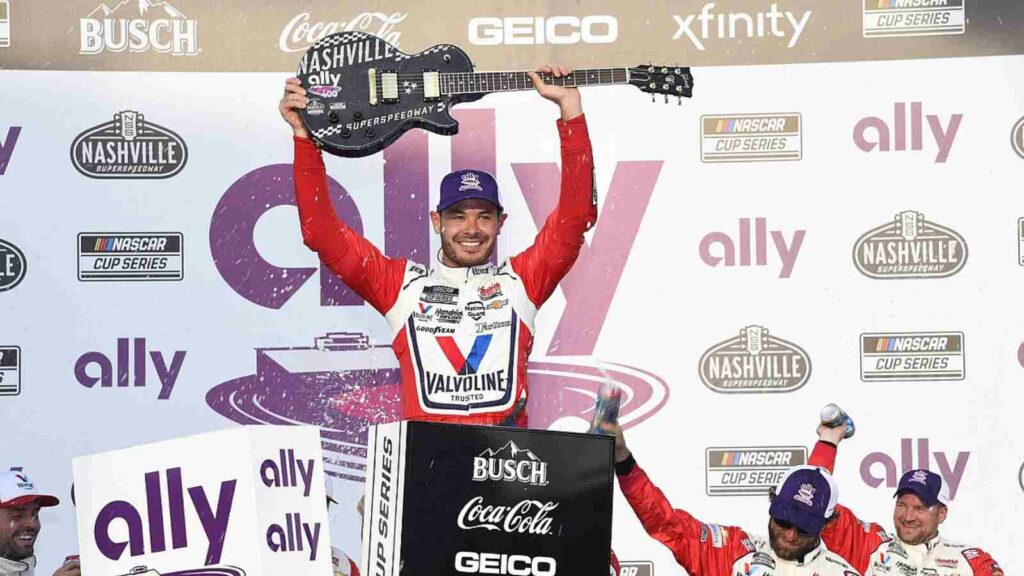 With all these events happening week-long and with the Ally 400 returning fans for sure will have a treat with Chase Elliott, Kyle Larson, and Kyle Busch battling for the victory alongside many other Cup Series drivers who are in form and not to mention the long break for the Xfinity Series last held at Portland International Raceway which saw A.J. Allmendinger take his 2nd trip to the Victory Lane this year and the Camping World Truck Series was held last week with no break at the Knoxville Raceway which saw Todd Gilliland emerge triumphant.
| | | |
| --- | --- | --- |
| Date and Time | Event | Broadcast |
| Friday, 24th June (6:30 p.m. ET) | NASCAR Cup Series Practice | USA, MRN, NBC Sports App |
| Saturday, 25th June (1 p.m. ET) | NASCAR Cup Series Qualifier | USA, MRN, NBC Sports App |
| Sunday, 26th June (5 p.m. ET) | NASCAR Cup Series Ally 400 | USA, MRN, NBC Sports App |
NASCAR Cup Series Schedule
| | | |
| --- | --- | --- |
| Date and Time | Event | Broadcast |
| Friday, 24th June (5:35 p.m. ET) | NASCAR Xfinity Series Practice | USA, NBC Sports App |
| Saturday, 25th June (12 p.m. ET) | NASCAR Xfinity Series Qualifier | USA, NBC Sports App |
| Saturday, 25th June (3:30 p.m. ET) | NASCAR Xfinity Series Tennessee Lottery 250 | USA, MRN, NBC Sports App |
NASCAR Xfinity Series Schedule
| | | |
| --- | --- | --- |
| Date and Time | Event | Broadcast |
| Friday, 24th June (4 p.m. ET) | NASCAR Truck Series Practice | No TV |
| Friday, 24th June (4:30 p.m. ET) | NASCAR Truck Series Qualifier | Fox Sports 1 |
| Friday, 24th June (8 p.m. ET) | NASCAR Truck Series Rackley Roofing 200 | Fox Sports 1, MRN, SiriusXM |
NASCAR Camping World Truck Series Schedule, Credits: NASCAR
Also read: "When they said it couldn't be done, Bruton Smith did it," how former and active NASCAR drivers reacted to the Hall of Famer passing away
Also read: "I'm definitely nervous. But I think it'll be good," an anxious Austin Dillon is all set to make his reality TV debut along with his wife