Chad Knaus, a former crew chief and at present, the Vice President of Competition for Hendrick Motorsports was once the best crew chief out there and is still considered to be the greatest crew chief of all time for the way he approached his role as the crew chief and fulfilled it with everything he had in him really shows how much he admires the sport and in the recent lights of the loose wheel saga with the Next-Gen Car in the 2022 NASCAR Cup Series season seems to have grabbed his attention.
Chad Knaus who was the crew chief for NASCAR legend Jimmie Johnson and is also the only driver to have won five Cup Series Championships consecutively from 2006-2010 and then two again in 2013 and 2016, started off as a general fabricator to look after the chassis construction and then a tire changer and was then promoted to crew chief in 2000 and ten years later rewrote the sport's history. He worked with Dale Earnhardt Incorporated, Tyler Jet Motorsports, and Melling Racing before joining Hendrick Motorsports.
The current situation of loose wheels appears to be one of his major concerns and he thinks that it is NASCAR's fault and not that of the pit crews. It happened in the season opener Daytona 500 with Kaz Grala and it seemed like the pit crew's mistake at the time with a new single lug nut setup but as the season progressed, it happened eleven times in seventeen races which now obviously points towards the fact that the pit crew is not at fault and it has something to do with the equipment, Denny Hamlin of Joe Gibbs Racing and Kyle Larson of HMS is currently serving their penalties for the infraction rule.
Also read: Road America: NASCAR Kwik Trip 250 Schedule, When and Where to watch, How to watch live?
"Every team in the industry has gone through this just about," Chad Knaus points toward NASCAR to be the culprit and not the teams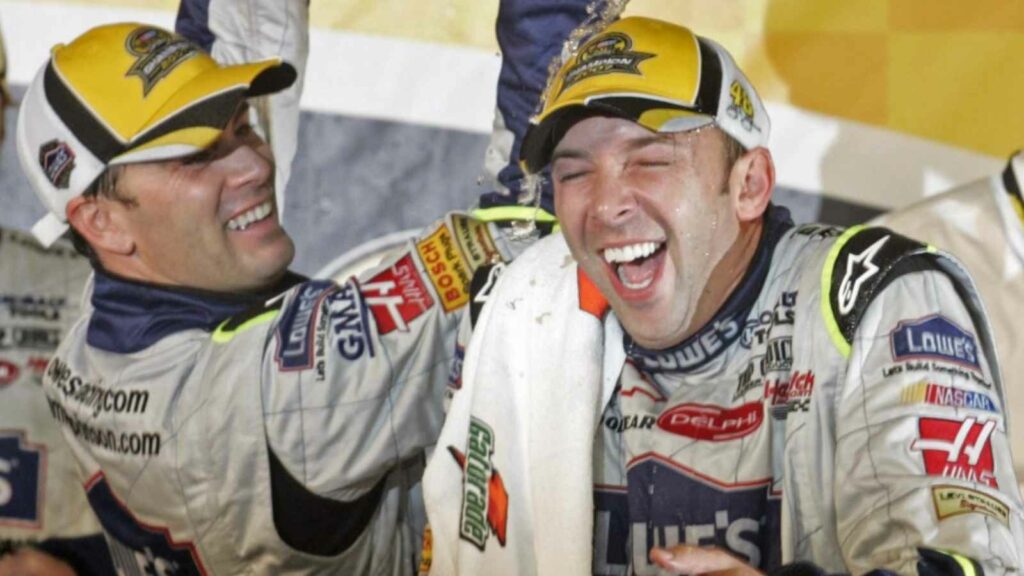 Chad Knaus who seems to be very much done with the loose wheels on the Next-Gen Car and said that anyone with a car on the track is susceptible to losing a wheel with the new single lug nut setup and brushing it off as a problem with the equipment wouldn't just do it and in situations like these, it is crucial to work on the problem together rather than pointing out to the one responsible for it and also added by saying that at this point, every team competing has gone through it at least once by now.
"Nobody in the industry is immune to this right now, to say we don't have a problem is just blind. You can't deny that we've got a mechanical issue. You can't do that in a competitive environment, right. We've got to make some adjustments as an industry. You have to realize that as it's going from Hendrick Motorsports to Gibbs to Roush. Every team in the industry has gone through this just about. You can't pinpoint folks. We've got to get to work on it as a group," said Chad Knaus.
Chad Knaus further added by talking about what happened with Trackhouse Racing's Bubba Wallace during the first road course event of the season in the Echopark Automotive Grand Prix at Circuit of The Americas where he lost his wheel due to a mechanical issue and had to serve his penalty by taking the much required and skilled crew members as a result of the infraction and concluded by questioning on the fact that if the best ones on the team are removed, how will the team compete and improve?
"There's something else I want to put out there, so, they had an issue at COTA. A wheel came loose. Honestly, from my opinion, I think that was a mechanical problem that resulted in a loose wheel. Then you take the guys that they thought were the best that were on that pit crew and you take them off, right. So those guys aren't participating anymore. So how many of those penalties were a result of those guys that were the better guys not being on that team?" concluded Chad Knaus.
Chad Knaus is now urging the organization and teams to work on the issue and resolve it as soon as possible for the greater good of the sport which is pretty much needed at this moment.
Also read: "It's just a direct statement to everybody, I don't blame him," Bubba Wallace's spotter backs up the driver following his team radio fiasco at Nashville
Also read: "It means a lot. I think we're honing in on it," Michael McDowell has high hopes for the Cup Series race at Road America