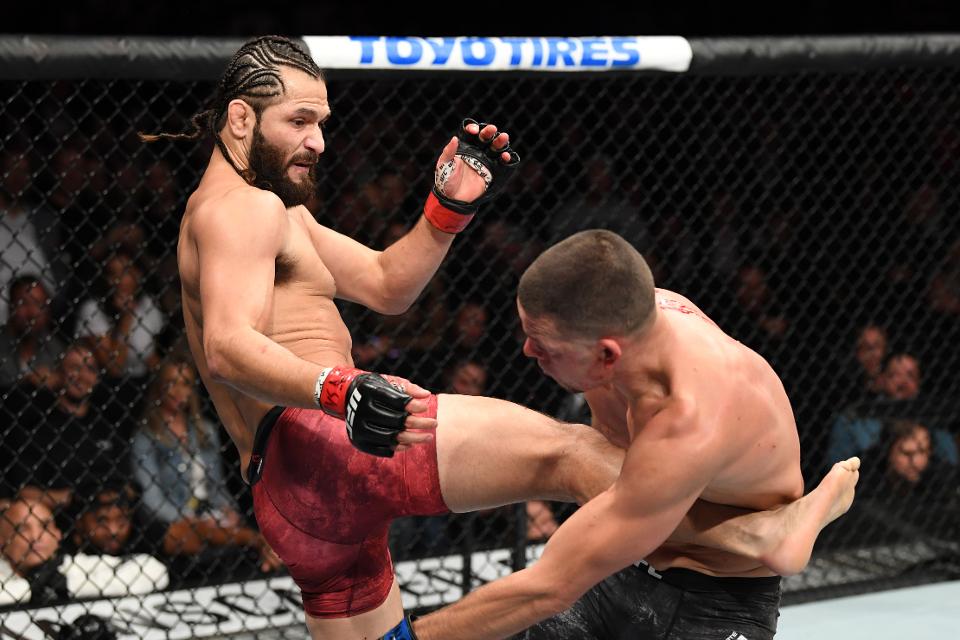 Nate Diaz slams Leon Edwards. The latter has earlier slammed Jorge Masvidal for picking up a rematch for BMF title against Nate Diaz.
Diaz is known to speak up for himself and thunder down all critics. But is typically not known to stand up for his opponents. He went on Twitter to fire back at Edwards, mocking the Englishman's backstage loss to Masvidal … and throwing some extra shade at Khabib Nurmagomedov.
Build up this banter 
Leon Edwards wants revenge from Jorge Masvidal and he couldn't stand Nate Vs Masvidal 2. So in a tweet he said, "You could have fought number 3, yet chose to fight number 12. Eventually this pussy will fight me, I'm all for money fights but watching two journey men go at it again when it wasn't even competitive is a joke. And this is the "BMF""
Earlier ever since Edwards and Masvidal squared off back stage, the former took at a dig at the Gamebred for choosing to fight against Nate Diaz as it was an easier matchup for him.
To this Nate Diaz replied, "This fight shit is the same everywhere, in or out of the cage… don't get punked ever. That goes for kabob also, you guys are in last place now lol."
However, Edward is yet to state his response out on this Diaz trigger. What can be evidently said Edwards has expressed interest in a bout with Nick Diaz.
Masvidal and Diaz is set for 2021 and is a rematch for the inaugural BMF title match AT UFC 244, wherein the former dazzled Diaz with his style, aggressive intent and composure to be crowned as BMF Champion. It seems like the year 2021, will give the Stockton-native a lot of opportunities to showcase his abilities.
Also Read: Bethe Correia confirms her retirement in December