LeBron James thought he was being humorous when he posted the famous Three –Spider men meme but it seems like the NBA legend Kareem Abdul-Jabbar isn't impressed at all.
James is not only one of the humongous players in the NBA Constellation but is also a very generous Philanthropist. He advocates for human rights, especially for the Afro-American community. He was one of the leading figures who influence people to and vote during this 2020 United States Presidential Election and also raised his voice with millions of others during the Black Lives Matter moment.
He also runs a foundation called "LeBron James Family Foundation" that invests its time, resources, energy, and attention to the local kids of Akron, Ohio- James's Hometown. Now, his philanthropy adds more weightage to his resume like a professional NBA player but not everything he does is liked by everyone especially everything he posts.
Also read: "Giannis doesn't Stink"- Nick Wright chooses his MVP for this Season…
Kareem Abdul Jabbar bashed LeBron James for his Instagram post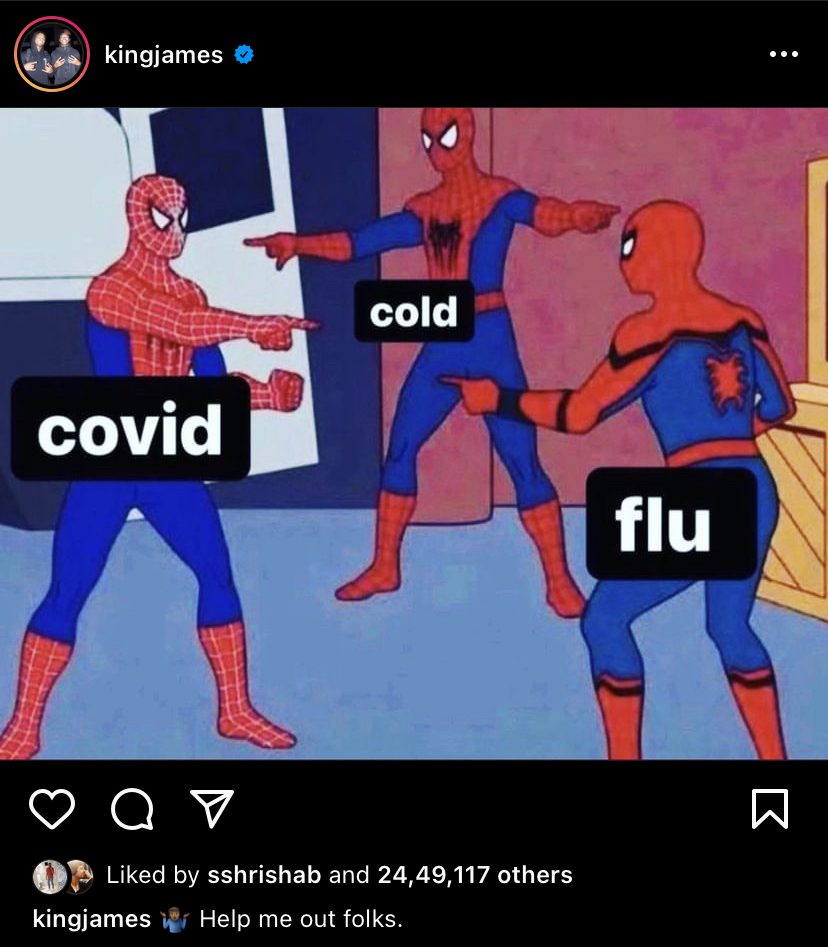 Instagram has been one of the reasons why people get trolled online from their fashion choices to places they visit, people they follow to the food they eat, and etc, etc. NBA players always make it to the list, and this time it's LeBron James.
Recently, James posted the famous 3-Spiderman meme on his personal Instagram account, and it has gotten things pretty heated up. The meme unlike its original version shows the characters pointing at each other who are named COVID-COLD-FLU referring to how similar they are.
LeBon Captioned this post with "Help me out folks" clearly indicating how indistinguishable these three things are for him, and Kareem doesn't like this facetious behavior.
This pandemic has been a bane for the entire Human race. The amount of pain and sorrow it has inflicted upon the people since last year is immeasurable, therefore it is a rather a very sensitive topic to touch and LeBron James totally did what he shouldn't have.
Kareem Adul Jabbar definitely didn't like and went on to write about how ill-informed LeBron is regarding the COVID situation and how hard it hit people, especially the Afro-American community "It has highlighted that health equity is still not a reality as COVID-19 has unequally affected many racial and ethnic minority groups, putting them more at risk of getting sick and dying from COVID-19. One study in Atlanta showed 79% of Blacks with COVID-19 were hospitalized versus 13% of whites. COVID-19 has resulted in a drop in life expectancy among whites of 1.2 years. Among the Black and Latinx communities, it was more than 3 years."
He cut no slack to LeBron James. He also talked about LeBron's ambiguous statement on Vaccination has promoted vaccination hesitancy considering he has a fanbase of 106 Million people on Instagram. Kareem wrote, "Vaccine hesitancy is higher in the Black community than in any other. While there are certainly justifiable historical reasons for Blacks to be skeptical of the health care system that has routinely marginalized, ignored, and even illegally experimented on them, that is not enough to justify compromising their health and even losing their lives during the current health crisis."
He ended the article with how important it is to eradicate the vaccine hesitancy and help people to get the vaccination because no one is safe unless everyone is safe.
Also read: NFL Analyst defends Russell Westbrook after another Lakers Shitshow