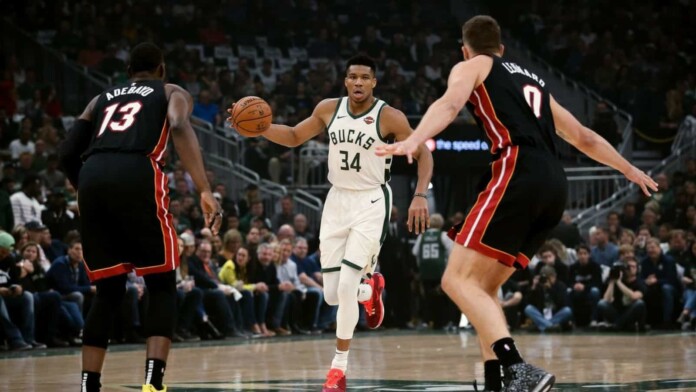 The post season games are finally here and the Milwaukee Bucks played their 2nd game in the series against Miami Heat. As the Milwaukee Bucks played in their home court, their three-point game escalated in the beginning itself. It was just incredible to see Milwaukee Bucks pouring 15 three-point shots in the first half. Giannis Antetokounmpo also put in his dominating performance under the rim. While bullying his way in, Giannis Antetokounmpo fooled the entire Miami Heat squad kicking out the ball for an open three. This is unlike the playoffs of the Milwaukee Bucks from last season. The team failed to go deeper last year but they are on a winning session this season. While Giannis Antetokounmpo is leading the team with 2-0 win over Miami Heat. He displayed unique soccer skills after blowing out the entre Miami Heat roster.
The Milwaukee Bucks took on Miami Heat and were dominating from the first quarter itself. The first half concluded with 51-78 in favour of Milwaukee Bucks. Giannis Antetokounmpo ended his huge night with 31-points and 13 rebounds. Jrue Holiday also registered a double-double with 11-points and 15 assists. However, the cavalry Khris Middleton, Pat Connaughton, Bryn Forbes and Bobby Portis lined up a three-point show. They shot as many as 15 made three pointers in the first half. On the other end it was Dewayne Dedmon with the team high 19-points. Jimmy Butler had only 10-points while Bam Adebayo managed 16.
Giannis Antetokounmpo shows off soccer skills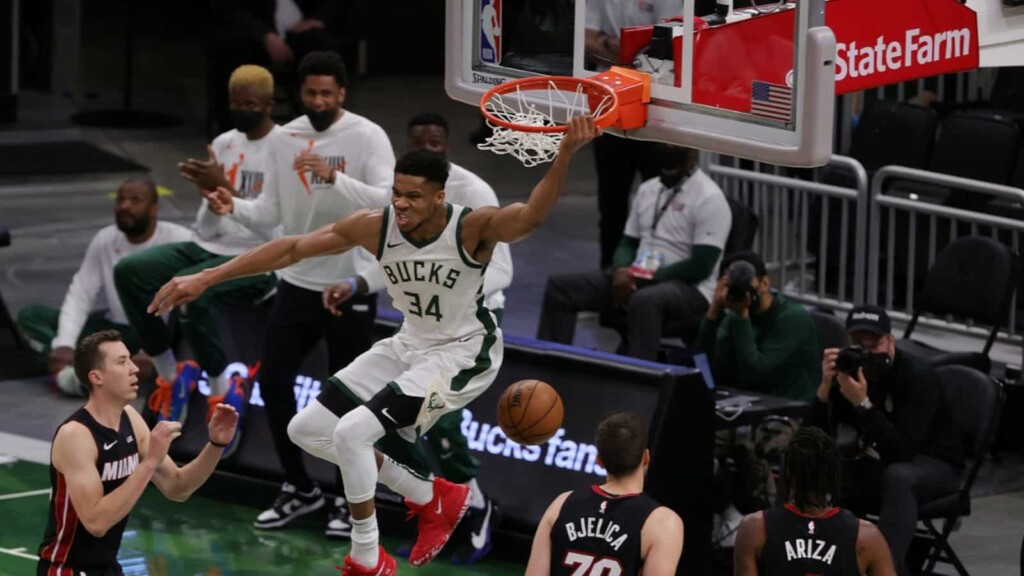 The former 2-time MVP put on a show with his great scoring skills. On a first break, Gianni Antetokounmpo was almost put to ground by Trevor Ariza and still managed to score taking all contact. He has been the most exciting player for the Milwaukee Bucks throughout. During a little scuffle with Bjelica, Giannis Antetokounmpo crashed to the ground. Later he was seen juggling the ball with his foot effortlessly. He almost went juggling the ball from one end to the other of court. This only made the crowd cheer more and more for the Greek freak.
Also Read: Watch: Kevin Durant close to ending his own career in NBA Round 1 action between Nets vs Celtics
Everybody expected game 2 to be as competitive as game 1. The first game was a complete neck breather as both the teams went back and forth on lead. Miami Heat easily made it difficult for Bucks to score and vice versa. While Khris Middleton decided the fate in the buzzer beater, Milwaukee Bucks won the match after a lot of efforts. But game 2 was completely opposite to it. With a 132-98 score, Miami Heat faced a 34-point blow-out. It is high Heat start to make changes in their strategies before Bucks make it difficult with a 3rd win. It is tough time Jimmy Butler makes his move.
Also Read: Watch: Jimmy Butler's diving layup send NBA 2020-21 Round 1 between Heat vs Bucks into OT