Gilbert Arenas has some words for the 20-year-old Isaiah Stewart after his altercation with the NBA superstar LeBron James in yesterday's Lakers vs Detroit Pistons game.
Gilbert is a 3-time All-Star who was retired as a Washington Wizard player. And, loves it when things get messy, and that whats happened in Lakers vs Pistons on Sunday night. The Lakers were hosted by the Detroit Pistons at the  Little Caesars Arena. But the things became too messy and bloody to highlight the Lakers' victory over the Pistons.
The Lakers started off finely but took the game a notch higher in the fourth quarter where they scored 37 points which eventually helped them in winning the match. Since this season started the Lakers' main problem was their inability to sustain a lead and score at the clutch point buy with yesterday's match they proved it wrong.
They defeated the Detroit Pistons by a narrow margin of just 4 points. But other than this something else transpired and that is the bloody brawl between LeBron James and Isaiah Stewart.
Gilbert Arenas warns Isaiah Stewart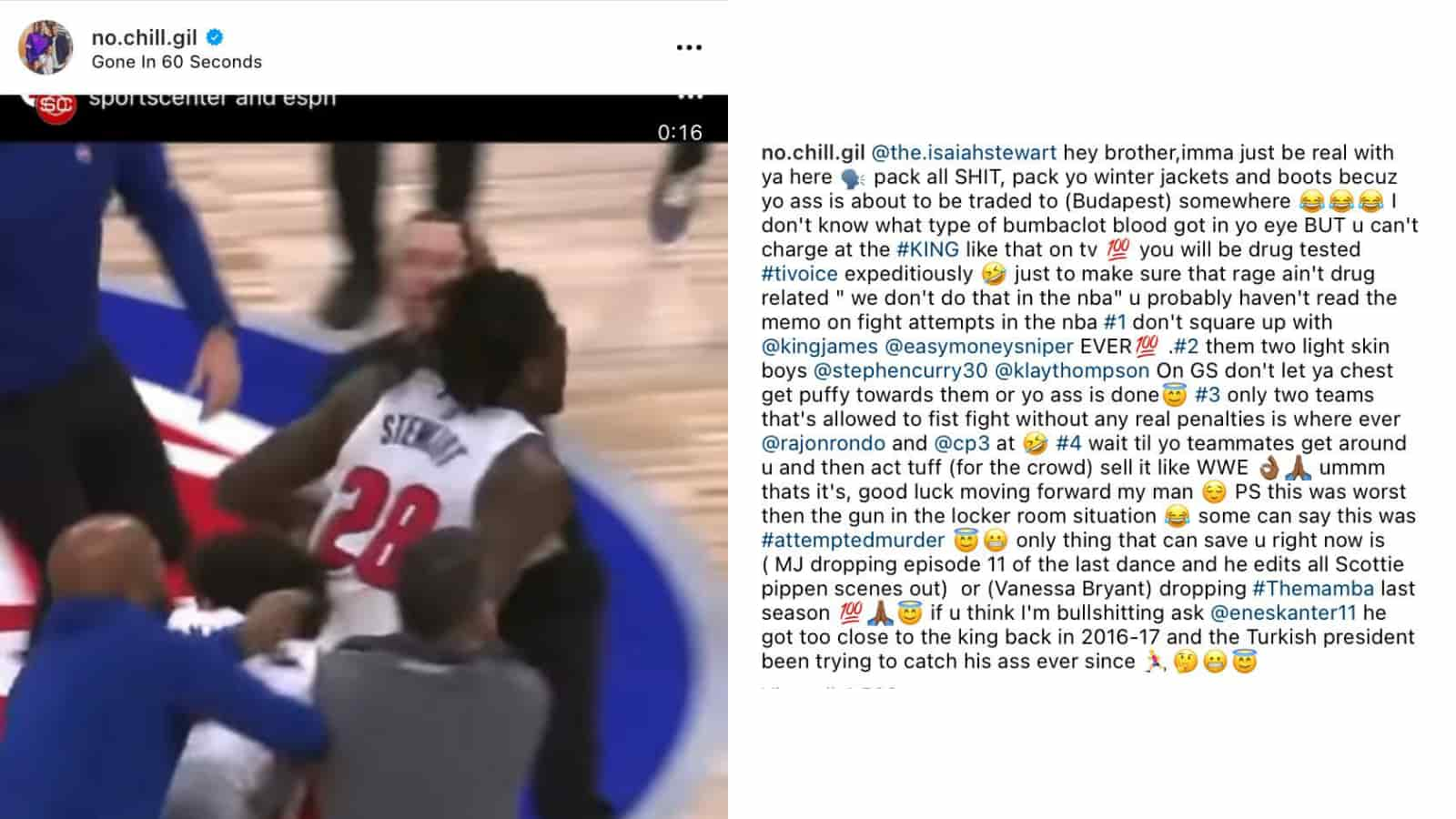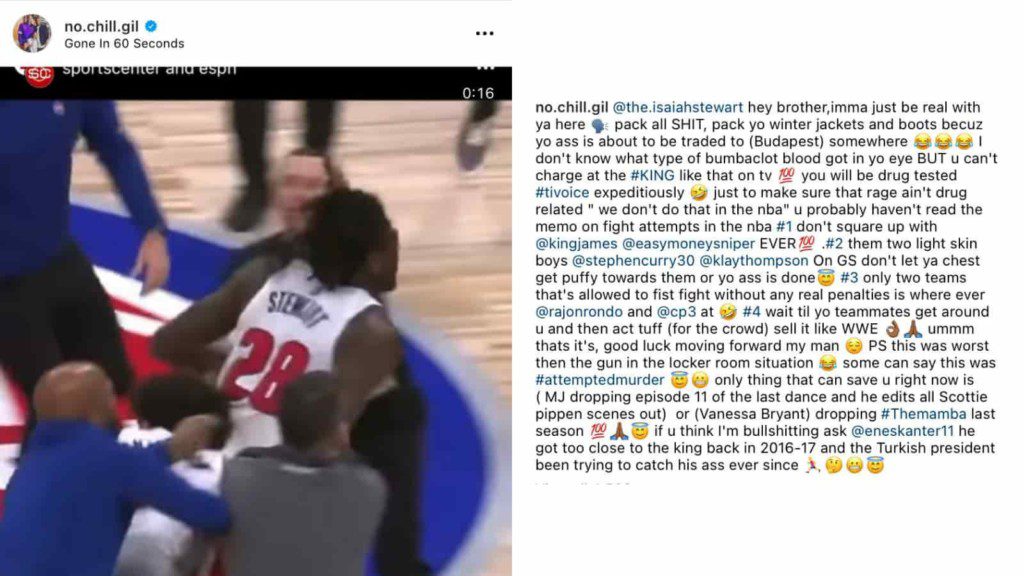 Gilbert Arenas is LeBron James' former rival, and the All-Star didn't shy away from warning a rookie to know his place and not disrespect someone like LeBron James on the court.
Arenas took on Instagram to post a video of the incident between James and Steward and wrote a long caption under it. He basically told Stewart to start packing his luggage cause' he will be sent to a place like Budapest.
He formed a list of 4 names that shouldn't be rendered within the NBA and it includes Brooklyn Nets' Kevin Durant and Golden State Warriors; splash brother i.e. Stephen Curry and Klay Thompson.  H also wrote that the only two people who are allowed to fistfight in the league without penalties are Lakers' Rajon Rondo and his long-time rival Chris Paul.
He takes his analogy to a notch up when he compares this brawl with the Washington Wizards' Locker room gun incident in 2009, and calls it worse than that of a gun incident because of how bloodlust Isaiah Stewart's eyes looked for LeBron James.
The NBA Twitter reacts to Arenas dragging Isaiah Stewart.
Both LeBron James and Isaiah Stewart were ejected from the game. The LA Lakers will continue their Road games with New York Knicks at the Maddison Square Garden on Tuesday.
Also read: LeBron James finally reveals true feeling upon Kyle Rittenhouse verdict