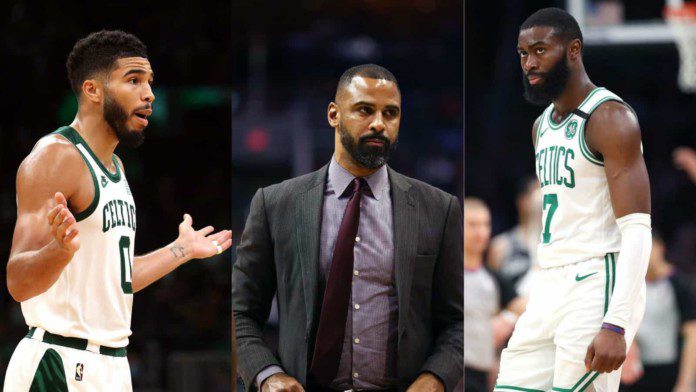 The Boston Celtics finally have someone in power who can call out players publicly instead of keeping it just to themselves, and the man is their new coach Ime Udoka. The NBA is the highest League of all Basketball Leagues that is watched by the entire world. So, what does one do when they mistake?
The fan had a problem with the previous Celtics Coach as he refrained from calling out the payers but since Udoka has taken the reins in his hands he is going all out with the roster.
Ime Udoka started his coaching career in 2012 with the San Antonio Spurs under the guidance of legendary Gregg Popovich. He stayed with Popovich for 7 years to gain experience before becoming the head coach for the Boston Celtics this summer.
Ime Udoka calls out Jaylen Brown and Jason Tatum, and It is not the first time that someone called out Jaylen Brown and Jayton Tatum as their teammate Marcus Smart has previously called out these these two star players for their selfish play.
Ime Udoka calls out Jaylen Brown and Jason Tatum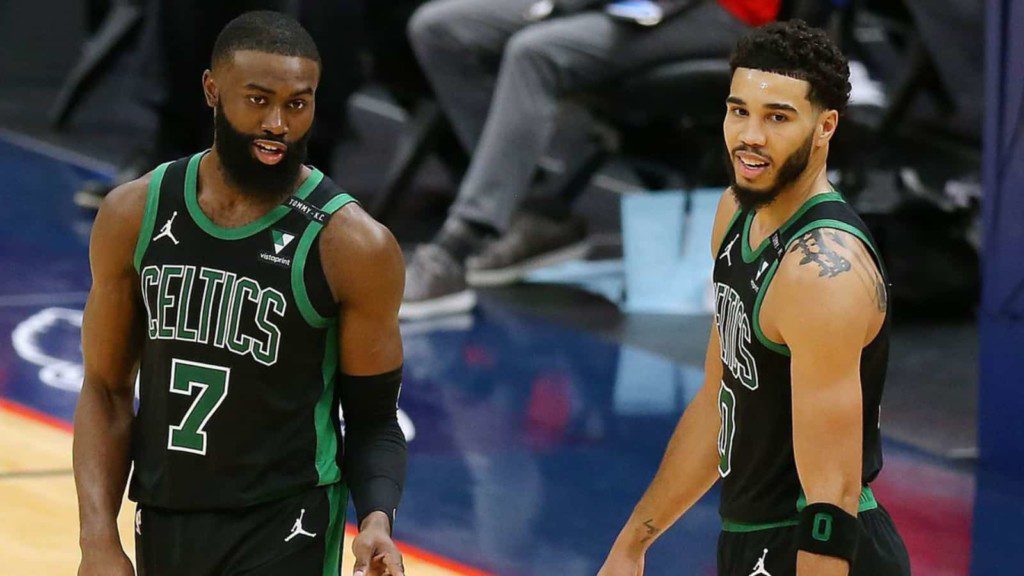 The Boston Celtics roster will have to pull up their sock as the Coach won't be shying away from publically calling them out for their mistakes. In their recent match against the San Antonio Spur, the Celtics were defeated by a team that was barely surviving by 96-88.
The Spurs have one of the worst records this season with 5-13. Their performance level has been ground level, and when a team like the Boston Celtics which are considered good meet and lose at clutch point then it becomes a concern for the whole franchise.
Ime Udoka in the Post match press conference said, We knew they were a team that switches everything and we just held the ball and tried to do it by ourselves. "No ball movement, no penetration for your teammates. In the second quarter, third quarter in the fourth it was night and day from that. So talk about teams that switch everything, it's not always for you. Get your teammates involved."
He further added, "We talked about it at halftime, it wasn't really defensively, they had 52 points, but we were just shooting so poorly, that even the open looks we got we missed, but it was a lot of isolation, one-on-one instead of movement."
By half-time the Spurs were leading ahead with 15 points. Though the Celtics tried to ease the lead in the 3rd quarter but failed to hold it for long as the Spurs charged more aggressively during the clutch point. Ime continued to say, "We know what they're going to do defensively and just have to continue to play together."
He wants the Celtics to play together if they want to fish out good results. He said, "We got Marcus, Jaylen, Jayson and Dennis starting they need to learn to play together. Not try to just get baskets for themselves."
The rookie Coach would have to try his best to incorporate this team sense into the young lads, and it is going to be hectic. The Boston Celtics will face off the Toronto Raptors on Sunday.
Also read: Watch: LeBron James and Anthony Davis getting kicked in the groin…
Also read: Stephen Curry Transcends Scottie Pippen on the NBA All-Time Scoring List