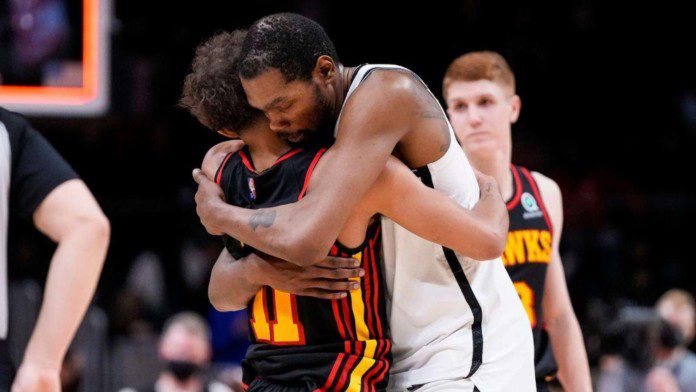 Nearing the end, the match between the Brooklyn Nets and Atlanta Hawks saw a little scuffle between their star players Kevin Durant and Trae young.  The Atlanta Hawks are at 9th place in the Eastern Conference with a score of 13-12 and needed this win to at least stay afloat in the league.
The Hawks faced the Minnesota Timberwolves in their previous match. Though they won it wasn't enough to get them back on the track. So, assuming that this win was crucial to them shouldn't be a surprise. The Hawks were performing well until they met the New York Knicks. The Knicks shattered the Hawks 7 game win streak, and since the Hawks are desperately trying to tune themselves back in that rhythm.
The story is not so different for the Brooklyn Nets. The Nets were the topmost favorites for this season's title after they gathered an illustrious roster comprising of Kevin Durant, James Harden, Kyrie Irving, Blake Griffin, LaMarcus Aldridge, etc. But the giants have been inconsistent like the Lakers. Well not entirely but somewhere similar.
With a score of 18-8, the Nets have taken the top spot in the Eastern Conference.
Kevin Durant and Trae Young engage in a little Scuffle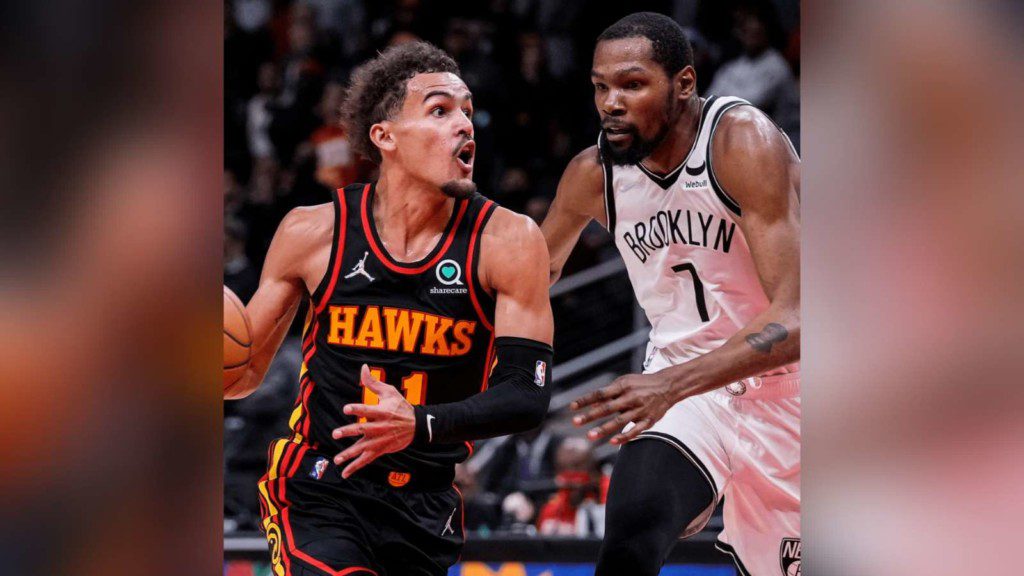 Kevin Durant along with LaMarcus was rested in the Nets' previous game against the Houston Rockets. The Nets were mercilessly defeated by Harden's former Team by 114-104. Kevin was all fired up for the game against the Hawks.
The Brooklyn Nets traveled to the State Farm Centre on Friday to take on the Atlanta Hawks. Both the teams were head-to-head through all the quarters until Nets' Big man Kevin Durant took it upon himself to finish off the Hawks. The 2013-14 MVP dropped 31 points, 5 rebounds, and 6 assists.
Trae Young also dropped a 31 pointer game with 7 rebounds and 10 assists but the Hawks couldn't match up the skill set of the Nets.
In the fourth quarter, things got a little physical when Kevin Durant shoved Trae Young from behind which made Young turn in retaliation. Words were exchanged but both smiled at the end of the scuffle.
In his post-match interview, Kevin talked about his little tussle with Trae and said, "He wanted me to get out of his space and I understand that."
He also added, "I've known Trae since he was 10 years old. That's the spirit of the game. I got nothing but respect for Trae Young."
The content is still unclear but things seem to be cool between these two players. Durant received a personal foul and both he and Young received technical. The match ended in Nets favors that outscored the Hawks by 113-105.
The Brooklyn Nets are matched up next against the Detroit Pistons scheduled on Sunday, December 13th.
Also read: "He's a once in a lifetime type player"-LeBron James commends Stephen…