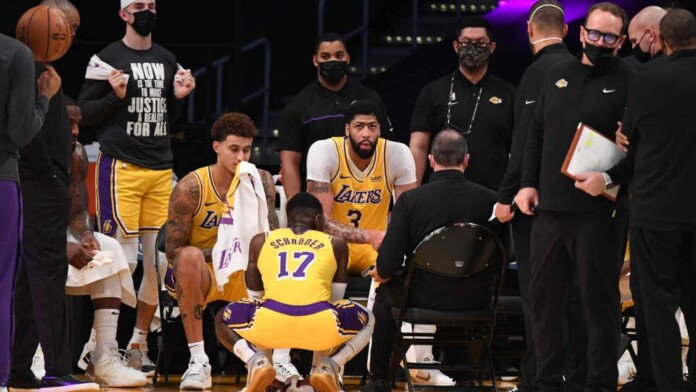 It is not very surprising to see Los Angeles Lakers finishing at the top. The champions from last season started their 2020-21 season on a very high note. However, their season has been a roller coaster ride. While being at #1 in the west initially, Los Angeles Lakers are struggling to finish in the top 6 now. A major concern troubling them is the injury woes. First Anthony Davis and then LeBron James was forced to the bench. However, their return has given them huge favour for solidifying their chances and finishing in the playoff spot. The Los Angeles Lakers looked good when they started the regular season, but the injuries pulled them down. With high hopes, the Los Angeles Lakers are positive to avoid play-in.
Los Angeles Lakers continued their momentum from last season while the league kick started. Both LeBron and AD looked to be at their best. But to Los Angeles Lakers' misfortune, Anthony Davis fell prey to a tendinosis injury even before the All-Star games. While LeBron led Los Angeles Lakers looked fierce, he succumbed an ankle injury as well. With the captain of the ship out, Los Angeles Lakers started falling apart. They could not manage to win a single post mid-season. But the team held on to their spot.
Playoff prediction for Los Angeles Lakers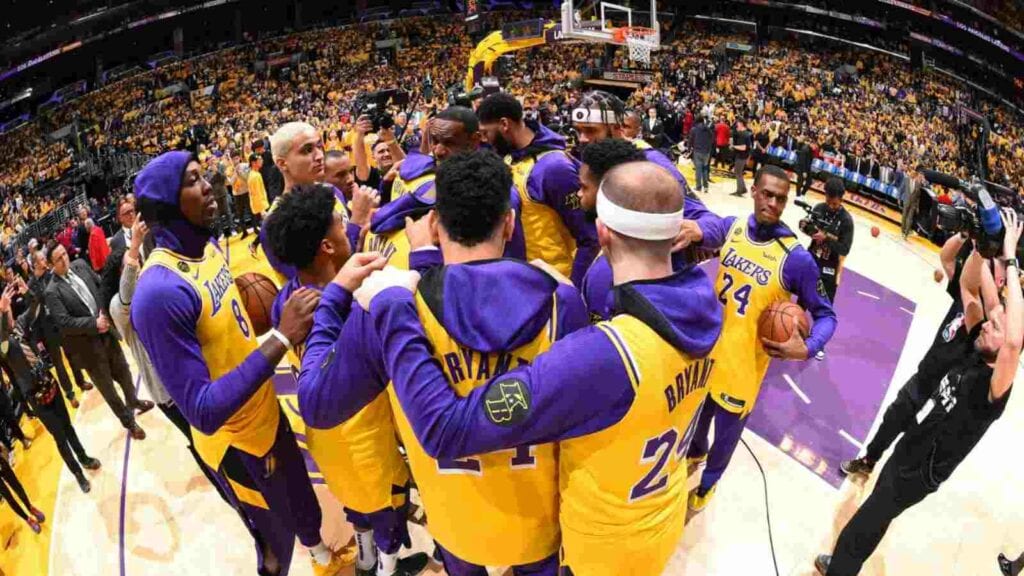 Recently with a few games left, Los Angeles Lakers were in a mini battle with Dallas Mavericks and Portland Trail Blazers to finish at top 6. While losing 3 of their games to these teams, the chances started fading. However, Anthony Davis' huge night against Phoenix Suns and New York Knick has shinned a ray of hope. Los Angeles Lakers who were struggling to make it to top 6, may end up in the playoffs with a hefty portion of luck.
Anthony Davis is averaging 25.4 points, 7.6 rebounds and 3 assists per game this season. Los Angeles Lakers are just a single game behind Portland. They are yet to face Indiana Pacers and New Orleans Pelicans in their remaining 2 game fixture. Trail Blazers who are currently at #6, have back to back games against the Suns. If Lakers manage to win both of their games while Portland loses a single will make way for Los Angeles Lakers to side in.
Also Read: Nikola Jokic drops 31 points; Denver Nuggets beat Minnesota Timberwolves 114-103
This will brink away Trail Blazer's chances of playoff spot. However, if they finish tied up at same points, Portland would clinch the spot as Los Angeles Lakers have had series loss against them. Given the red hot for of the Trail Blazers, the chances are mild. But Los Angeles Lakers have had a fair share of luck. Without their primary point guard Dennis Schroder and LeBron James, they have managed to pull off huge victories. Can the Los Angeles Lakers finish in top 6 with chances to retain their title?
Also Read: Los Angeles Clippers roll past slumping Charlotte Hornets 113-90