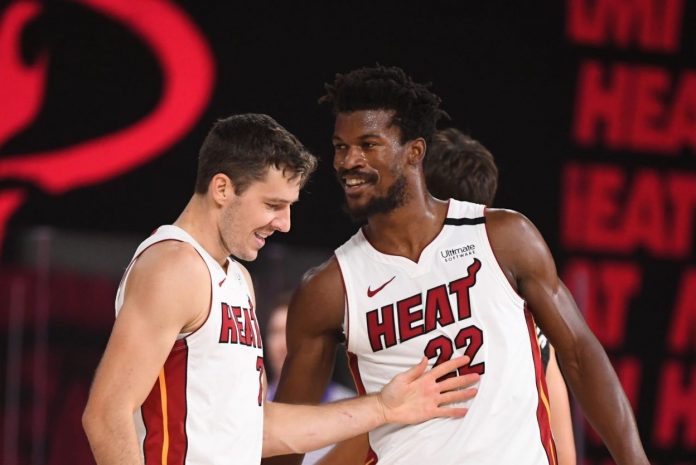 Jimmy Butler scored 21 points, Bam Adebayo had 18 points and 12 rebounds and the Miami Heat held onto the No. 5 spot in the Eastern Conference, beating the Philadelphia 76ers 106-94. Tyler Herro scored 18 points, Goran Dragic had 15 and Kendrick Nunn added 13 points.
Talking about the Philadelphia 76ers, Tobias Harris scored 21 points, Shake Milton added 12 and Danny Green had 11 for away team, which could have wrapped up the East's No. 1 seed with a win. MVP candidate Joel Embiid managed only 6 points on 3-for-9 shooting.
Miami Heat still on #5 in Eastern Conference after beating the top seeded Philadelphia 76ers
Philadelphia 76ers home for its final two games of the season, both against Orlando, one Friday and one Sunday. Win either of those, and no matter what Brooklyn or Milwaukee do the rest of the way the 76ers will be the No. 1 seed in the East for the first time since 2001.
"Obviously, when you have an opportunity to clinch No. 1, it's an added feel of 'we've got to do it, we've got to do it' and sometimes you lose sight of what really needs to get done," Harris said. "For us, it's just to lock in, play the game … and get that off our back."
Miami Heat is currently 39-31, a half-game behind No. 4 Atlanta Hawks and tied with No. 6 New York Knicks. The Atlanta Hawks hold a tiebreaker over the Miami Heat; the Heat hold a tiebreaker over the Knicks, who kept pace with a win over San Antonio Spurs. 
Miami led by 22 in the first half, didn't let the lead fall below 17 in the third and stretched the margin to 26 early in the fourth. This was only the third game all season in which Philadelphia trailed by 20 or more in the first half. The Philadelphia 76ers trailed Denver Nuggets by 24 in the first half on March 30 and Milwaukee Bucks by 20 on April 22. 
Also Read: Los Angeles Clippers roll past slumping Charlotte Hornets 113-90