The modern era of the NBA comes with a lot of external noise, hype, speculations, predictions and whatnot? As we saw in mid-February, this year's trade deadline took the association by storm. In a lighter vein, we could say that Kevin Durant and Kyrie Irving headlined the deadline. Both the superstars were traded away by the Brooklyn Nets to the Phoenix Suns and the Dallas Mavericks respectively.
Elsewhere, The Ringer's founder Bill Simmons made some huge statements on a recent episode of his podcast The Bill Simmons podcast'. He went on to make bold predictions and said, "I think he (Draymond Green) ends up in Dallas with Kyrie and with Luka, and LeBron tries to figure out a way to get there eventually. Yea, that's my prediction."
Kyrie Irving and LeBron James have been teammates in the past while playing for the Cleveland Cavaliers from 2014-2017. In 2016, the duo led Cleveland to its first major sports title in 52 years against Draymond Green's team.
Related: LeBron James REJECTS Elon Musk's idea, announces he won't pay for blue tick on Twitter
Kyrie Irving and Luka Doncic haven't been able to propel the Mavericks ahead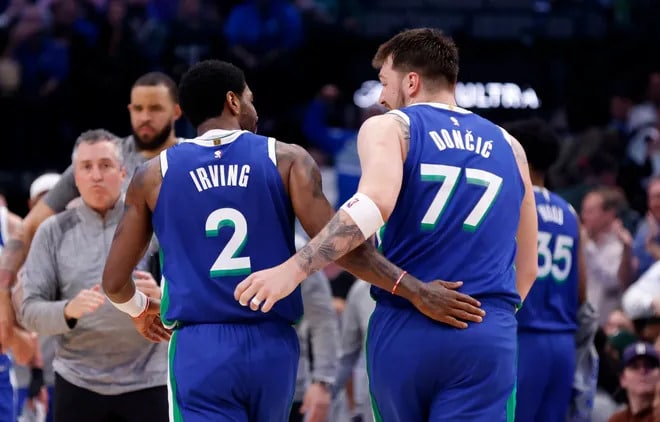 Irving was traded to the Dallas Mavericks at the trade deadline. What initially seemed to be a move that could potentially make the Mavericks a Title Contender has not lived up to the expectations so far.
Although the duo has produced electrifying games and set records by combining for 60+ points on multiple occasions, they haven't been able to translate the same into Important victories.
The Dallas Mavericks are currently placed 11th in the tightly contested western conference with a record of 37-40. The Mavs are among the most loved teams in the league and the fans are eagerly awaiting a playoff series between the Mavericks and the Suns. With only 5 games remaining in the regular season, the Mavericks have a challenging task ahead in order to make the play in the tournament at the very least.
In case you missed it:
Why is Julius Randle not playing tonight against the Cavaliers?
Mikal Bridges ROASTS Karl Anthony-Towns for cringey copy of Nets star's trademark celebration