Draymond Green and Golden State Warriors have breached the Walls of Memphis and now march towards Western Conference finals after burying the series for good against the Memphis Grizzlies 110-96 in Game 6 on Friday night. Every game of this series was action-packed with loads of drama and this game was no exception, with the Grizzlies showing tremendous fight without star guard Ja Morant in the lineup. But in the end, the Warriors "Whooped That Trick" as the they went on a scoring spree in the final five minutes to end Memphis' postseason and return to the Conference Finals for the first time since 2019.
The Warriors attack was spearheaded by Klay Thompson who dropped 30 points, hence proving that Game 6 Klay Thompson is not a myth. Stephen Curry found his groove late and finished the game with 29 points, as Memphis had a lone warrior in Dillon Brooks did everything he could to try and force a Game 7, scoring 30 point while Desmond Bane added 25 of his own. With the win, the Warriors will face the winner of the series between the Dallas Mavericks and Phoenix Suns, in the Conference Finals on May 18. Draymond Green was monumental for the Warriors as ever but he couldn't help himself, as he mocked Kendrick Perkins about his various statements throughout the series
Also Read : "Game 7, in Boston! That's not where you wanna be" Marcus…
"An ogre on TV talking" – Draymond Green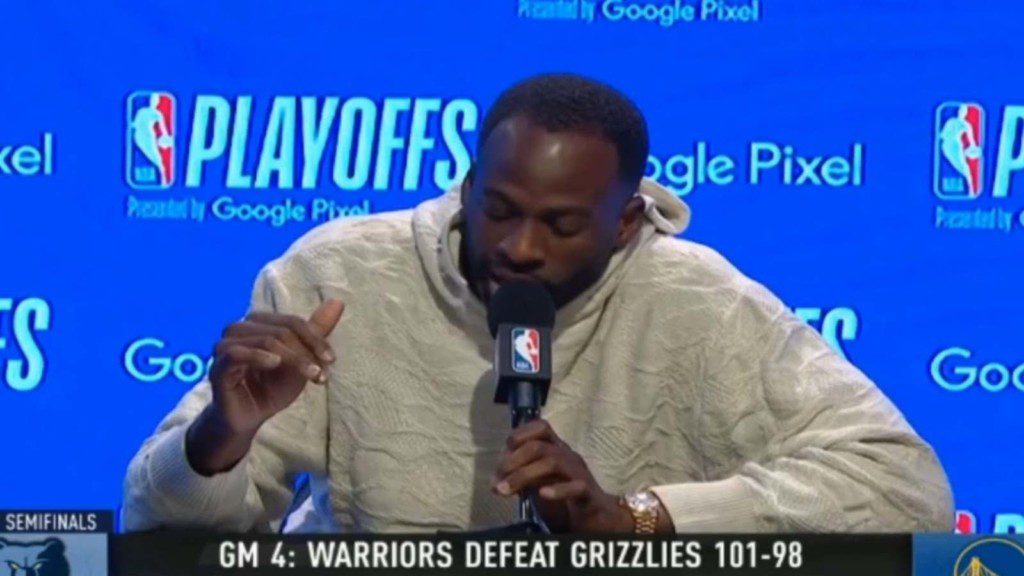 Draymond Green has been an important part of the well-oiled machine called Golden State Warriors. He showed his worth in Game 6 by almost dropping a triple-double, ending the game with 14 points, 15 rebounds, and eight assists. Green explained some of the motivation for his marvellous Game 6 performance. He said that witnessed "a big ogre," also known as Kendrick Perkins, talking about him being "scared to shoot the basketball." A series of scathes and jabs begun as these two took their fight to the media.
"Something came up on my phone earlier. A guy saying I'm scared to shoot the basketball. 'Scared' and 'me' in the same sentence is like brutal. But you got a big ogre on TV saying what Draymond say ain't the gospel.
"But these are people who get employed to talk on TV about our game. 'Anybody could make that pass.' You make that pass. We'd love to see it. I played against the guy by the way. I'm talking about Kendrick Perkins for those of y'all that don't know. I'm never duckin' no smoke. As the Memphis Grizzlies' towels say, I don't duck smoke. 'Anybody could make that pass.' You couldn't, so good luck. You just got to come out and shut people up sometimes. It was very fun to do."
It appears as if Green had been holding these emotions for a long time as he put on his shooting boots in Game 6, as he was 6-14 from the field Friday night. "You just gotta come out and shut people up sometimes," he said.
Kendrick, the former NBA Champion is not one to hold back and boy he did not, as he tweeted his resentment before deleting the tweet and uploading the video a few minutes later.
"Ogre? What? You ain't handsome. You damn sure ain't cute!… At the end of the day, you weren't being aggressive like the Draymond of old. Yeah you did your thing tonight, but thinking I'm going to be quiet…you got the wrong one. I ain't going to shut up for nobody,"
Draymond told Perk to stand his ground, and not to delete what he says. He then took a cheeky scathe at how this 'beef' would boost 'First Take's' views. Green and Perkins continued the social media battle with either one wanting to have the last word. The personalities of Green and Big Perk indicate this rivalry isn't ending anytime soon, so sit down with popcorn and "carry the hell on".
Also Read : Kevon Looney's historic 22 rebounds in Game 6, makes his stand…
Also Read : "Gotta earn those strides first kid" Ja Morant rips apart Jonathan…