There is no doubt in stating that LeBron James appreciates those who truly deserve the honors. Some would even suggest that it is highly difficult to win the King's respect when the standards set are very high. But Los Angeles Lakers star LeBron James has nothing but love for former Coach Tyron Lue. The Los Angeles Clippers head coach worked with LeBron in his Cleveland Cavaliers' 2nd stint. The 37-year-old reiterated that admiration once again with an epic tribute to his former coach, as he shared on his Instagram post.
On his Instagram stories, James showed off his hoodie with an edited print of the infamous Allen Iverson step-over. Instead of Iverson, though, the print design showed Coach Lue looking at his younger self. It has a text that reads, "Every man falls, but he is judged by what he does when he gets up." Very inspirational lines for former Lakers' star guard.
Tyron Lue – a very low profile player career, and exactly opposite coaching career with LeBron James and Cavs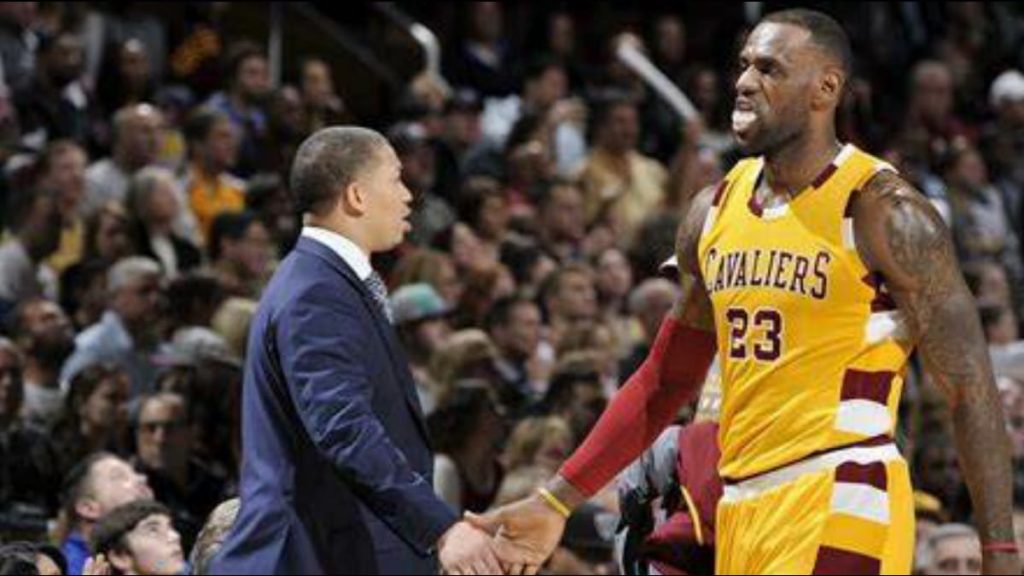 While that step-over does make a highlight reel for Allen Iverson and probably made impression on people's minds about Tyron Lue the player, it is different when talking about Lue the coach. He is an NBA champion with the Cleveland Cavaliers, and he'll be best remembered in Cavs history as the one who guided LeBron James and co. to the improbable 3-1 comeback against the mighty Golden State Warriors.
Also Read: "Everybody is just sick of your woke bullsh*t" Colby Covington blasted LeBron James for his unimpressive NBA Finals record
It's not the first time the Lakers star forward praised Lue for his journey to becoming a champion coach. Last season alone, he called the 45-year-old the best coach in the NBA today. Moreover, after playing the Clippers earlier in the season as well, James had nothing but massive praises for Lue, whom he described as a coach with no weakness.
"T-Lue is great," James said. "Simple as that. Obviously you guys know I played for him and what we was able to do. T-Lue is great. he's great at every facet of the game. As a coach, he doesn't have a weakness."
As a player, Tyron Lue was never a very hyped player, though he was part of a flashy Los Angeles Lakers team. He played with the dominant duo of Shaq-Kobe and won 2 titles with them in his early millennial years. He was never an All-star player but had the great game sense to play a rotational player role. He thrived at Atlanta Hawks, clocking career-best 32 mins per game, and scoring an average of 14 points for the team.
After a couple of assistant coaching roles, he took over the Cavs Head coach position and led them to NBA Finals 4 seasons in a row with LeBron James. Currently, he again got promoted to the head coaching position at LA Clippers, and certainly makes the Battle of LA even more interesting. Now Both LA Teams have Championship winning coaches, megastars, and role players, so fans would be eager for the encounter between the city rivals.
Also Read: "He could play even in his 50s" Scottie Pippen claims Stephen Curry to be 'mini' LeBron James
Also Read: "This is one WHITE American who'll be anything but a bust" Skip Bayless sides with Chet Holmgren to be a terror in NBA