Stephen Curry has dismembered his critics, obliterated every hurdle on his way and has led the path for Golden State to rise from its ashes to the their rightful throne. The Golden State Warriors are NBA champions after coming away with a 103-90 victory over the Boston Celtics in Game 6 of the NBA Finals at TD Garden on last Thursday night. Grabbing his first NBA Finals MVP, Curry has established himself as one of the All Time Greats, possibly even Top 10 All-time.
His former teammate and former friend too, Kevin Durant had a season quite the polar opposite. Durant left the Golden State Warriors after 2 triumphant Rings in the NBA, looking to pair up with Kyrie Irving to have another chance at a Championship. The Brooklyn Nets were thrown out of the NBA Playoffs by the Championship contending Boston Celtics, as they clean swept the Nets 4-0 in the series. Shannon Sharpe believes that KD must thank Curry for guiding him to the only 2 rings of his career, as without Steph, KD is a mere image of his former self.
Also Read : "KD wrecked LeBron James' legacy" Skip Bayless believes Kevin Durant would be heading to Phoenix to save CP3's legacy
"KD needs to praise Steph for allowing him to come into his house." – Shannon Sharpe makes bold statement regarding Stephen Curry and Kevin Durant's time at the Warriors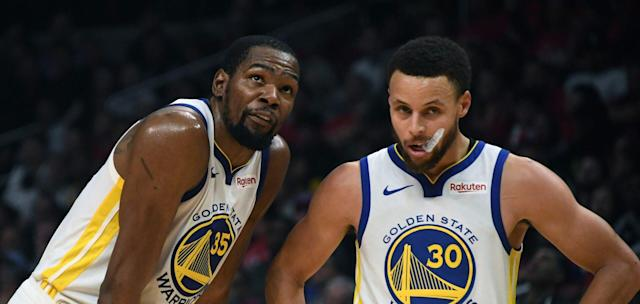 The streets were filled with ecstasy as the Bay Area rallied their Mastermind Steve Kerr and King, Stephen Curry and his Championship heroes home, holding their pride and the Larry O'Brian trophy aloft, as San Francisco basked in the celebrations. "You don't wanna see us next year", These were Stephen Curry's words on May 21st, 2021 after a disappointing loss to the Grizzlies in the Play-In Tournament. About 11 months down the line, the Warriors have stepped up and claimed what is theirs, their opponents have bowed down, and the haters are nowhere to be seen, as the Golden State Warriors clinch their 4th NBA Title in 8 seasons.
Kevin Durant left the Golden State Warriors after 2 triumphant Rings in the NBA, looking to pair up with Kyrie Irving to have another chance at a Championship. He was a force to reckon with when he was with the Warriors, winning 2 Finals MVP's while in San Francisco, being the spearhead along with Stephen Curry and Klay Thompson. Unfortunately, his years at Brooklyn have been filled with disappointments, as he has not been able to grab even a conference Finals appearance.
This intriguing fact has led many people to believe that On Fox Sports' "Skip and Shannon: Undisputed," former NFL star Shannon Sharpe asserted that Curry has nothing to lose from these finals. Sharpe believes Curry has already proven his quality throughout the years, especially given the fact that he has won without the 'Slenderman'. Although Durant thrived in the Golden State, majority of the NBA community always looked up to Steph Curry as the leader of the Warriors and that Durant has yet to prove he can win as the guy in charge.
"This is icing on the cake," Sharpe said. "He already has three rings, he already has two MVPs. When you've done what Steph Curry has already done, remember he got to two Finals without Kevin Durant. He won two MVPs without Kevin Durant. Now the Finals MVP, that's going to add icing. Steph Curry is at the level now, its icing on the cake, and he's a kid. More icing on the cake, more the kid loves it. He has nothing to prove. He's gone to six Finals in eight seasons."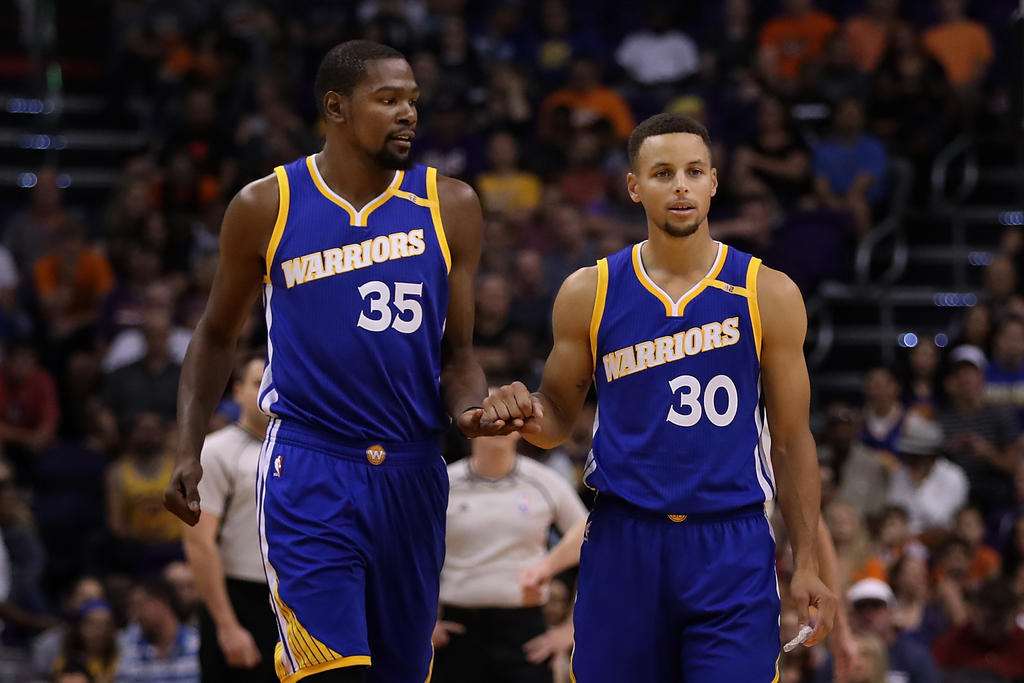 After leaving Golden State for the Nets in 2019, Durant attempted to gather his own squad and try to lead a championship run of his own. Irving and Durant joined the Nets during the summer of 2019, it's been an era of disappointment and untapped potential thus far. The Big 3 of the Nets, consisting of Kevin Durant, Kyrie Irving and James Harden played just 16 games together, making it hard to cash in fully on their names. Durant missed a quarter of this season due to a knee injury, Irving missed nearly two-thirds due to his refusal to get vaccinated, and Harden demanded a trade, one that brought back Ben Simmons, who still hasn't played a game.
Kevin Durant has reportedly asked for a trade outside Brooklyn and is being already slandered for betraying the Nets. The Brooklyn Nets had one of the most nightmarish seasons, with catastrophes on and off the court, as the Nets were swept off their feet by the Boston Celtics in the first round of playoffs, concluding their disappointing season and a disastrous postseason, far below preseason hopes and expectations, which has left KD to seek new challenges elsewhere. Which has led to further criticism from Shannon who called him a 'runner' who runs away when things get a little difficult.
It has been a very stressful season for KD, with his former team winning the Title without him, an he is struggling for a playoff spot. Kevin Durant has been mocked and trolled at, even by his former teammates this season. Kevin Durant's legacy came into question after the Warriors won their second title without him, equaling their record with him.
When the dust settles, Kevin Durant will still be regarded as one of the greatest scorers of the game, however, there are some events which have scarred his career including his decision to join the Golden State Warriors to win the two rings of his career. Regardless of the way KD used, he still was phenomenal during his stint with the Warriors.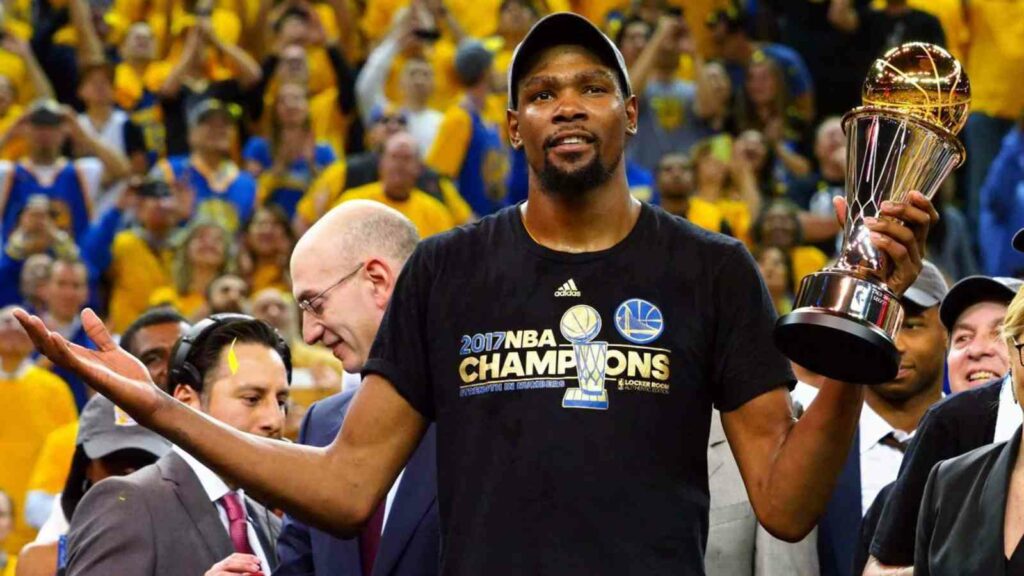 There is no doubt that Kevin Durant is a top-10 scoring talent of all time because he has no comparison in terms of being a 6'10" sharpshooter with a wingspan that extends over 7 feet. In raw talent, Durant has a solid argument for being one of the most uniquely unstoppable players to ever play the game, however, he has been under massive amounts of criticism since leaving the Warriors and failing to make an impact. Shannon is not entirely wrong. Steph did take the back seat during Kevin's stint with the Warriors. However, Sharpe can't credit Curry for KD's entire legacy.
Also Read : "Black Jesus Indeed" Waitress' reaction to learning Grizzlies star Ja Morant tipping her $500 goes viral
Also Read : "Nets should ask for the WORLD for Durant" Brian Geltzeiler feels Kevin Durant can immediately make any team a championship contender