When honest individuals like Luka Doncic and Charles Barkley engage in a conversation, you best believe there is no filter!
Inside the NBA is one of the best basketball shows on television. The Emmy-award-winning studio show has NBA legends Charles Barkley, Shaquille O'Neal, and veteran Kenny Smith, and is hosted by the amazing Ernie Johnson. Earlier today, ahead of the much-anticipated, Dallas Mavericks vs Golden State Warriors game, the star of the home team, Luka Doncic agreed to talk to the folks in the studio and give them a preview of the game in hand.
The four analysts on the show took turns questioning Doncic on he prepares to face the reigning champions at their home. Charles Barkley, the NBA Hall-of-Famer is known to have no filter and asks the youngster this right before a spectacular game: "I think you guys need to play at a faster pace. Because when y'all walk the ball up and down the court, it makes it a one-on-one game for you. Do you guys think y'all need to play at a much faster pace?"
Right to Doncic's face! This is why everyone loves Charles Barkley and apparently, even Luka Doncic does. The Mavs superstar responded with no hesitation, "Yeah we have [to]. But, I'm slow. That's probably the problem why we play slower. But I think you're right." Watch the clip below:
Charles Barkley: "Do you guys think y'all need to play at a much faster pace?"

Luka Doncic: "Yeah we have, but I'm slow."#MFFL pic.twitter.com/tcfkcFVyT3

— 𝙏𝙖𝙡𝙠𝙞𝙣' 𝙉𝘽𝘼 (@_Talkin_NBA) November 30, 2022
Despite being only 23 years old, Luka was ready to take up the responsibility and answered bluntly that it is on him that the Dallas Mavericks team does not move fast on the court. And while answering, Doncic took no offense to the legend's honest question and showed great character.
Read more: "They're a first round exit unless switch things up" Kendrick Perkins slams Dallas Mavericks for CARELESSLY depending entirely on Luka Doncic
Not the first time Luka Doncic acknowledged his slow pace on the court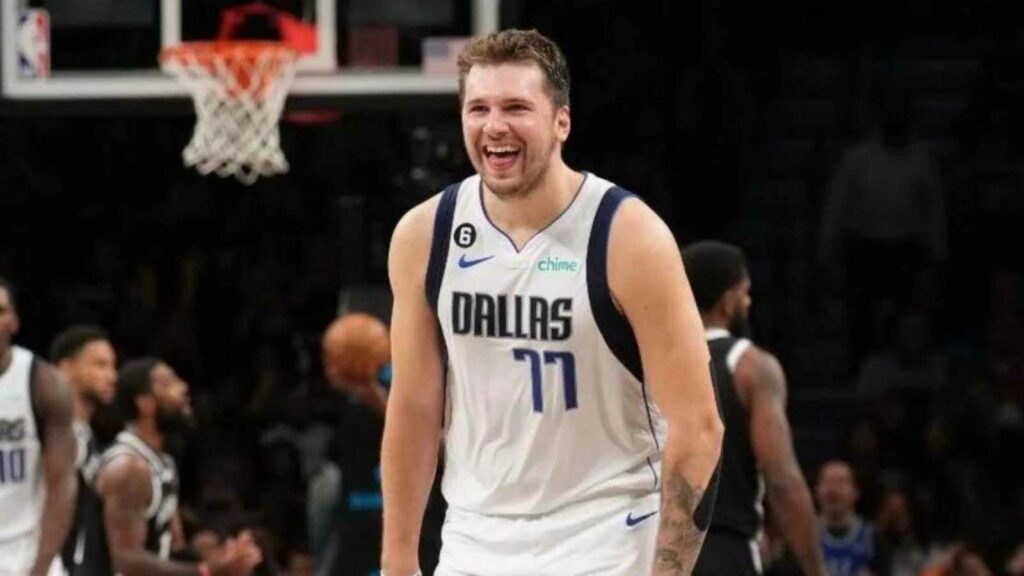 Luka Doncic is one of the most-loved players in the NBA and his on-court skills aren't the only reason. The Slovenian player has a great personality and is always very honest about the game. Not often have seen Doncic stall or blame others for his mishappenings on the court. Luka Magic is aware that despite being one of the best players in the NBA, he still has his shortcomings.
If you're surprised Doncic is openly admitting to Charles Barkley about his "slow" pace on the court, his tweet from 2020 will shock you. Doncic, only two years into the NBA was poking fun at the fact that he can't move fast on the court. In a tweet posted by the official handle of the Dallas Mavericks asking how Luka's one-legged fade is, Doncic couldn't help but write back, "Slow".
Slow 😂😂😂😂 https://t.co/nJYNPOOiM5

— Luka Doncic (@luka7doncic) December 15, 2020
Also read: "Toying with Raptors on and off the court" – Giannis Antetokounmpo casually plays with toy dinosaur during timeout in Dallas Mavericks game
While many compare Luka's slow speed on the court to that of legend Larry Bird, the better comparison would be to former Dallas Mavericks superstar, Dirk Werner Nowitzki. Even Doncic has admitted that he wants to contribute to the franchise as much as Nowitzki and even more.
Also read: "Show everyone who's in charge" Dallas Mavericks owner shares excitement over Elon Musk's $44 billion purchase of Twitter