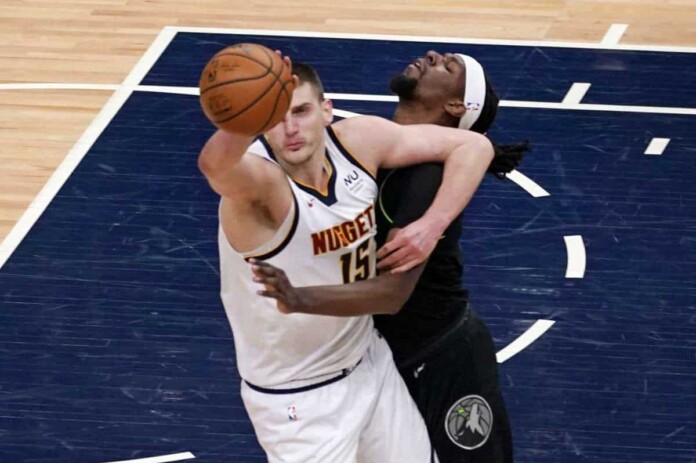 Nikola Jokic scored 31 points to lead the payoff bound Denver Nuggets in hot-form after beating Minnesota Timberwolves 114-103 Nikola Jokic scored 16 of his 31 points in the first quarter of the game itself. While JaVale McGee scored 12 points and 13 rebounds. Vlatko Cancar scored a career-high 14 points off the bench for Denver. 
Anthony Edwards scored 18 of his 29 points in the third quarter as Minnesota Timberwolves made its run. Karl-Anthony Towns added 20 points and 11 rebounds and D'Angelo Russell had 17 points. 
Nikola Jokic leads Denver Nuggets against Minnesota Timberwolves 114-103
Denver Nuggets used its size with Nikola Jokic and McGee to assume a 13-point lead in the first half. The Nuggets scored their first 20 points in the paint, a streak snapped by an Aaron Gordon 3-pointer. They finished with 60 points inside the paint for the game.
Jokic was doing much of the offensive work. He had 12 of Denver's first 14 points. Together, Nikola Jokic and JaVale McGee McGee combined for 27 rebounds and the Nuggets held a 53-43 rebounding advantage.
"I definitely think this could be a lineup in the future, especially with teams that play two bigs," McGee said. "I definitely feel like it gives Joke definitely some time off his legs on the defensive end. He doesn't have to worry about it. He can just do what he does on offense."
Also Read: Los Angeles Clippers roll past slumping Charlotte Hornets 113-90
"I think we can go with a lot of different options," Nuggets coach Mike Malone said of Jokic and McGee starting together for the first time. "As we approach the playoffs with now two games to go, we can try some more different things." 
Also Read: Miami Heat remain 5th seed in Eastern Conference after massive win…