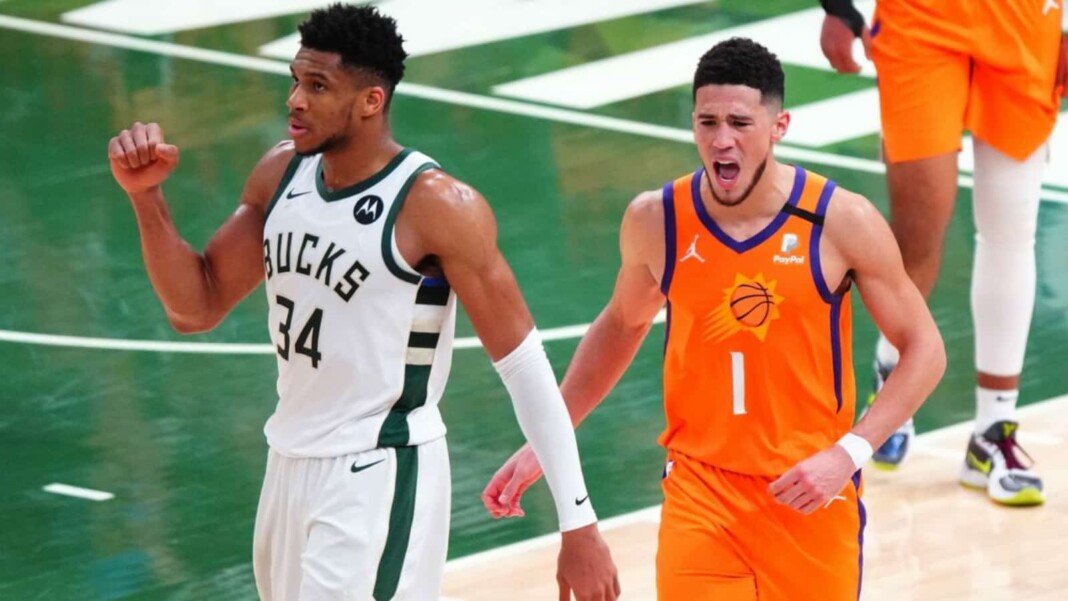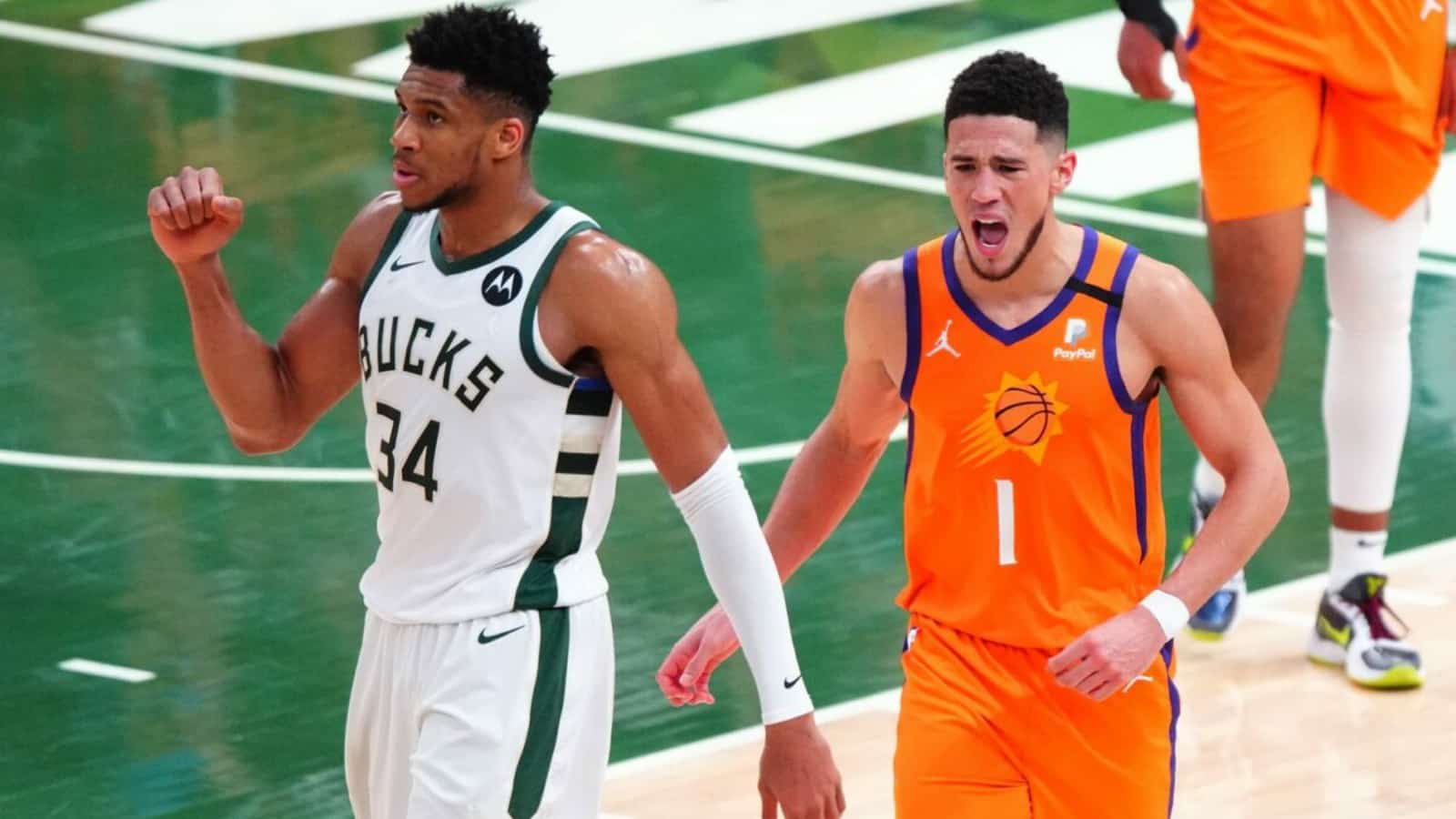 Watch the latest Phoenix Suns vs Milwaukee Bucks Predictions just before their match up. The 2021 NBA Finals began as a best-of-seven series but, beginning with Game 5 on Saturday night, the matchup is now a best-of-three. The Phoenix Suns and Milwaukee Bucks are tied at 2-2 after four games, with the series shifting back to Arizona. The Suns won the first two games at home, taking control of the series. The Bucks then answered with back-to-back wins at Fiserv Forum, including a comeback victory in Game 4 on Wednesday. But the Phoenix Suns were farfetched.
Milwaukee Bucks are on a dream comeback in the finals. Being 2-0 down in the first 2 game, Giannis Antetokounmpo and squad stepped up big time. While putting end to the Phoenix Suns' winning momentum, Monty Williams' tactics. The Suns' excellent offense run by Chris Paul and Devin Booker were also limited. With Game 5 coming up, let's hope the match will bring some great moments for the fans.
Phoenix Suns vs Milwaukee Bucks Preview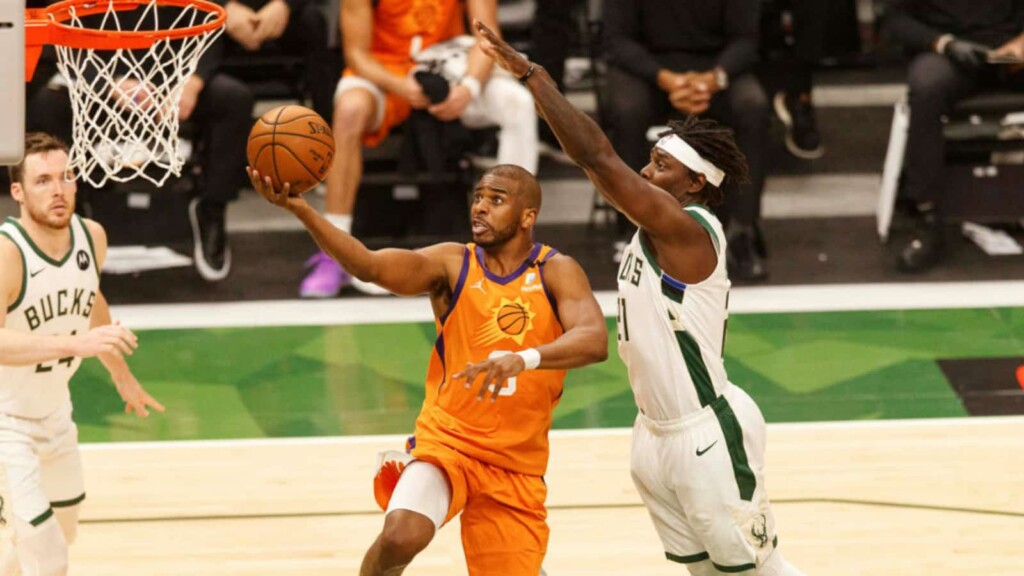 Booker made a significant dent in Game 4, scoring 42 points on just 28 shot attempts, and the Suns have multiple scoring options to pair with him in Paul, Ayton and a bevy of strong perimeter shooters. Moreover, Phoenix is exceptionally comfortable in its home building, posting a 35-11 record at Phoenix Arena this season. More than that Chris Paul and De'Andre Ayton have proved very crucial for the team amidst every crucial game.
Milwaukee has the best player in the series in Antetokounmpo. While he wasn't the offensive hero of Game 4, Antetokounmpo reminded observers of his defensive prowess with a memorable blocked shot against Ayton in crunch time. In addition, Antetokounmpo is averaging 32.3 points, 14.0 rebounds and 5.5 assists per game in the series to this point, and he unlocks Milwaukee's defensive approach with his size, athleticism, rim protection and versatility. Khris Middleton, who scored 40 points to boost Milwaukee's offense in Game 4 was a hero as well. Middleton's shot-making is critical to the series, and his pick-and-roll partnership with Antetokounmpo considerably raised the Bucks' offensive ceiling in that contest. 
Phoenix Suns vs Milwaukee Bucks Head to Head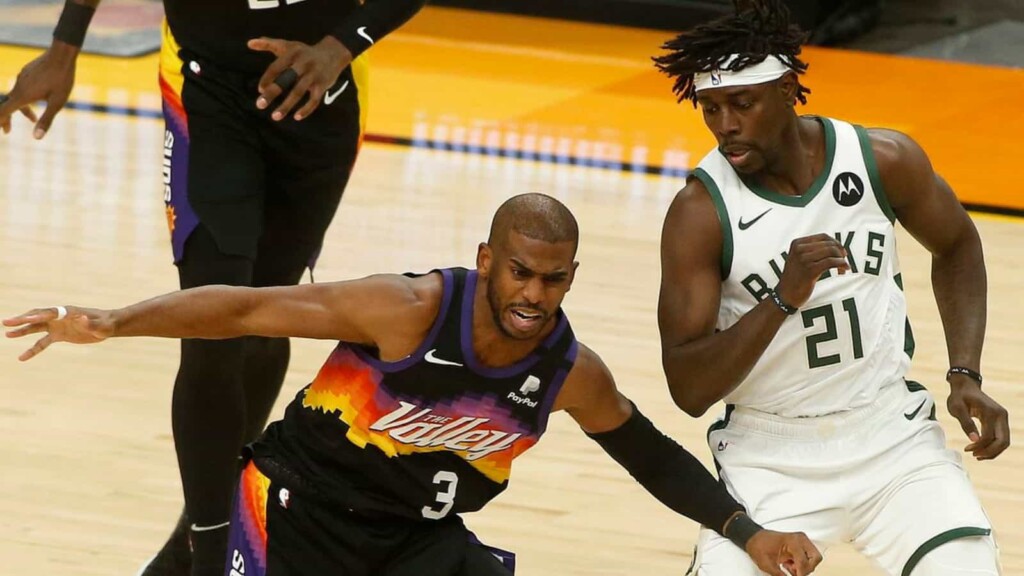 2018-19 – Suns 2-0 Bucks
2019-20 – Suns 1-1 Bucks
2020-21 – Suns 2-0 Bucks
Phoenix Suns vs Milwaukee Bucks Injury Report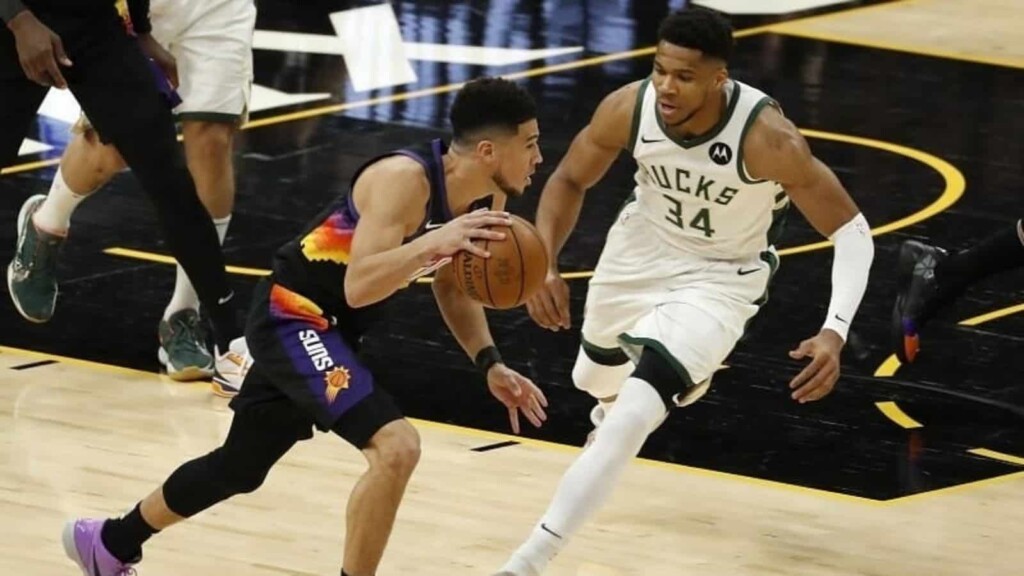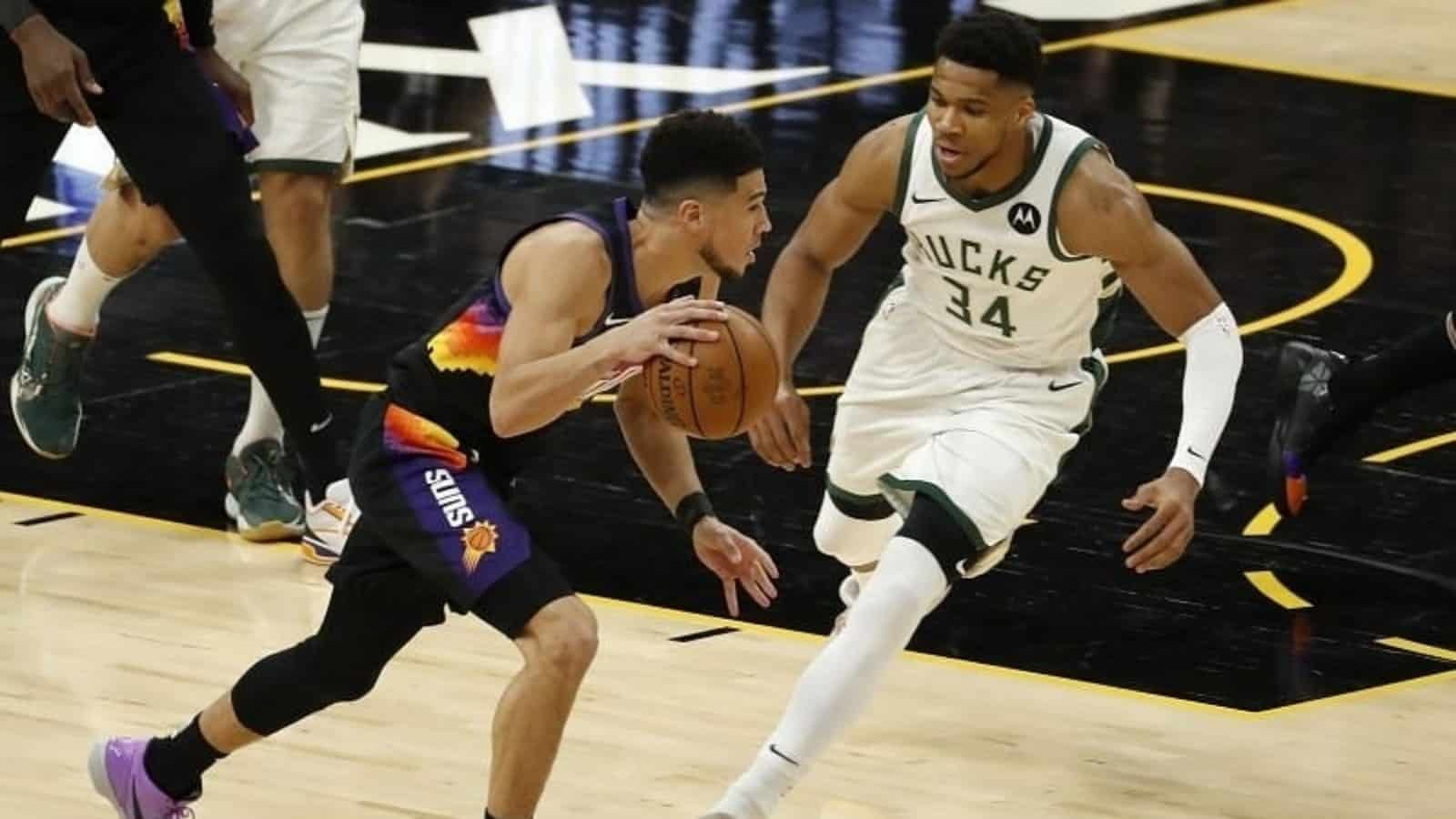 The Phoenix Suns have Dario Saric on their injury report for Game 4 against the Milwaukee Bucks. Saric went down with a torn ACL in Game 1 of the NBA Finals and will be out for the rest of the series. The bug man is a crucial player and his absence might be underwhelming.
Donte DiVincenzo remains on the Milwaukee Bucks' injury report. The 24-year-old is out for the season after undergoing left ankle surgery to repair a torn ligament. He has been sidelined since injuring the ankle against the Miami Heat in the first round of the postseason.
Phoenix Suns vs Milwaukee Bucks Line ups and Starting 5s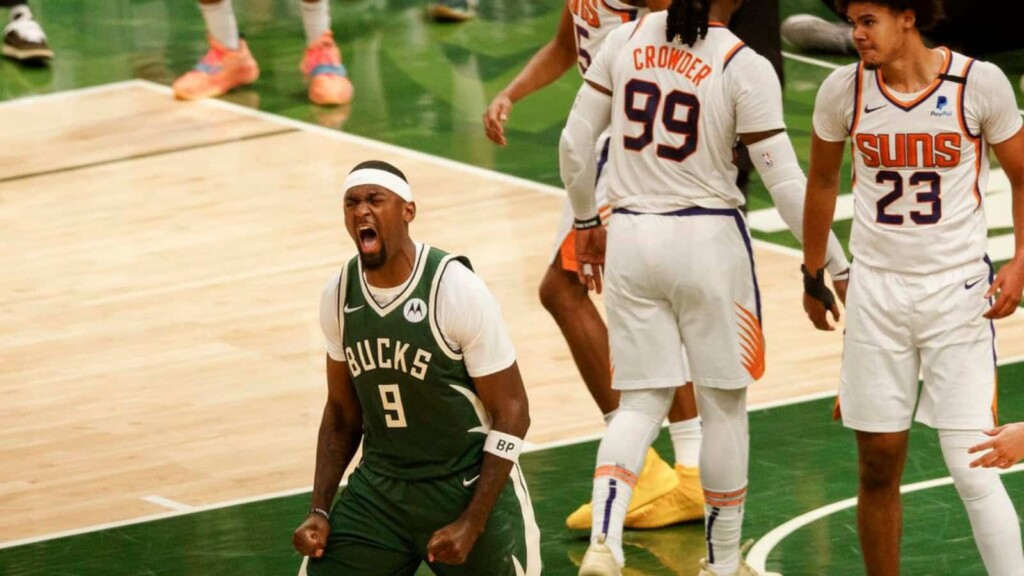 The Phoenix Suns ill probably start with the same set of starters. The starting 5 will consist of Jae Crowder, Mikal Bridges, De'Andre Ayton, Chris Paul and Devin Booker. Their quick rotational players will be Cameron Johnson, Cameron Payne, Torey Craig, Frank Kaminsky and Abdel Nader.
Milwaukee Bucks will start unchanged from the previous game. Their starters will be Giannis Antetokounmpo, PJ Tucker, Brook Lopez, Khris Middleton and Jrue Holiday. Their quick subs will be Pay Connaughton, Bobby Portis, Jeff Teague, Bryn Forbes and Thanasis Antetokounmpo
Phoenix Suns vs Milwaukee Bucks Prediction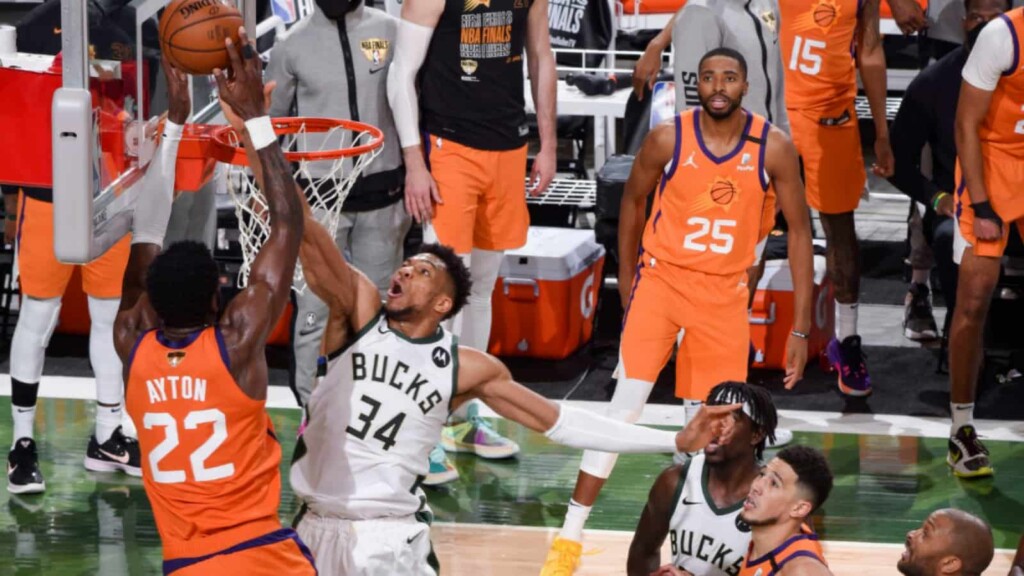 The Phoenix Suns will be back to their home ground at Phoenix Suns' Arena. Once being back, the home crowd will advantage their performance. They have already had a fair share of support from home. Previous wins will also encourage the team to be at par with Bucks. It is highly expected that Phoenix Suns will have an edge over Milwaukee Bucks. Be ready for the game with Phoenix Suns vs Milwaukee Bucks Predictions.
Also Read: Watch: Devin Booker's Late 6th Foul Which Was Not Called in Suns vs Bucks Game 4
Also Read: Kevin Durant Reveals His Honest Reaction on Brooklyn Nets Being the Villian in NBA