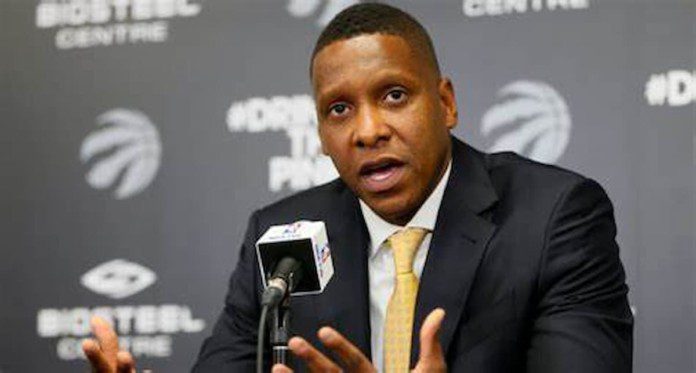 All hoop fans will be aware that Masai Ujiri is one of the marquee personnel who were key in Toronto Raptors' triumph to the Championship in 2019. However, the ice-Chairman and President has now tested positive of Covid-19 and has entered the NBA Health and Safety Protocol as per latest news in the world of NBA.
To those who are not aware, Masai Ujiri joined the Toronto Raptors in 2008, before which he was a scout for the Orlando Magic starting from 2002. Moreover, Ujiri joined the Denver Nuggets in 2010 as the general manager and was inspirational in guiding the team to the playoffs, eventually he returned to the Toronto Raptors back as a general manager. 
Masai Ujiri tests positive for Covid-19; Enters Health and Safety Protocol
Ujiri says in the statement that he was at a Giants of Africa in-person event that the team had sanctioned, and even though everyone showed proof of vaccination, there was still an outbreak of COVID-19.  
Also Read: "He might break it next game"-Twitter reacts to Stephen Curry being…
Masai Ujiri was one of the members of the event who subsequently tested positive, and is now self-isolating at home for the mandatory ten days per NBA-NBPA rules. He says he is monitoring all symptoms and urges all others who attended the gathering to also do so.
To those who are not aware about the playing potential of Masai Uriji, he played internationally in England, Denmark and Finland. He was also named as the NBA Executive of the year in 2013. Having said that with the Raptors struggling 11-14, Uriji will once again need to be playing a huge role, if the Canadian team is to make it in the playoffs. 
Also Read: "Get well ASAP bro!"- LeBron James reacts to Trail Blazers CJ…
Also Read: Clippers News: "Will give any Coach a headache": Kendrick Perkins reaction…