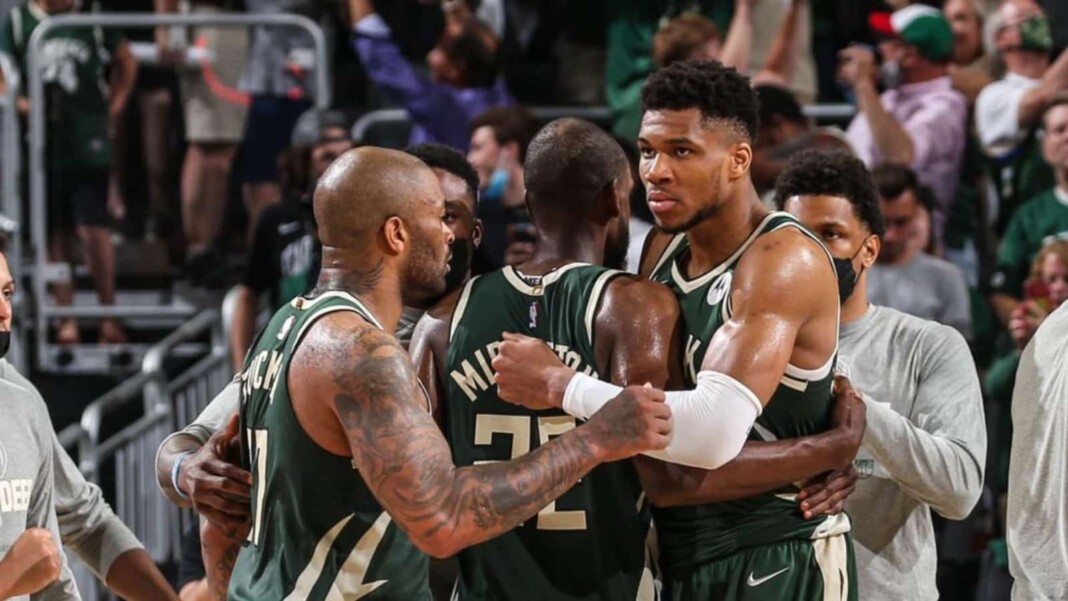 The defending champions Milwaukee Bucks and the New York Knicks squared off against each other yesterday at the Fiserv Forum.
The defending champions unlike their buzz have been a bit passive in their outlook toward the matches. They are known for their dominant and aggressive play style but so far they seem to be just above the surface. The Milwaukee Bucks (4-5) are placed at the 10th position in the Eastern Conference. The Bucks are in a bit of a slump right now.
The Knicks were previously ruling the Eastern conference team ranking but their consecutive 2 losses have made them fall from the high horse and placed them at the 6th position.
Twitter reacts to Milwaukee Bucks Botching their lead against the Knicks
The Bucks and the Knicks' face-off was a dynamic meet-up. Every quarter has its own story.
The Milwaukee Bucks started off dominantly. They dropped 38 points against the New York Nicks' 19 points in the first quarter. A 20 point lead gives a cushion for the next quarter and the quarter after that but seems like the Bucks became too comfortable on the cushion.
In the 2nd quarter, the Knicks' threw an Uno reverse. They dropped 37 points against the defending champs, who only score 25. By half time, the score for the match was Milwaukee Bucks 63 – 56 New York Knicks.
The watershed moment of the match starts after the halftime break. The Knicks came out of their locker with a totally different frame of mind and that was to beat the defending champs in their own home. For the next two quarters, the Knicks were inexorable. They made sure to throw the hat in the ring. The driving force for the Bucks and the reigning MVP, Giannis Antetokounmpo dropped 25 points, 7 rebounds, and 4 assists in his 30 minute game on the court but it was only futile.
The Knicks didn't let the Bucks again even one opportunity to change the momentum of the game. The final score being 113-98 proved that the Knicks succeed in it. Julius Randle dropped a whopping 33 points game with 12 rebounds and 4 assists.
NBA Twitter didn't stay behind in showing their frustration and disappointment after Bucks' defeat.
Beating Milwaukee Bucks with such a margin even when with Giannis on the roster is like a Picasso's masterstroke for the New York Knicks. The Knicks would face the Cleveland Cavaliers in tomorrow's match and they are surely are all ready to win.
Also read: Matisse Thybulle enters "Health and Safety Protocol"- Philadelphia 76ers in Turmoil
Also read: Watch: Blake Griffin and Isaiah Stewart Fight during Nets vs Pistons…