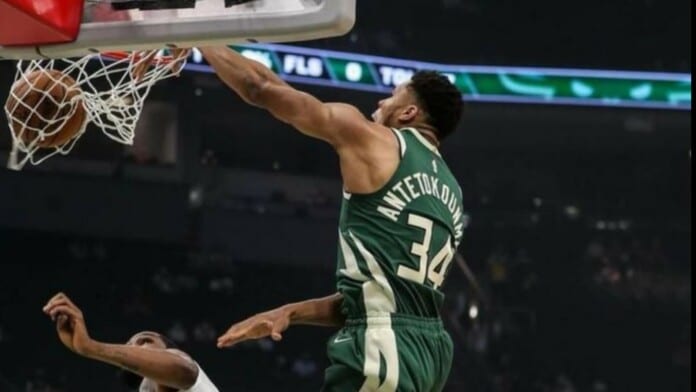 In the 2019-20 NBA Playoff bubble which were played in Orlando last year, Milwaukee bucks seemed to have matched the misfortune as they were astonishingly beaten by Miami Heat. Yet with the crowd coming in the Giannis Antetokounmpo led Bucks surely made a statement as they threw out Miami Heat in a resounding way 4-0 in Round 1 of NBA 2020-21 Playoffs.
The Miami Heat were in a must-win game in-front of their home fans, yet Bucks game them no chance what so ever to even breathe from anywhere in the paint. With a 4-0 whitewash it seems like Milwaukee Bucks have left a clear statement to every other team in the conference. 
Milwaukee Bucks throw Miami Heat out of the playoffs white a resounding 4-0 whitewash
This was certainly a big match for both the sides. While the Bucks would have a made a statement by completing the sweep, the Heat could have made a path for a possible comeback if they would have won.
Playing in their home arena, the Heat got off to a great start with a 26-22 lead. The Heat continued their fantastic run in the second quarter too and ended their first half with a seven-point lead with the scoreline 64-57.
The Heat seemed like they were on their way to win the game. But the Bucks had some other plans. Giannis & Co. came roaring back in the second half though outscoring the Bucks 34-21 and had a 22-4 run to end the third quarter with the score line 91-85 in favor of the Bucks.
With a six-point game, the Heat could have made a comeback. But the Bucks were determined to put the series to bed as they continued there phenomenal third quarter run. Outscoring the Heat 29-18 in the fourth quarter, Milwaukee made it clear that they were not messing around. They finally won the game 120-103.
Also Read: Michael Jordan donates $1 Million at Morehouse College to boost journalism
Also Read: Watch: Jayson Tatum slam 50-points to shock Harden, Durant, Irving led…