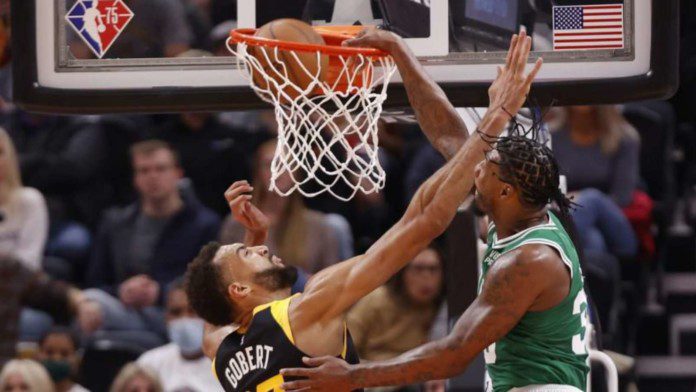 Marcus Smart hit the headlines last month when he called out his teammates Jaylen Brown and Jayson Tatum for not passing enough to their teammates and it created quite a mess because some believed that he broke the locker code.
The Boston Celtics are 12th in the Eastern Conference with a score of 12-11. As per FiveThirtyEight, the chance of Celtics making the playoffs is 87% but making it to the finals is even lesser than 10%. Now that is a concerning issue for the Celtics if they wish to lift the trophy. The Celtics have lost more important matches than win them. With a shaky and inconsistent performance, they might just reach the playoff, and that's it.
Marcus Smart goes Air-dunk over Rudy Gobert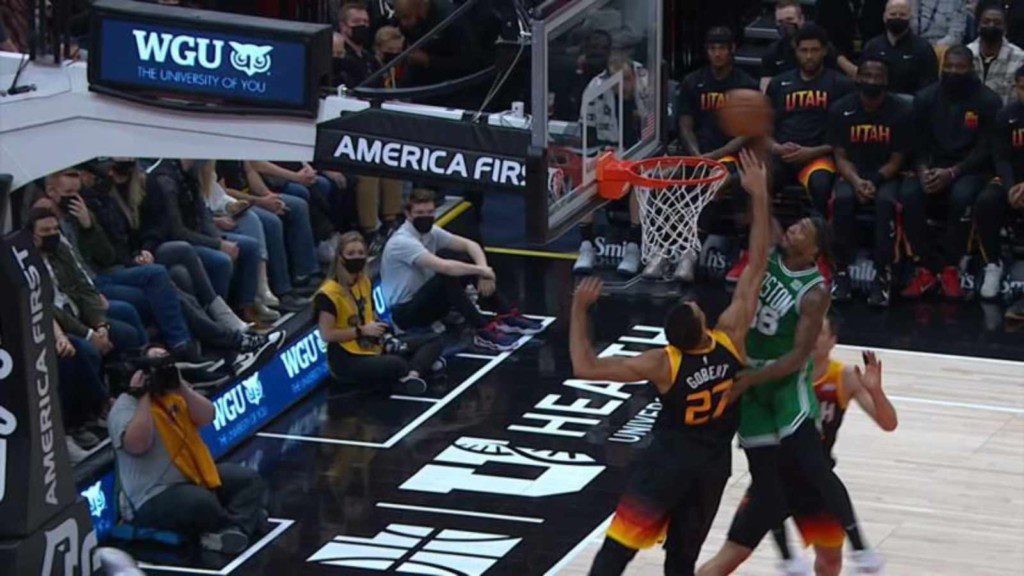 Boston Celtics' defense is one of the best defense systems in the league. With Marcus Smart at the point of attack, Jayson Tatum and Jaylen Brown on the wings, and Robert Williams and Horford underneath, there's no chink n the armor. The offense has to have super coordinating skills to break this line of defense. But with yesterday's match, the Celtics may have made a minor dent in the list of Top offensive teams.
The Celtics faced the Utah Jazz; one of the favorites for this season's title. Though the Celtics lost the match by 137-130 still the highlight belongs to the 27-year-old Marcus Smart.
With 1:40 left before halftime, the Boston Celtics were in possession of the ball. Dennis Schroder being the guard orchestrated the offense, and when he sees a minor gap drives in for a layup. Unfortunately, he misses it. But at the moment Marcus Smart who was standing outside the three-pointers lined comes running in and just flies over Rudy Gobert who standing under the ring and bam! Smashed the missed layup in the ring.
The fact that Marcus just poster dunked in front of Rudy who has 3 Defense Player of the Year makes the dunk much more special to the Celtics. Moments like these fill not the player but the entire roster with confidence and new energy to fight till the end.
By halftime, the Utah Jazz was leading by 59-56. The third quarter was an equalizer as both the teams scored 41 points, but the Jazz took the victory home in the 4th quarter. Jayson Tatum continuing his impressive form dropped 37 points, 6 rebounds, and 5 assists. Marcus Smart scored 15 points, 2 rebounds, and 2 assists.
The NBA Twitter loved this and they just bombarded the Bluebird with reactions.
The Boston Celtics will square off against the Portland Trail Blazers on Saturday, December 4th at the Moda Centre.
Also read: Boston Celtics vs Portland Trail Blazers Live Stream, Prediction, Preview, Injury…
Also read: "He's the MVP"- Skip Bayless Eulogizes Kevin Durant for his Creditable…