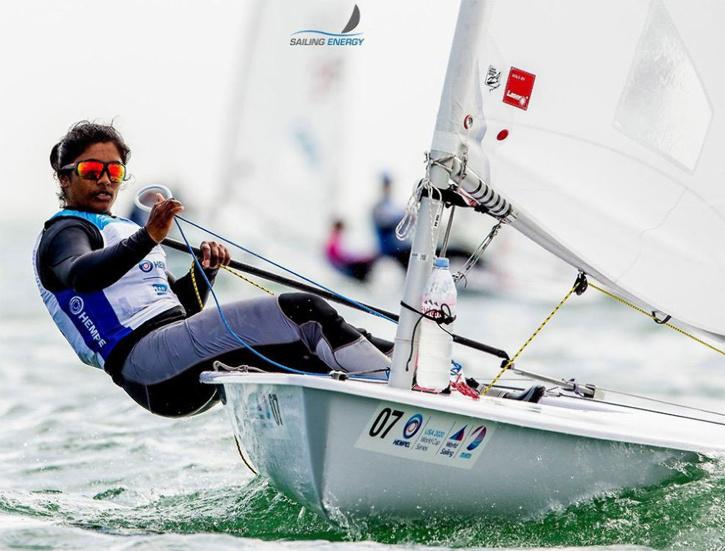 Nethra Kumanan became first Indian women to win a Sailing World cup medal as she won bronze medal in second round of Hempel World Series. She finished third in laser radial category.
American Laser Radial athlete, Erika Reineke bagged the gold medal for her performance. She was fifth in the medal race to win the regatta by six points over Vasileia Karachaliou of Greece. Reineke had a narrow two-point lead over Karachaliou and Italy's Matilda Talluri. The race featured several penalties, including one on Karachaliou on the final downwind. Karachaliou bagged the silver medal.
What a finale! @amerikandreem ?? takes GOLD! ?

Vasileia Karachaliou ?? wins silver ?

And a brilliant Medal Race win for Nethra Kumanan ?? gives her bronze! ?

? Watch LIVE:

Facebook
➡️ https://t.co/GtmrfB1tin

YouTube
➡️ https://t.co/aOzLCNJAfG#hwcsmiami ?? pic.twitter.com/7K8kUOhTjY

— World Sailing ?⛵️ (@worldsailing) January 25, 2020
She has represented India in 2014 and 2018 editions of Asian Games. She won multiple medals at nationals. In 2018 Asian games she finished 4th and narrowly missed out on a medal. She is currently eying a spot in upcoming Olympic and training at Gran Canarin, Spain.
"After winning the medal race on the final day, I didn't realize that my performance had helped me win bronze untill a fellow sailor had informed me. It was one of the most memorable wins for me." She told TOI
"At the Asian games, I was under a lot of pressure to get a spot for Olympics. This pressure was self-inflicted and that why I failed there. I think this year I'm trying to be more consistent with training and always work towards the big goal of the Olympics" she said
She will be participating in Asian Sailing Championship in Abu Dhabi from March 15 to 22. She will have a shot at qualifying for the Olympics. This win will definitely boost her confidence. She is currently working with a psychologist Mon Brokman who make sure she is in best shape mentally.
In order to qualify for Olympics, India have to finish among top two countries at the qualifying event.
As top country who finish ahead of her in Asian games had already have quota place she will have great chance to obtain quota for India. Top two sailor from this event will get the Olympic spot.
She is currently 6th best sailor in Asia behind Japan, Malaysia and China. Her world ranking is 79. Next best Sailor is from Hongkong who are world number 104 and 105. After that there are Kamolwan Chanyim from Thailand who is world number 116.