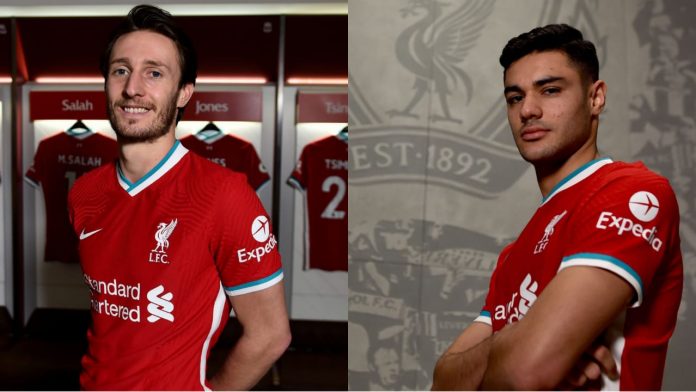 Ozan Kabak has received his international conference and is ready to play for Liverpool and has trained with the team for the first time in full training. Ben Davies was also part of full training as absentees Alisson Becker, Fabinho and Sadio Mane returned to training too. Jurgen Klopp has a decision to make as the going doesn't get easy for Liverpool to acclimatise Kabak and Davies with an easy run of games. RB Leipzig and others follow soon for Liverpool and it will be too late to introduce Kabak and Davies if they don't do now.
Ozan Kabak and Ben Davies are ball playing defenders were signed for the similarities to Virgil van Dijk and Joe Gomez
Both Ben Davies and Ozan Kabak were scouted and signed as they have a lot of similarities to Virgil van Dijk and Joe Gomez. Both of them are pacy centre-backs who are confident when having the ball. They play long balls to the attack from the back and are also a threat in the air. The injuries to Joel Matip, Virgil van Dijk and Joe Gomez prompted Liverpool to sign them as emergency back-ups. The priority is to blood these two as fast as possible as Liverpool have lost two of their most valuable midfielders as they play as temporary centre-backs. Jordan Henderson and Fabinho have moved to the back and as a result Liverpool are losing out in the middle of the park.
Jordan Henderson's influence and captaincy and Fabinho's defensive stability is one of the benchmarks of this Liverpool team and that is sorely lacking right now. The absence of the fans, the absence of senior centre-backs and the absence of key players in their natural positions have dented Liverpool's title defence. This slump in form has given Jurgen Klopp three choices in hand right now. He could field Fabinho and Jordan Henderson in defence together as both as trusted choices and let Thiago bear the whole weight of the midfield. As the second option he could field one of Fabinho and Jordan Henderson with young defender Nathaniel Phillips and let the other go back to midfield, where they are needed the most.
As a third option and most risky one, Klopp can field both Kabak and Davies together in order to allow both Jordan Henderson and Fabinho to go back to midfield. Nathaniel Phillips will also be a major choice for Klopp as the former has proved that he is more than capable of defending against powerful teams. Liverpool are still in the Champions League and that would mean that Ozan Kabak, Nathaniel Phillips and Ben Davies will get ample opportunities as all three are registered in the squad. The third option could very well be chosen if Jurgen Klopp wants to focus on ensuring European qualification for next season and then mounting a title challenge the next season when he has all his players uninjured. Damage control in this season is a little too early to begin, but never a wrong option.
Whatever the case, Klopp has a decision to make and it could very well decide the fate of Liverpool's campaign this season.
Also read: Liverpool and Manchester City battle at Anfield as the former's title hopes are teetering towards destruction