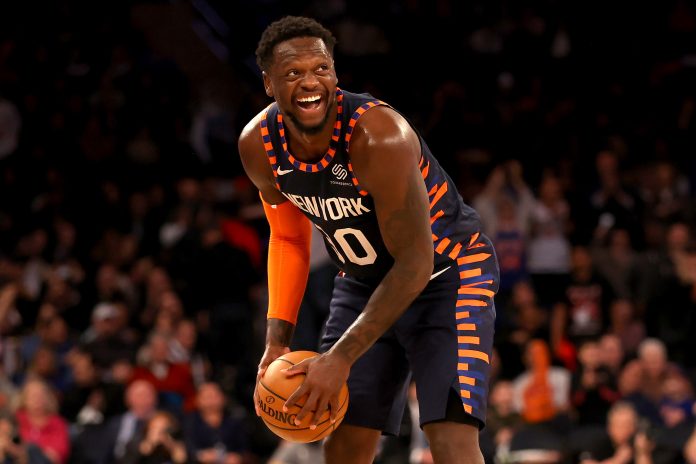 Julius Randle led the New York Knicks once again with 31 points and 10 rebounds. While RJ Barrett dropped 25 points as New York Knicks extend their winning streak to 9 games after beating Toronto Raptors. The last time Knicks won 9 consecutive games, they actually made it into the playoffs, this perfectly looks like the same scenario. 
Talking about the Toronto Raptors, Fred Vanvleet and OG Anunoby each scored 27 points for the away side. Pascal Siakam knocked 26 points, while Kyle Lowry struggled big time being able to go for 1 of 10 and missing all his eight 3-point attempts. The entered the day tied for 11th, a game behind surging Washington for the final play-in position in the East.
New York Knicks beat Toronto Raptors to extend winning streak to 9
The Knicks have moved into fourth place in the Eastern Conference with 11 games remaining and improved to 21-10 at home, where an announced crowd of 1,981 fans sounded louder at a time of year when basketball season is usually over at Madison Square Garden.
Randle, coming off a 40-point performance Wednesday against Atlanta, had 20 more by halftime Saturday. The Knicks then broke open a close game while he was on the bench to start the fourth quarter and Barrett made the big shots down the stretch to turn away his hometown team.
There were 14 lead changes in the first three quarters and neither team led by more than nine, before the New York Knicks opened the fourth with a big burst.
Obi Toppin hit a pair of 3-pointers during that 14-3 spurt, with the second making it 102-86 with 9:13 remaining.
Toronto Raptors never really got close and the Knicks won the season series for the first time since 2010-11. The New York Knicks finished at 56% from the field, 51.6% from 3-point range and 83.3% from the foul line. 
Also read: Russell Westbrook's triple-double leads Washington Wizards to 7th straight victory