When Taylor Swift showed up at Arrowhead and cheered for her latest squeeze on Kansas City Chiefs tight end Travis Kelce, many Philadelphia Eagles, fans threw in some conspiracy theories. Some of them even went as far as to say that the 'Bad Blood' songstress is on an undercover mission.
The road to denial starts with grief. What better way to cope with that than by concocting theories that sound rather farfetched? The Eagles fandom is currently divided on the matter. Some say she's enjoying being a Chief, while others suspect that something is going on behind the scenes (purely hypothetical).
Taylor Swift spent Sunday night sitting shoulder to shoulder beside Travis's mom, Donna Kelce, on the VIP stands. While the Chiefs decimated the Chicago Bears point by point, they both laughed and jumped in joy at every possible opportunity. The home team ended up winning by 31 points.
To commemorate the occasion, Swift wore a red Chiefs jacket, which did suit her. Probably the last thing an Eagles fan would want to hear. But one of their own centers, Jason Kelce (Travis's older brother), bestowed his blessings on the star couple.
"I think they're doing great," Jason shared his thoughts on WIP Studio last week. Although he did quickly add "just joking," it may appear he tried to put a lid on the gossip, but the veteran football player did not completely refute the possibility.
Then Travis Kelce sent a live TV invitation to Taylor for coming to the Bears game on Sunday while appearing on the Pat McAfee Show. A source later revealed to People Magazine that she would be happy to attend.
The 'You Belong With Me' writer kept her promise, as well as Kelce. The Super Bowl winner scored a touchdown, which was not a bad way to impress the girl. The pair even left the stadium together to grab some dinner.
Related: Who are Derek Carr's parents Sheryl Carr and Rodger Carr?
Social Media has a hilarious take on Taylor Swift dating Travis Kelce
But the question is, why did the Eagles get mixed into this? The answer is simple: she was born in Philadelphia and grew up supporting the Eagles. She hinted at her fondness for the team in the song 'Gold Rush.' Not only that, she wore a T-shirt that had the Eagles logo on it while entering a studio in New York earlier this year.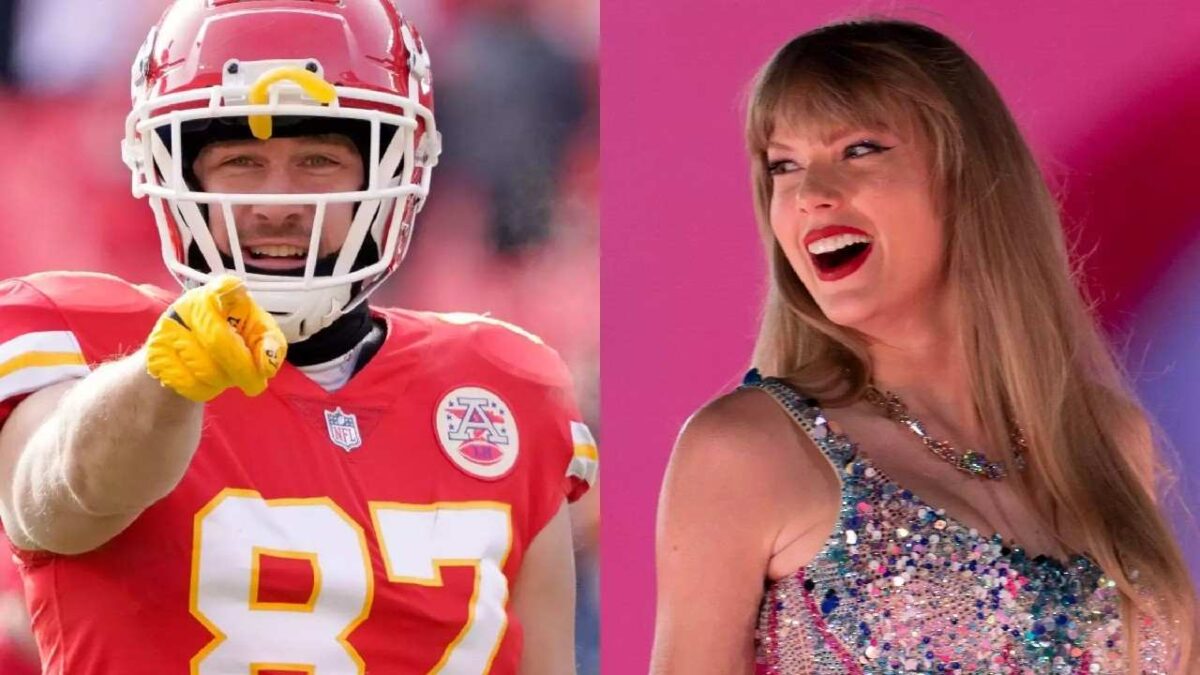 Allegiance doesn't change one day, even for a lover. That's the reason why some believe that she is undercover.
This is only the beginning of the story. For Travis Kelce's sake, there will be more gamedays or even another Super Bowl where everyone will see Taylor cheering for him again. But which corner will she take when it's the Eagles vs. the Chiefs? It will be fascinating to watch.
In case you missed it:

Do follow us on: Facebook | Instagram | Twitter
Follow FirstSportz on WhatsApp Channel