The Dallas Cowboys made one of the toughest decisions in recent times by releasing their star running back Ezekiel Elliott on Wednesday. Cowboys owner Jerry Jones said that releasing Elliott was the "best decision for everyone" but the running back's long-time teammate and good friend Dak Prescott is still hurt by the surprising move.
Elliott and Prescott were both drafted by the Cowboys in the 2016 NFL Draft. The running back was drafted in the first round and the quarterback was drafted in the 4th round by the Dallas-based franchise. Elliott didn't waste any time and exploded during his rookie year as he rushed for 1651 yards and 15 touchdowns, which resulted in him getting a Pro Bowl nod and first-team All-Pro recognition. In addition, he also finished No.2 in the Offensive Rookie of the Year voting.
Dak Prescott went one step ahead and actually won the Offensive Rookie of the Year in 2016. Prescott threw for 3667 yards and 23 touchdowns while just throwing four interceptions. So two players who reached stardom during the same period naturally became friends and have been good friends for a long time. But now after seven years of playing together, Elliott has been released by the Cowboys, which hurt the 2-time Pro Bowl QB.
Read Further: When will Damar Hamlin return to the NFL?
Dak Prescott opens up about Ezekiel Elliott's departure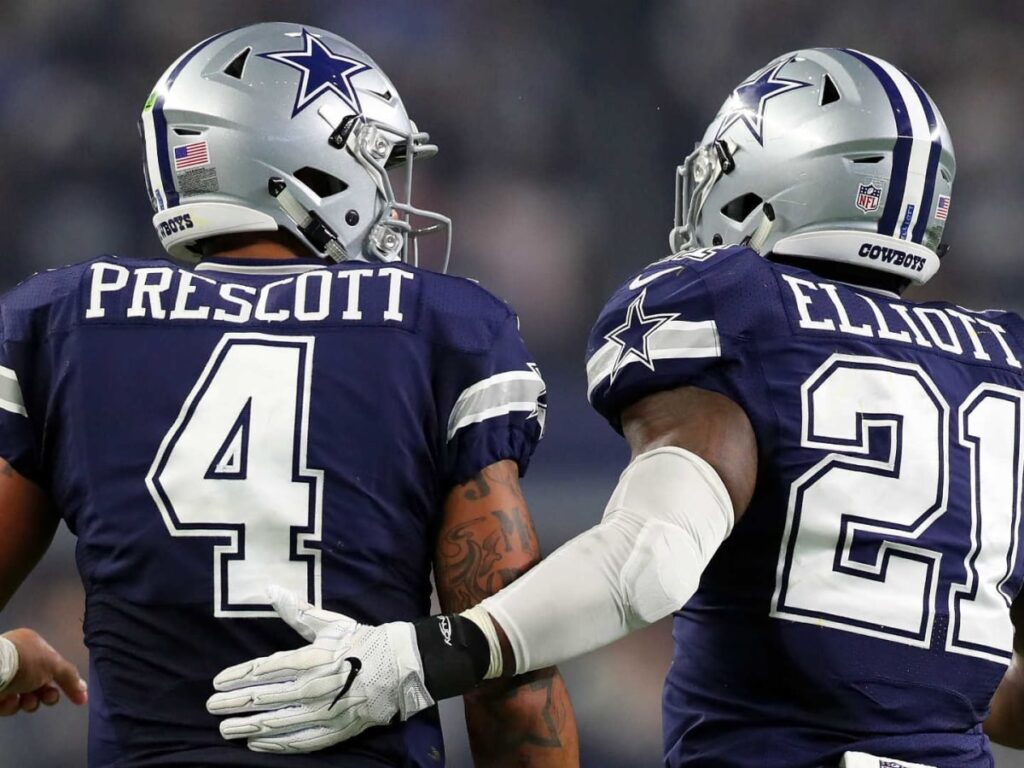 The Cowboys QB Dak Prescott talked to the reporters about his franchise releasing the 3-time Pro Bowl running back Ezekiel Elliott. During the interview, the Cowboys' QB called Elliott a brother and told the reporters that the move hurt him.
"It's tough, a brother," Prescott told NFL.com. "Playing the game with a brother. To be able to start this NFL career and share so many memories and grow up as men … with this organization. Really can't imagine taking the field without him. I don't know if it's completely hit me yet. Obviously, I've talked to him. I'm hurt. I'm sure he is. It's more important for me to be able to support him. I know he's got more opportunities coming his way and love that guy, proud of him."
Last season, Elliott rushed for 876 yards and 12 touchdowns while averaging 3.8 yards per attempt. Not a bad production from the running back, but his huge cap hit and the rise of the Cowboys' RB2 Tony Pollard have resulted in Elliott getting cut.
Pollard ran for 1007 yards and accumulated 12 total touchdowns, and he comes at a much cheaper price than Elliott. So it is really not a shocking decision by the Cowboys owner and general manager Jerry Jones.
Do follow us on: Facebook | Instagram | Twitter
Related: Shannon Sharpe believes the Buccaneers are going a step back by 'settling' for Baker Mayfield as Tom Brady's replacement
Related: "They got tired of his bulljive," Shannon Sharpe brutally slams Aaron Rodgers after trade move to the Jets