Eli Manning knows a thing or two about life as an NFL star. From getting drafted with the 1st pick in the NFL draft to leading his team to the Lombardi trophy not once but twice, he has done it all. The man who won two Superbowls by defeating Tom Brady-Bill Belichick-led New England Patriots has been keeping himself busy after retiring in early 2020 with various broadcasting gigs with his elder brother Hall of Famer Peyton Manning and credits it for bringing the brothers closer.
The Mannings are football royalty. Growing up watching their father lead the New Orleans Saints for over a decade inspired both brothers to become football players. All three Mannings were drafted at the top of the draft with Archie being drafted 2nd overall while Peyton and Eli made history by being drafted 1st overall in their respective drafts. Eli played his whole career for the New York Giants while Peyton played for the Indianapolis Colts and the Denver Broncos. While both brothers won two Super Bowls each and had massively successful careers, their careers affected their relationship and they were unable to be close since they lived miles apart and were almost always traveling. However, things have changed since then.
Also Read: "SHOCKING," Eli Manning reveals startling Manning family member who Tom Brady HATES the most
A lot of Peyton in Eli Manning's life since retirement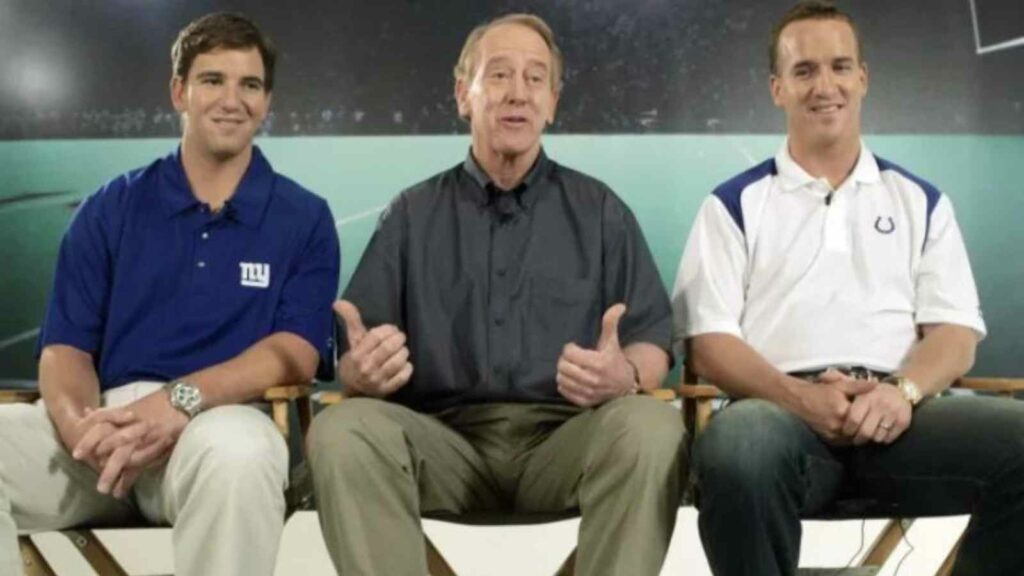 Before retiring, Manning might have been hesitant about joining the broadcasting world, but he seems to enjoy it quite a bit, perhaps because he gets to do it with his brother. Last year was the first time when the world was introduced to the Manningcast which many have described as a revolutionary step in football broadcasting. The Morningcast, produced by Peyton's Omaha Productions, features the two football greats breaking down games as they watch them and providing running commentary along with tales about their respective Hall of Fame careers and their own lives that are heavily centered around football.
Eli recently admitted that working with his brother now has brought them closer, something which was not possible with their active football careers and also after retirement given that Peyton lives in Denver and Eli in New Jersey-"It's kept us close; we're getting to see each other a little bit more than we had been during our careers. I live in New Jersey, he lives in Denver. It's not like we're just next door and can pop in on each other a whole lot."
Eli is currently working on his own show Eli's Places produced by Omaha Productions a college football-focused series as the brothers gear up for another season of their highly successful show Manningcast.
Do follow us on: Google News | Facebook | Instagram | Twitter
Also Read: "HIGHEST paid BACKUP," Twitter Goes Bonkers with Jimmy Garoppolo's SURPRISE extension with the San Fransisco 49ers
Also Read: "MASSIVE QB Deal," Russell Wilson and the Broncos agree to a gigantic 5-year contract extension worth $245 million