Tom Brady has had some notable adversaries but none more so than the Manning brothers. The Mannings-Brady rivalry era is something that will go down in history as one of the greatest eras in the NFL. Combined they have won 11 SuperBowls with Brady winning a whopping 7 while Eli and Peyton won 2 SuperBowls each. Eli won both his rings by defeating Tom Brady and his New England Patriots in the Superbowl. One of them is painful to any Patriots faithful to this day, the defeat they suffered in Superbowl XLII after an unprecedented undefeated season that ended with a loss with an 18-1 record.
The Mannings and Brady claim to be friends and Brady's appearance on the Manning Cast last year indicated so but still, somewhere in their hearts, both sides must have some animosity towards the other. Eli Manning in a recent appearance on Julian Edelman's "Games with Names" podcast denied any animosity towards the Buccaneers Quarterback, especially around the Manning family cookout but per Edelman, the Brady family barbeque may pack some heat for the first family of football.
Also Read: "MASSIVE QB Deal," Russell Wilson and the Broncos agree to a gigantic 5-year contract extension worth $245 million
Tom Brady hates this Manning family member per Eli Manning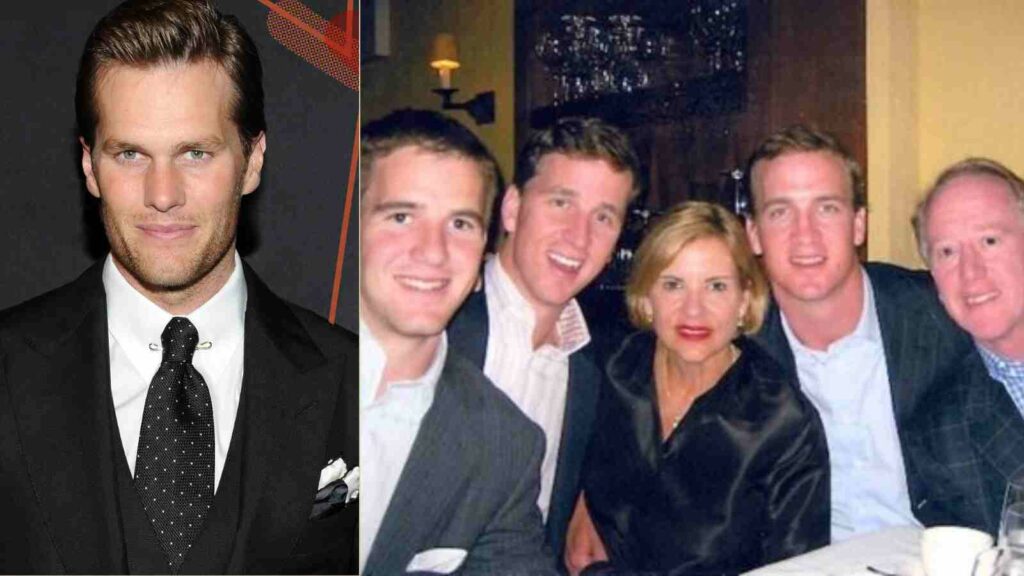 In a shocking revelation for the world Eli Manning the New York Giants legend said that the Manning that Tom Brady hates is not Peyton the man who rivaled Brady for the best Quarterback tag throughout his career both with the Indianapolis Colts and the Denver Broncos, not even Eli the man responsible for a bitter end to an exceptional season which prevented him from achieving one of the greatest feats in NFL history an undefeated Superbowl campaign but Olivia Manning the matriach of the first family football. The woman who gave birth to two brothers who between them won 4 Super Bowls. Per Eli-"He hates my mom if it weren't Olivia Manning Tom would have like,12 Super Bowls."
Eli Manning also had some kind words for Brady and said why would I hate him. He's a good looking who just throws spirals and wins games. How do you hate that guy?
Eli may be correct as Twitter for a long time has been crediting Olivia Manning for preventing Brady from winning more Lombardis –
Do follow us on: Google News | Facebook | Instagram | Twitter
Also Read: "I was cyber-bullied," When Jenn Sterger REVEALED a surprising detail about Brett Favre's "S*XTING SCANDAL"
Also Read: "HIGHEST paid BACKUP," Twitter Goes Bonkers with Jimmy Garoppolo's SURPRISE extension with the San Fransisco 49ers