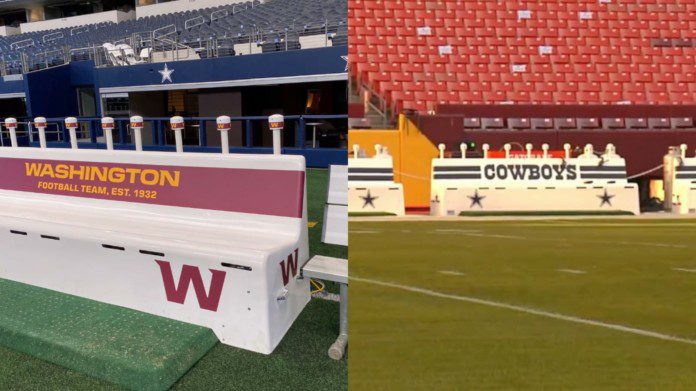 The last time Washington Football Team faced the Dallas Cowboys in Week 14, they lost 20-27 to the Cowboys. Washington has a chance to take revenge on the Cowboys by defeating them on Sunday. The Cowboys has their own benches flown in at the FedExField Stadium against Washington in Week 14.
Apparently, the Cowboys received a tip from the Seattle Seahawks that the heated benches at FedExField were not working properly. Hence, in order to avoid any sort of discomfort, they did what they had to do. The team from Dallas started the season in an emphatic style but lost their way just a little bit in the middle phase. However, with three wins on the trot, the Cowboys are well and truly leading the charge.
"Yikes!": WFT gives Dallas a taste of their own medicine
The Washington Football Team is traveling to AT&T Stadium to take on the mighty Cowboys. So, this time around, the men from Washington decided to give the Cowboys a taste of their own medicine by bringing their own benches to the Cowboys' stadium.
Washington had defeated the Cowboys in both their meetings back in 2020. The Cowboys won their matchup in Week 14 at Washington's home ground. All eyes are set on Washington to make a comeback and defeat the Cowboys in their own stadium.
With two losses on the trot, Washington would be desperate for a win against the Cowboys, whereas the team from Dallas would be riding high on confidence as they have the winning momentum on their side.
Also Read: "Just get me the ball" – Amari Cooper after Cowboys' poor offensive performance