New York Rangers Igor Shesterkin has voiced out clearly his intentions for the new NHL season. No matter how many times he won the Vezina Trophy, his final goal is to win the Stanley Cup with his team.
At Rangers Madison Square Garden Training Center and at their home facility, Shesterkin eagerly eyes the hanging jerseys of all the Rangers goalie legends, to remind himself of what he's up against. He declared his two goals at NHL 1-on-1 interview after Friday's practice.
Also Read| WATCH: Avalanchers enjoy some 'fur-ever' time with snuggles, kisses, and lots of love from little friends
Igor Shesterkin states the reasons and motives that keep him moving forward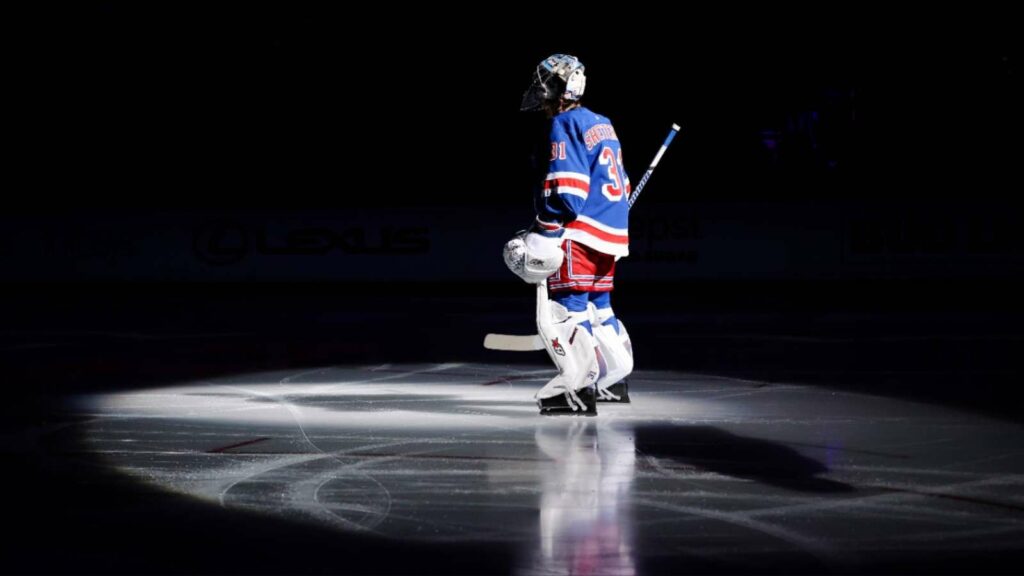 One of his aims is to win the Stanley Cup with the team, and secondly to join the legendary square of Rangers goalies. His site is fixated on Rangers legends – Eddie Giacomin, Mike Richter, and Henrik Lundqvist.
He said, "We can look at how many jerseys are retired from goalies. I understand everything." "Right now, I still think I'm not there. I know who played before me. I'm just trying to reach that level".
Having seen their images cover around every corner of the Rangers facility, Shesterkin is generating a hunger greater than ever. He wishes to hit the mark where he can have the pass certificate that allows him to sit in the same sphere as the legendary three.
Last season he recorded an incredible save percentage of .935, with the 2nd lowest in a single season with 2.07 GAA, just behind Lundqvist. In only 60 games, he had 56 wins which was the most recorded by any Rangers goalie in a season. 
Lundqvist commented, "To have numbers that good you can't afford too many off nights". "That was the biggest strength." "He (Shesterkin) has that confidence that he can stay at that high level".
Legends are called legends because of their incredible achievements. Rangers legendary goalies blasted out the previous score, setting it high every season after season. Shesterkin is not ignorant in this aspect. He knows what he's up against and is prepared to face them.
Shesterkin mentioned, "What happened last season stays in last season," Shesterkin said. "Right now, I need to show everybody it's not a mistake my last season. I just want to play much better and better." "I got more confidence in the playoffs".
"After last season I'm more loose and if I don't know any words I can say something stupid," Shesterkin said, laughing. "I can speak more now. I'm more comfortable. I feel more comfortable with every player."
"All I want right now is the Stanley Cup with the Rangers". "If I have a chance to get one more Vezina it will be fine, but our goal is the Stanley Cup, and it doesn't matter what happens to get there," Shesterkin concluded.
Also Read| Jake Allen focused on being "leader on and off ice" after wrapping up 2-year contract with Canadiens
Also Read| "Sorry Caps fans" Alex Ovechkin's preseason debut nervousness makes him belt out tuneless RHAPSODIC melody
Do follow us on: Facebook | Instagram | Twitter