The National Hockey League has a lot of great goalies starting from Stanley Cup champions to Vezina Trophy winners to All-Stars. In the recent NHL 2022 Network Top 10 goalie ranking, Marc-Andre Fleury of the Minnesota Wild came in the last count while the rest of the 9 goalies stood in front of him.
On the other hand, Igor Shesterkin of the New York Rangers passed others and snatched 2nd place in the ranking. Ilya Sorokin of the New York Islanders ranked 5th among the Top 10. There are undoubtedly several goalies who have contributed greatly to the sport, but the top crop stands above all of them.
Also Read| "This list sucks!" – Penguins Jake Guentzel out of Top 10 best wingers ranking by NHL Network
Top 10 NHL Goalies including Marc-Andre Fleury and Igor Shesterkin are: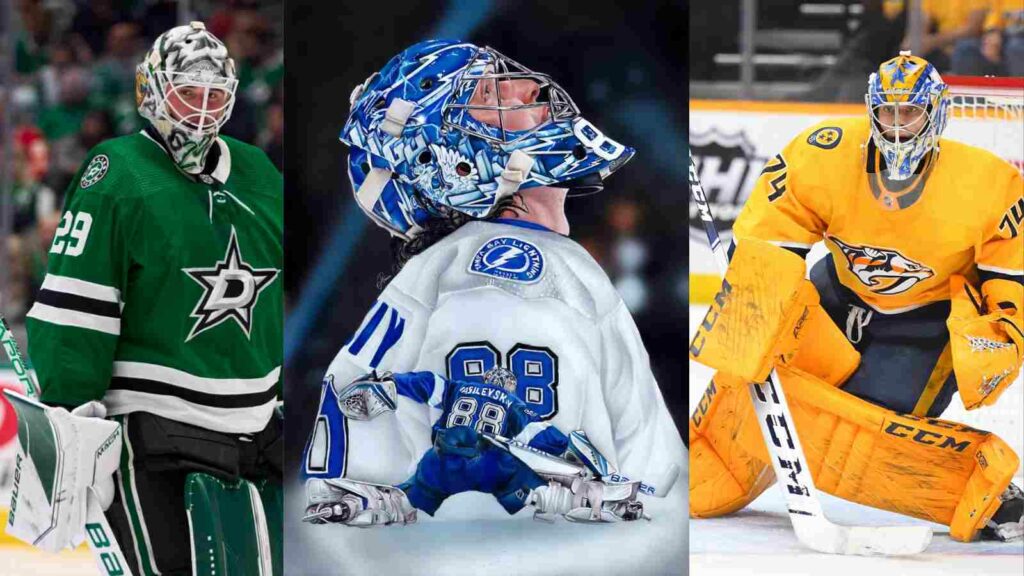 Last season goalie Marc-Andre Fleury scored 28-23-5 with 2.90 goals against average, and a .908 save percentage in 56 regular-season games, while during the Stanley Cup run, he acquired 2-3 with 3.04 GAA and a .906 save percentage in 5 games.
Former goalie and current NHL analyst stated, "Every single year, he's always been one of the most exciting goalies to watch". I haven't heard a single bad word about this guy, there's a reason why he's had the success and why he's loved everywhere."
On the other hand, Igor Shesterkin won the Vezina Trophy last season and was also a finalist for the Hart Trophy award as the NHL MVP. He led the NHL in 2.07 GAA with a save percentage of .935. Out of 53 games, he started 52 and was 36-13-4.
Daneyko noted, "Every decade or so, there comes along a goaltender, it doesn't matter what league they play in, they are able to get to the best league in the world right away and be dominant". "And that's what Shesterkin has done because of his athletic ability, his agility … He is a special goaltender. … He very well could have been No. 1 on this list."
Andrei Vasilevskiy, Tampa Bay Lightning
Igor Shesterkin, New York Rangers
Juuse Saros, Nashville Predators
Jacob Markstrom, Calgary Flames
Ilya Sorokin, New York Islanders
Thatcher Demko, Vancouver Canucks
Connor Hellebuyck, Winnipeg Jets
Frederik Andersen, Carolina Hurricanes
Jake Oettinger, Dallas Stars
Marc-Andre Fleury, Minnesota Wilds
Also Read| "Super motivated this season" – Penguins Sidney Crosby and Evgeni Malkin continue legacy on NHL Network's Top Centers List
Also Read| Top 5 Most Expensive Player contracts in 2022 NHL Draft