With no tennis action for months now, due to the global pandemic, there have been a lot of throwback videos and compilations of their favorite tennis stars being shared by fans and fan pages. One such tennis fan page posted a video of one of the matches of the Australian Nick Kyrgios playing a wacky diving shot.
The video shows him approach the net after a few shots and hit a volley. He then performs a second volley on the return to win the point. It was an incredible shot to win the point as his opponent had no chance.
Kyrios did notice the post and replied to it by posting it on his Instagram story. It was followed by the captions "Most ridiculous dive volley ever, absolutely no need".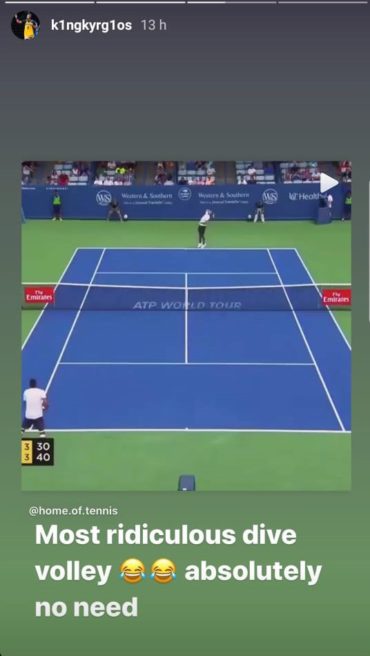 Although Kyrgios thought it was a ridiculous shot, many fans won't agree as he is an incredible talent and a potential Top 5 player if he decides to fulfill his promise.
The controversies he has accumulated over his career has stunted his growth. Just last year he got fined $100,000 for his meltdown in the midst of his match against the Russian Karen Khachanov at the Cincinnati Masters. Fans will be hoping for him to fulfill his potential and not get dragged into any more controversies.
Also Read "I'm not going to talk about Nick Kyrgios again", says Dominic Thiem