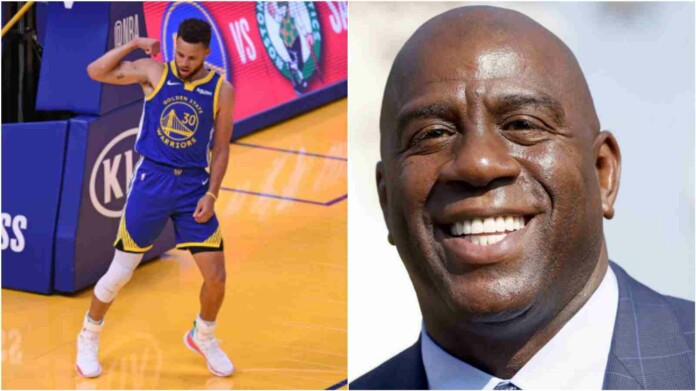 Every season NBA has a wide range of talents getting their game on top. One of the fan favorite trophy is the MVP trophy. In the 2020-21 season manty players have made strong statement in their chances for the trophy. However, coming back from injury, Golden State Warriors talisman Stephen Curry has solidified his stance with some absolute impeccable games. His ability to score is unmatched. Players like Stephen Curry, Joel Embiid and LeBron James have been dubbed to be favorite at some stage this league. But the Dubs star has maintained his dominance coming out of injury. Recently the Los Angeles Lakers veteran and legend Magic Johnson chose his favorite candidate for the MVP contention.
Stephen Curry's name has been constantly under debate to get the MVP trophy. After all he is the sole reason why Warriors are still in the competition. Recently, Curry poured 42 points against the New Orleans Pelicans. While facing the sophomore Zion Williamson, he caught him unbalanced on with his cross over and made a wide three pointer. Yet Stephen Curry is up against the Denver Nuggets talismanic center Nikola Jokic. The 26-YO has significantly improved his game while being consistent at it.
Magic Johnson vouches in for Nikola Jokic over Stephen Curry
The MVP conversations in the league have drawn a lot of attention from the veterans choosing their prior players. Recently Magic Johnson took his shot in picking his favorite player for the MVP. The 5-time champion picked Nikola Jokic over Stephen Curry. He rather explained, Steph Curry left no doubt about who the real MVP is tonight! He scored 49 points and led his Warriors to victory." After today's night, he still went for Nikola Jokic while being influenced by Stephen Curry. Both Nikola Jokic and Stephen Curry are the most deserving MVP candidates after all.
Stephen Curry is averaging high numbers after his return but 'Joker' hasn't missed a single game. He is getting 26.2 points per game with 10.9 assists.  This is a close contest against Stephen Curry. While Denver Nuggets lose their latest match to the shorthanded Lakers, Stephen Curry carried Dubs to an impressive victory. Who deserve the trophy more?
Also Read: "Gonna make something happen": Stephen Curry put against Mike Tyson by Golden State Warriors teammate Juan Toscano-Anderson