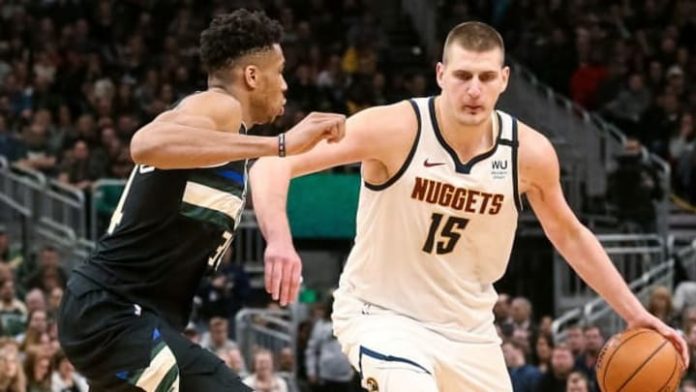 The NBA is all about the outstanding players making their outstanding records. Whenever a player associates with a team, he desires to get all the best possible results. What many players desire is winning a ring. They repeatedly switch teams to make this happen. But there is very less players who stay loyal to their teams. Nikola Jokic and Denver Nuggets share one such relationship. The franchise star big man has a different outlook altogether. Nikola Jokic revealed that he isn't interested to win but stay loyal. The Denver Nuggets have put all faith on the big man.
The Denver Nuggets survived against the Memphis Grizzlies today. The game closed out at 102-103 in favour of Nuggets. With 102-103 on board, the Jonas Valanciunis blocked Nikola Jokic while Memphis retained the possession. With 3 seconds left, Ja Morant's drive towards the ring was called as an offensive foul. This controversial decision shook the Grizzlies bench who stormed out of the court. Nikola Jokic on the other hand, finished with 28 points and 15 rebounds adding a double-double to his name. He displayed sheer dominance while on court. His last minute hook shot was worth watching.
Nikola Jokic reveals his idea at Denver Nuggets
In the post-game interview, he said, "If I win it with Nuggets… that's gonna be (more) than if I go or someone else joins us… that's even better, maybe someone joins us. My personal opinion is I'd rather win it with Nuggets than with another team." Joker wishes to follow the same path as Dirk Nowitzki. The German international was an example. Dirk stayed with the Dallas mavericks throughout his career. He even got the Mavs to their maiden championship. Similar to Dirk Nowitzki, Nikola Jokic is desirous to stay at Denver.
The Denver Nuggets attracted him with a max contract with the franchise. This displayed how much faith the organization has on the Joker. The team is supporting the All-Star well. His uphill task to surpass legends is turning out to be great. Joker is likely to be crowned as the first MVP from Denver Nuggets. This just maybe the first step towards a prime career ahead for the big man.
Also Read: Joel Embiid suffers from leg-injury as Philadelphia 76ers beats Washington Wizards…