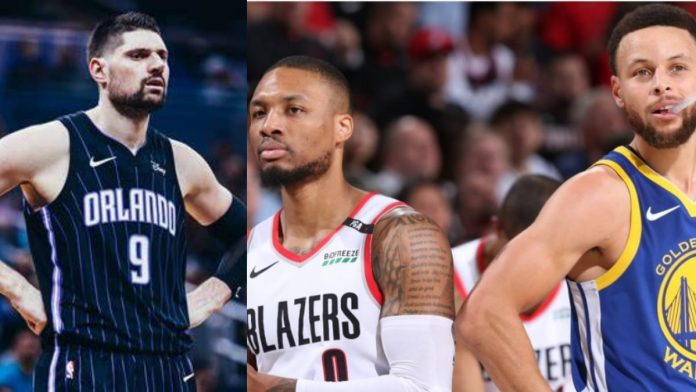 The debate about the changing conventional game has been travelling fast. In the recent past, NBA's two of the best shooters were blamed for changing the true sense of gaming. Stephen Curry and Damian Lillard were blamed for bringing the shooting of 3 pointers in the subsequent era. Both of the players possess unmatched shooting ability. Apart from their skill, a lot of credit goes to their long range shooting. Recently, Orlando Magic centre Nikola Vucevic seconded the players against the slanders.
The big men in the game used to run the league once. The conventional game completely staged around the big man who were responsible to play with just a handful of shooters in the game. But it's a lot different now. But Nikola has seconded the greatness of these players. Although the game has changed, but it has become a lot more accessible. A lot of shorter players who excel in shooting are being part of the roster.
Nikola Vucevic gives honest opinion on Damian Lillard and Stephen Curry
Orlando Magic's centre revealed his opinion on the topic in an interview. According to him, "How unfair it is. You can't defend that, unless you press the guy 94-feet, but then he's probably gonna go by you. We can all shoot from half-court, but we might make 1/10, most of us are going to be way shorter, or slam the ball against the backboard. It's not gonna be like a regular jumper. For them it's so easy, that's crazy, the form doesn't look any different. I'm sure they put more strength into it, but you can't really tell. They each make two or three of those in the game. Those moments, you're like a fan, just in awe."
The players have been an integral part to their team's triumph. Damian Lillard has been the best shooter after Stephen Curry. Nikola was mesmerized when Lillard hit the game winner against OKC. He reacted, "the shot he made against OKC, who takes that, who takes a side step back? It's your right hand, usually harder for right-handed shooters. In a playoff to win the series, and you so confidently take it… that was one of the most amazing shots I've seen in my life. We had just lost to Toronto, and we're watching the last few minutes of the game, and he took that shot. I just stood there and stared at the TV… this isn't normal." This just another fact how the game needs to change.
Also Read: Joel Embiid suffers from leg-injury as Philadelphia 76ers beats Washington Wizards…