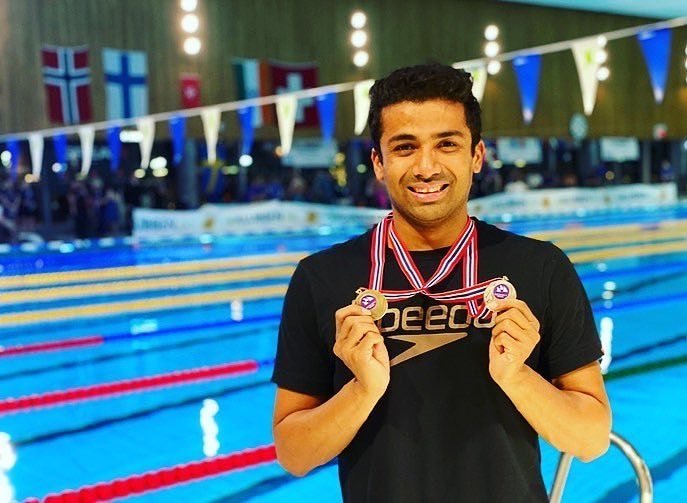 The 25-year-old, Niranjan Mukundan has won the gold medal in 50m butterfly at the Skagerrak Swim 2020, a qualifying championship for the Tokyo Para Games, but missed the mark by a whisker.
He is inching closer towards a spot in the 2020 Tokyo Paralympics after his latest gold medal feat in Norway left him just 0.09 seconds shy of the qualifying mark. The Minimum Qualification Standard (MQS) for his category is set at 32.90 seconds while he has already beaten the Minimum Entry Time (MET) of 34.87seconds.
Competing in the S7 category, Niranjan started the tournament with a silver medal in the 50m freestyle and doubled it up with gold on Sunday in his pet event. He clocked 32.81 seconds for the yellow metal in 50m fly.
"It was one of the best races ever. The gold definitely shines brighter around the neck in my favourite fly event but most important, the emotions of how I felt missing the Tokyo qualifying time by 0.09 seconds is also evident. I was informed I also broke the Norwegian record in the event. It was also my personal best so far," Niranjan told MAIL TODAY on Sunday.
"It's around 5 to 7 degrees here and the sun comes out only by 11am so it's pretty dark and cold and it gets dark by 5pm. We have some top para swimmers from around the world here competing to qualify for Tokyo 2020.
I definitely wanted to see where I am at the start of the Olympic year, so by the end of this competition I will have line and goals set for the rest of the season," he added.
Niranjan was born with spina bifida, a malformation that occurs when the spinal cord doesn't form properly, leaving him paralysed from below the waist. It is also the condition that makes the Bengaluru boy injury prone. And ahead of crucial few months, the para swimmer hopes he has to face no setbacks before the Tokyo Games.
"As of now no, I have been working a lot on my injuries and making sure that they are minimal. Though, I always have the concern of the reoccurring wounds on my leg due to less sensation. My team (coaches, doctor, physio and fitness trainer) and I all are taking extra care on that part. But the problem is because no sensation, we won't be able to analyse it till it becomes a wound," he explained.
For Tokyo, Niranjan is focussing solely on 50m butterfly and 200m Individual Medley and heads start to Thailand for the IWAS World Games 2020 to improve timing.