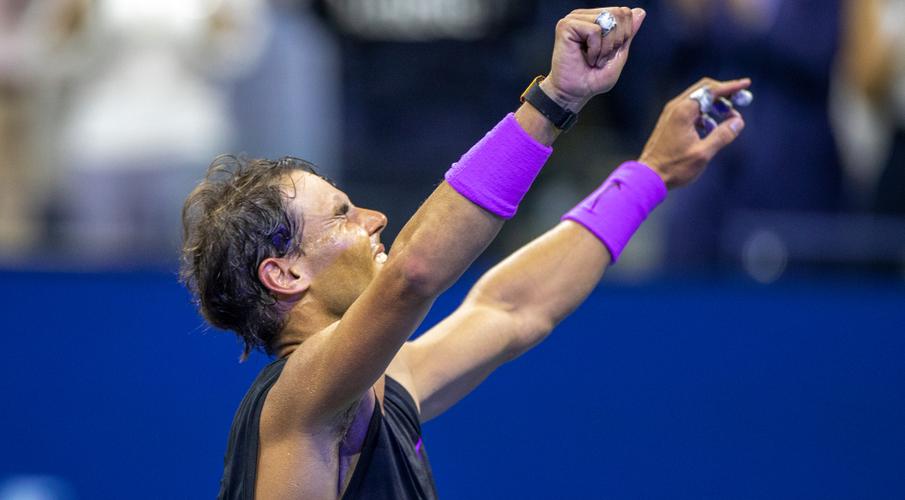 It was a case of reverting to the basics, but live tennis returned on Friday with opening matches at the event of the Tennis Points Exhibition Series held near Coblenz in Germany.
Eight players were in action, including a one-time Wimbledon winner from Germany, Rafel Nadal at The Base Tennis center, Germany.
Using a shorter scoring format on the indoor court, he defeated Jean-Marc Werner 4–2 4–2 in a match called Tennis Channel's new over-the-top (OTT) platform – by Tennis Channel International or was streamed live through him. It was not quite Wimbledon.
Read More : Yoga aasana to stay fit
No spectators, line judges or ball buoys are allowed and handshakes are prohibited after the match point. Players are also not allowed to have coaches on site or take a shower.
The winner's check is less than 1,000 euros (877.8 lb) and catering is also basic, including pre-wrapped sandwiches and energy bars.
Also Read: Tennis stars Osaka, Serena and Sharapova to participate in 'Stay at Home Slam
Despite the tight controls, one day went smoothly, once the local police department examined the social-deflection measures being used before giving it the green light.
"Everything was done to ensure the safety of the players and while it was a bit different for them, especially the high-placed players, it was appreciated by the players," said Christian Clathor, a spokeswoman for PlaySite, the series' partner of one of the companies.
Also Read: Novak Djokovic finds it tough to adjust to uncertainty
"Distance measures were very controlled. After each match, the bench where the players sit, they are wiped out by disinfectants and the players come and go off the court alone."