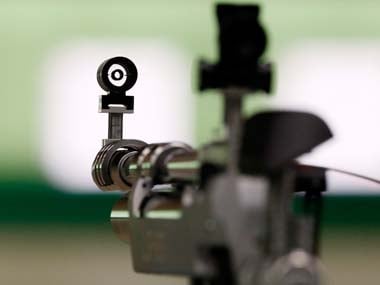 Haryana's Nischal posed an upset by beating the experienced duo of Tejaswini Sawant and Anjum Moudgil in the Women's 50m Rifle 3 Positions Trial 2 event.
Nischal scored 459.1, a point ahead of Tejaswini who finished with 458.1. Anjum was 3rd.
Nischal, only 16 years old, was well in the lead after an excellent kneeling series, but some brilliant shooting by Anjum in the prone round meant the latter was in 1st place going into the standing series.
But a poor 1st standing series by Anjum saw her slip into 3rd place behind Nischal and Tejaswini. Nischal was steady in the standing round, three 10.4s allowed her to get ahead of the Maharashtra-based veteran. A poor 9.2 also did not help Tejaswini's cause.
Nischal also topped the qualifications with 1170. 2nd was Sunidhi Chauhan with 1168. Anjum and Tejaswini were 3rd and 4th with 1165 and 1161-58x respectively. The finals cut off was 1153-52x.
Tejaswini was the winner of Trial 1 held yesterday. The result of the first two trials of the year mean 'Teju' still has a chance to get ahead of Anjum in the Olympic squad. A clearer picture will emerge in Trials 3 and 4 scheduled to be held in February.
Trap Day 1 Results
Lakshay Sheoran and Rajeshwari Kumari were the leaders at the end of Day 1 of Men's and Women's Trap T1 respectively. Lakshay shot 73 while Rajeshwari shot 67.
Aakash Kushwaha and Kirti Gupta were the leaders in Men's and Women's junior trap with scores of 68 and 62 respectively.