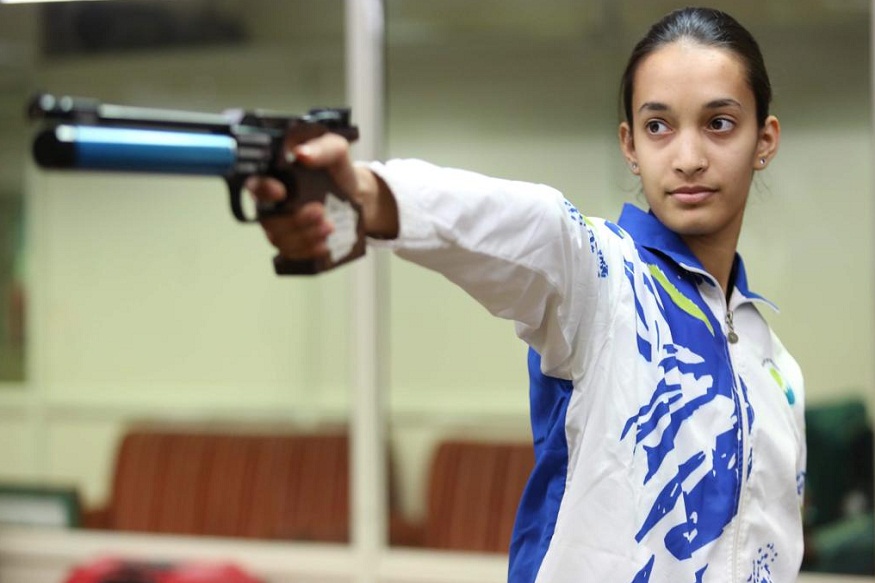 The NRAI selection trials 3 and 4 in rifle/pistol began in earnest today at the Dr. Karni Singh Shooting Range, New Delhi. These trials will determine the Indian squad for the Delhi and Korea ISSF World Cups and hold additional significance in an Olympic year.
Four finals were held today, all part of Trial 3. In a change of scheduling, the finals were held in the qualification ranges instead of the Finals Hall as the latter was undergoing repair work.
Day 1 largely belonged to shooters who haven't been regulars in the Indian squad. Chinki Yadav's performance in the Women's 25m Pistol finals was the highlight of the day.
Women
50m Rifle 3 Positions
Tamil Nadu's Gaayathri N emerged as the winner with a final score of 457 after a strong prone and standing series. Sunidhi Chauhan was 2nd and Shriyanka Sadangi was 3rd.
Olympic quota winners Anjum Moudgil and Tejaswini Sawant finished 4th and 5th respectively.
Sunidhi topped qualifications with 1170. Anjum scored 1163-61x, Gaayathri 1163-52x and Tejaswini 1162. 1161 was the cut-off score for the finals.
25m Pistol
Chinki Yadav of MP was the star of the day after an impressive score of 37 in the finals. She finished ahead of fellow Olympic hopefuls Rahi Sarnobat (2nd with a score of 34) and Manu Bhaker (3rd with 30).
Manu yet again topped qualifications in this event with a score of 582. Rahi and Chinki shot 581-20x and 579 respectively.
With today's results Chinki might have just pulled ahead of Manu in the race for the Olympic spot.
Men
10m Air Rifle
Pankaj Kumar representing Army led from start to finish in the finals, finishing with 250.8 ahead of 2nd-placed Arjun Babuta's 250.1. Paarth Makhija finished 3rd.
Quota winners Deepak Kumar and Divyansh Singh Panwar did not have the best of days; Deepak was eliminated 8th in the finals while Divyansh narrowly missed the cut, finishing 10th in qualifications with 627.2 just behind 8th-placed Pratik Borse's 627.3.
Arjun shot an excellent 631.5 in qualifications, whereas Pankaj qualified 3rd with 629.6 and Deepak 4th with 629.2.
10m Air Pistol
Shiva Narwal of Haryana was the winner after edging ahead of Ravinder Singh in the final series. Ravinder lead by 0.2 points going into the final round, but a final shot of 9.6 cost him 1st place. Shiva ended up with 244.3 compared to Ravinder's 244.
Saurabh Chaudhary, the favourite in this event, was 3rd. Abhishek Verma could not qualify, just missing out after a 9th place finish in qualifications with 578-18x.
Ravinder was 1st in qualifications with 584-22x, just ahead of Saurabh with 584-20x. Shiva was 3rd with 583. 6 out of the 8 qualifiers registered 580+ scores, the cut-off being 579-19x.